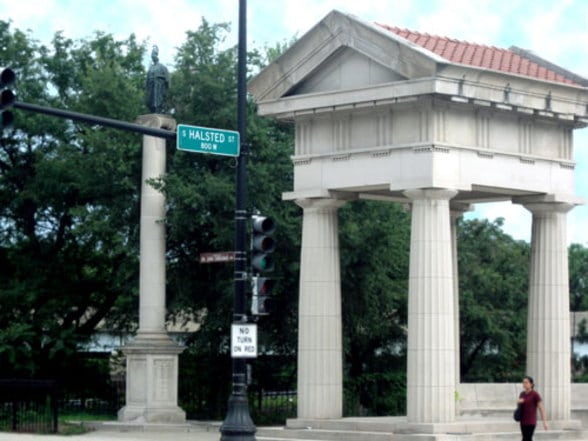 Infomation
You'll never question what nabe you're in when wandering around Greektown—columned architecture and delicious dining give Greektown a vibe all its own. Residents and tourists flock here for mouthwatering eats, kitschy souvenirs, and hard-to-find items at independently owned specialty shops. Craving some ancient history? Check out Greektown's National Hellenic Museum.
Greektown, Chicago Data : Neighborhoods & Travel – Score out of 100
LOWEST ATTRIBUTES
Empty nesters 38
Families 38
Pet friendly 33
Seniors 25
Parking 25
Greektown, Chicago Reviews
Gorge on Gyros, but that's about it
Known mainly for the cuisine that draws a crowd to this nabe, Greektown is a staple for Chicagoans and tourists alike. Whether you venture down for the annual Taste of Greece festival in which visitors to the area can sample gyros or spanakopita among other foods from various restaurants, or stop in at Greektown Music for kitschy gifts and untainted Greek items, this nabe does not disappoint.
Even though this is such a tourist destination much like Chinatown and Little Italy, the sense of community remains intact. Many of the residents are no longer Greek as the expansion of UIC displaced many, but the atmosphere and culturally relevant (semi tacky) architecture keeps that authentic feeling alive, if only for an afternoon.
Marianne L.
relatively authentic and a nice option in the rain
true, the majority of greektown's residents aren't greek, but this area has a cultural authenticity and respect that's not as apparent in some other ethnic neighborhoods. The hellenic museum celebrates greek history and culture.
tip—if you've exhausted the field museum and shedd aquarium, greektown's a good option for visiting friends if it's raining. you can hit the museum and then dine on really delicious greek food.
Vickie W.
greek with a little g, but still a lot of fun
oh Greektown—forewarn visiting friends before taking them to greek town, it's not much of a town, just a small spread of greekish streets with some greek architecture and reaaallly killer greek food. I would love to dine at these restaurants weekly. little shops in greektown are fun too, but im not sure id recommend buying anything—everything looks a bit untrustworthy/possibly cheap. Whatever this area may lack in saturated authentic greek culture, it makes up for by being in near west side—not the most exciting area in chicago, but definitely a nice spot to live.
What's awesome
What's not so awesome
not a lot of concentrated culture
Alex N.
Birthplace of flaming fried cheese
Greektown today is a far cry from what it was in the first half of the twentieth century. Displaced by the UIC Campus in the 1960's, many Greeks moved there businesses to this stretch of Halsted. The neighborhood these days exists primarily as a row of mid-range Greek restaurants more than a center of Greek-American culture. That said, there is a lot of great food here—it was here in Chicago's Greektown forty years ago that someone first thought to set the fried cheese dish, Saganaki, on fire and yell "Opa!"
Ellis