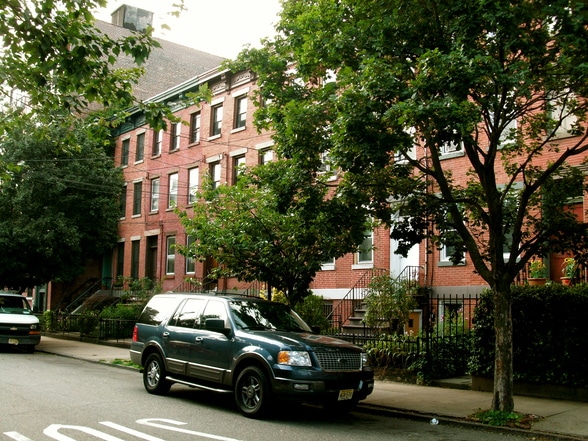 Harsimus Cove NJ
by nabewise
Infomation
Harsimus Cove is located in downtown Jersey City. Defined at the core by historic brownstones, this nabe opens up to mixed development on its outskirts. Public transport is easy here, with a Hudson-Bergen Light Rail station and a PATH stop. Next door Powerhouse Arts District provides ample entertainment. Citizen groups are strong here, working on noteworthy projects such as redeveloping the Harsimus Stem Embankment as a public park.
Top Votes – Score out of 100
Families 70
Public Transportation 69
Safety 69
Community 63
Singles 63
Lowest – Score out of 100
Shopping 56
Nightlife 50
Clean 50
Quiet 50
Income 30
Top Reviews from Travel Rentals Neighborhoods
Sixth Street Embankment

The Sixth Street Embankment's stone walls are beautiful and considered by many to be a historic landmark. It would be a great loss to the community and to the city as a whole if they were torn down. I see no reason why they can't be left up and developed as an elevated greenway akin to Manhattan's High Line, a project that by the way is applauded as a "brilliant use of space". Even if condos are built on some of the parcels, there is no need to tear down the walls, and like the High Line they can even be incorporated into the design by creating large, vaulted cave-like spaces that arch over the walkway. It is a profound failure of imagination to think that we can't have it all – we can develop and create anew, while still maintaining a sense of our history.

steve L.
I guess I can't say that the last opinion is wrong, but I see it a bit differently. I think Harsimus Cove is a great neighborhood with plenty of character of its own. Community groups and the city are fighting against a developer now for control over the Sixth Street Embankment, which is an old railroad track stretching for six blocks on Harsimus' northern edge. If the neighborhood has its way, it will develop those parcels as a long, skinny public park, which will be pretty original and cool in the area. If the developer has his way, there will be a whole lot of condos going up soon. So I guess the neighborhood is on the cusp of a big change, I'm just not sure which way it's going to go. If I had to guess I would say that the developer will probably sell a block or two back to the city, and then build on the plots closest to the water…Stacey A.
Neat

Harsimus Cove shares Newark Ave. with the Grove Street neighborhood, so living here you have access to all the cool restaurants and boutiques on offer. The main difference is that Harsimus doesn't really have its own parks, and it seems like a lot of the Jersey City neighborhoods form their identity around the parks. This can be good or bad, depending on how you look at it, as Harsimus is a nice place with great location, and plenty of room for growth, and for those who don't want to be part of a ready-made social scene it might be a better choice.

jon d.