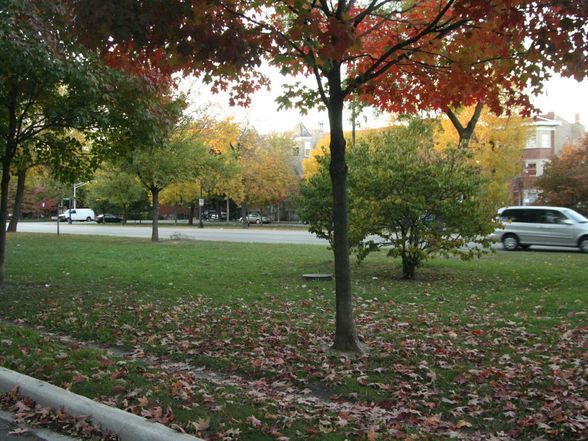 Infomation
Its historic namesake (Civil War General John A. Logan) and a bit of grit give Logan Square a particularly old-world vibe. The nabe is known as one of the more residential spaces in Chicago; you can exercise a true appreciation for housing by taking a tour of its many mansions. Though it's a bit rough around the edges, residents find Logan Square nonetheless highly appealing. Its population is on the rise, and the place is blossoming now with shops, galleries, and places to munch. Logan Square also holds smaller nabes Bucktown and Palmer Square inside its borders.
Logan Square, Chicago Data : Neighborhoods & Travel – Score out of 100
LOWEST ATTRIBUTES
Quiet 55
Clean 48
Empty nesters 30
Seniors 24
Income 11
Logan Square, Chicago Reviews
Go westward and never look back (to Lincoln Park)
After living in a plethora of east side neighborhoods (Lincoln Park, Wrigleyville, Lakeview), I finally made the trek west to Logan Square and let me tell you, I would never look back. The neighborhood particularly in the spring/summertime is ideal for college kids, families, and recent grads like myself who are still trying to figure out what to do with their lives.
Although Logan Square has been primarily populated by Latino residents, gentrification has been increasingly taking its toll on the area. Bars, gastropubs, and restaurants such as Revolution Brewing Company, The Owl, Rocking Horse, Longman & Eagle and Boiler Room are among just a few of the great places centrally located near California and Milwaukee. You can find the tattooed and pierced shooting whiskey or families out of brunch on Sundays.
Aside for the bars and restaurants, the Blue Line runs right through the neighborhood, enabling one to get downtown or up to O'Hare in about twenty minutes respectively. I've found that neighbors are friendlier, streets are quieter, and shop owners are friendly. Take a stroll in Palmer Square or lounge by the Logan Statue down the street from Logan Theater. Seriously, try not to love it. I dare you. Hint: Its not possible.
What's awesome
The Logan Square Farmer's Market in the Summer is conveniently located on the square, and the indoor Market at Congress Theater is just as wonderful on a smaller scale. Lot's of great local cafés like Letizia's Natural Bakery and Café Mustache. Bike shops galore. Logan Theater recently renovated shows new and older films for $6.
On 4th of July, just stand on your back porch and you can get a 360 fireworks show all night long, not need to go downtown and wedge in with the crowds.
What's not so awesome
No bookstores, few record stores.
Marianne L.
Live Here!
After a year and a half in Wicker Park, I am thrilled to have moved to Logan Square. The neighborhood is still mainly family-oriented and doesn't get nearly as nuts as six corners, but there is a 4AM bar (Bonny's), tons of restaurants (Guatemalan, Cuban, Mexican), a fantastic coffee shop (New Wave)plus the best farmer's market in Chicago.
What's awesome
The Whistler has the most delicious cocktails in the city and the cutest bartenders, Lula Cafe is amazing, Play just opened this year and has all the children's toys/gifts you could ever want, not to mention the French bakery next door with fresh crepes.
What's not so awesome
No bookstore.
Danielle G.
Reasonable rent and the Blue Line make this a wonderful place to live. Established as well as upcoming restaurants and bars add to the mix. There are is a great mix of old and new in Logan Square. The neighborhood is in transition and not everyone likes that, but as long as people are respectful growth shouldn't hurt.
Gregory C.
Beyond the Boulevards
I've so far managed to avoid any agitation that seeks to divide the residents along racial, cultural or class lines and enjoy being a part of the community and supporting the local businesses. Speaking a little Spanish never hurt anyone.
The rent is bone-cheap. There is a real undertone of possibility and risk-taking for creative types. There's a great farmer's market, small galleries, the Logan Theater, performance spaces and great cheap bars where the neighborhood's Latinos and white interlopers can get friendly and share a jukebox. The food is mostly Mexican and Puerto Rican with some more trendy and adventurous local/organic places springing up.
The "hipster" element is mostly a tiny enclave hugging close to the monument at the neighborhood's center and the El stop. The mantle and crust of the neighborhood, where I live, still show some neglect and remain culturally Hispanic and mixed-income. Logan is experiencing obvious growing pains on the front-lines of the discussion about gentrification as its identity as a community is rapidly changing, perhaps to fit the mold of west-side neighbor Wicker Park. I hope the crackling creative energy and possibility isn't wasted on just more boho retail and nightlife, because Logan Square has the potential to become one of the city's cultural centers in the next five or six years.
Michael
Logan Square Lifer
Lifer in the sense that as long as I've lived in Chicago as an adult – 3 years – I have lived in Logan Square. I really do love this neighborhood, as it balances a mix of wealth and grit, family-friendly and student / younger crowds. Ethnically, it's still a pretty heavy Mexican neighborhood, but along and off the Boulevards it's pretty white-washed (myself included). To me, that means it is not terribly diverse – either Latino or white.
The area has seen an influx of new trendy bars / restaurants / cafes / stores the last few years, which helps with nightlife and dining options for those in the neighborhood who can afford it – and further gentrifies the area. Neighborhood snobs will notice more non Logan Square-ers around because of the increase in nightlife and dining options. Not necessarily a bad thing, but I can see Logan Square turning into Wicker Park within the next five years or so.
Despite that, you will still see some seedy characters (and jovial drunks), especially north of Logan Blvd on Milwaukee Ave, and west of Kedzie. Break-ins, street crime, and gang activity is still prevalent in the area. No amount of fancy bars should displace having a smart attitude about being in any city neighborhood, especially at night.
Getting to and from Logan Square is easy enough thanks to the Blue Line, although depending on Diversey and Fullerton buses headed east can be frustrating. Lots of cyclists here, so consider riding your bike if you don't want to deal with the bus. For drivers, it's awesome being able to get to the airport really quick and with 94/90 nearby, if you need to get to the NW burbs or downtown. But of course, the traffic on the expressway can be horrible.
colin b.
Move now or forever hold your peace.
Logan Square is the quintessential up and coming neighborhood in Chicago, restaurants and pubs are moving in to serve the already large population of artists and musicians. Hipsters have long claimed Logan Square as their stomping grounds, but don't be surprised if they start to funnel out looking for new and "cooler" territory. That being said, it is doubtful that Logan Square will soon become overrun by boutique fashion shops, a la Wicker Park. In the past year a new batch of pubs and reasonable restaurants have opened up that appeal to the low-key attitude prevailing around the neighborhood. That to go along with a good amount of Mexican joints that have been there long before the gringos moved makes for a great mix of new and old in a neighborhood that is on the rise.
LoganRob
I lived there for a year, and at the time, I was glad to get out, but am thinking about a move back. When I lived there, I lived by a crappy tire shop that loved to let drunk hobos hang out all day, which probably is the thing that made me want to leave more than anything.
Since I've left the neighborhood, things really seem to be booming, Milwaukee Avenue is becoming a really cool place to hang out, and I often find myself back there at The Whistler, Longman and Eagle or Revolution Brewing.
I'm interested to see how much the neighborhood changes in the next few years.
Cristin Z.
Logan Square
Logan Square is an excellent neighborhood, though it does have a few rough edges.
For the most part, Logan Square has a pretty safe and residential feel – especially the area from the square itself (Kedzie/Logan) out to Western Avenue.
It has a newfound abundance of good places to eat, an excellent Farmers' Market, good shopping options and more of a "neighborhood" feel than more trendy neighborhoods like Bucktown and Wicker Park. There's still plenty of residential space, green areas, and even a pretty good looking skate park underneath the highway on Logan Boulevard.
Relative to other neighborhoods in Chicago, Logan Square is often much less expensive, especially to purchase.
Steve S.
The "Greenpoint" of Chicago
The snooty hipsters that scoff at what Wicker has become assemble in this respective enclave only further NW up the Milwaukee Ave. corridor. Make sure you have skimmed the glossary of the Hipster Handbook before you step off the CTA's Blue Line at Logan Square. However, don't be afraid to show up sporting khaki shorts and glasses without thick rims here b/c the utter diversity of Logan Square seems to embrace upright primates of any credence.
I relate Logan Square to Greenpoint, NY because urban planners love to compare neighborhoods in different cities that show similar traits, but may have no correlation. The parallels however, are quite convenient as both neighborhoods have undergone significant transformation as the bohemians transplanted to a more affordable nabe. Just as Gentrification drove up the price of rent in the "burg" (i.e. Williamsburg) so did it in the "park" (i.e. Wicker)
I believe Logan Square certainly to be a "trending" nabe as it were, scores of bohemians have rejuvenated the once depraved hood and it now could be considered one of Chicago's "trendiest." Several of Chi-town's hippest new eateries, pubs, coffeehouses, and cafes have sprouted here in recent years. Yet the "Square" still offers that charming shot of real urban griminess and fresh sewage odor that keeps a true urbanite humble. Logan is not void of crime and sketchy characters yet, but gentrification is sure to drive them out in the very near future.
The rent is much cheaper than traditionally hip Wicker Park and(or) Bucktown, but not as affordable as some nabes further north and(or) west (dare I say south?). Entertainment, Transit and Green-space offerings are a-plenty, but the real selling point is the raw cultural diversity offered by Logan Square that is the envy of many nabes in Chi.
Ryan H.