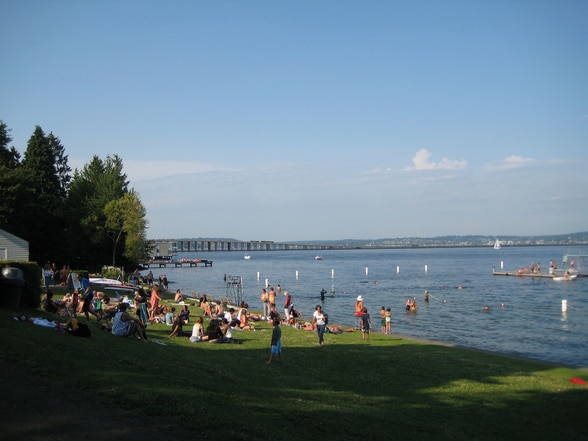 [vc_row][vc_column][vc_column_text]
Infomation
A genteel nabe located in east central Seattle, Madison Park formed as a summer getaway nabe for the city's early elite. Today it offers prime location, great beaches, elegant homes, and a lingering sense of prestige. Here you will find a number of chic boutiques, hair salons, some of Seattle's best restaurants, and a carpeted grocery store. Community activity focuses on the Seattle Tennis Club or the Broadmoor Golf Club. If you're thinking of moving to Madison Park, pack a helicopter.[/vc_column_text][vc_separator color="mulled_wine"][vc_column_text]Madison Park, Seattle Data : Neighborhoods & Travel – Score out of 100[/vc_column_text][vc_progress_bar values="%5B%7B%22label%22%3A%22Empty%20nesters%2091%22%2C%22value%22%3A%2291%22%7D%2C%7B%22label%22%3A%22Families%2089%22%2C%22value%22%3A%2289%22%7D%2C%7B%22label%22%3A%22Safety%2088%22%2C%22value%22%3A%2288%22%7D%2C%7B%22label%22%3A%22Safety%2088%22%2C%22value%22%3A%2288%22%7D%2C%7B%22label%22%3A%22Seniors%2086%22%2C%22value%22%3A%2286%22%7D%5D" bgcolor="sky" options="striped,animated" title="TOP ATTRIBUTES"][vc_progress_bar values="%5B%7B%22label%22%3A%22Singles%2067%22%2C%22value%22%3A%2267%22%7D%2C%7B%22label%22%3A%22Parking%2063%22%2C%22value%22%3A%2263%22%7D%2C%7B%22label%22%3A%22Shopping%2050%22%2C%22value%22%3A%2250%22%7D%2C%7B%22label%22%3A%22Nightlife%2050%22%2C%22value%22%3A%2250%22%7D%2C%7B%22label%22%3A%22Public%20Transportation%2050%22%2C%22value%22%3A%2250%22%7D%5D" bgcolor="bar_turquoise" options="striped,animated" title="LOWEST ATTRIBUTES"][vc_separator color="mulled_wine"][vc_column_text]Madison Park, Seattle Reviews
Madison Park
Madison Park is a unique nabe. Not unique in a sense that there are no places around the United Staes, or even Seattle for that matter, that aren't similar in geography but because of the people that you meet. You have your suburban families going for family walks, your athletic types playing tennis, frequent visitors who visit year round, and the summertime crowds. During the warm spring and summer weather Madison Park is a haven for some of the most interesting and friendly people in all of Seattle due to its grassy beach used for summer lounging and its wide array of outdoor dining. After going for a dip in the cool Lake Washington water people have their choice of restaurantes to visit ranging from the widely popular coffee-house of Starbucks to local happy hour favorite Cactus. The service is fantastic all around and no matter where you go the food is phenomenal. There are limited parking options surrounding the park and restaurants so be sure to plan accordingly if visiting for a dinner outing. However, living in Madison Park is a completely different situation. Although the same dining options are available, the mass of people that come during peak times of the year may be a hinderance to your enjoyment of the location. That's not to say that Madison Park is not an ideal place to live, far from it. The streets and houses are stunning with beautiful yards and trees everywhere as well as plenty of parks to bring the kids to including the locally famous Arboretum which has multiple walking paths through exquisit scenery. However you may find it easier to walk instead of drive the family to dinner to avoid the hassel of searching for that rare open spot. All things considered, Madison Park is a phenomenal nabe that, although on the pricey side, presents such a beautiful and welcoming environment that even with the crowds of summer tourists is still the prime location to live in all of Seattle.
What's awesome
What's not so awesome
summertime crowds
Griffin M.
Bluntly put, you likely cannot afford here.
There's a reason Madison Street, once it leaves the cock-eyed grid of Downtown, continues to plow it's way through block after block, not giving a damn about whether or not it is screwing up the perfect grid of Seattle east of I-5. It is because Madison Street has a mission and a purpose. Its mission is to carry you, your rich friends, and all the cash in your bank accounts to Madison Park. That's it, it has no other purpose.
Madison Park was once an escape for the rich from Downtown, likely why Madison Street runs straight to it, and today, it is the home of the rich, no longer just an escape. Madison Park is affluent, gorgeous, filled with rich people who play golf all day, and dine at the upscale restaurants along Madison Avenue. There are a number of excellent bars in the area as well.
This review may have the word 'Madison' in it far more times than is necessary.
Zachary Walker
It's all about the beach.
Madison Park is nice. Really, really, really nice. It's essentially unaffordable for students, but it's a dreamland for families and young couples, and everything about it, from the picturesque little shopping streets (42nd and Madison) to McGilvra Elementary school, are utterly charming. If you're loaded and ready to settle down, Madison Park might be for you (and if you're old and retired, there is no equal in Seattle), but if you're young and poor it is still a wonderful place to hang out.
Though there isn't much point to visiting Madison Park in the winter, in the summertime it becomes the supreme Seattle hood, and it's all because of Madison Beach, the prettiest, liveliest beach in Seatown. Children frolic in ecstasy on the newly renovated play structures across the street, while the beach itself (if you're not from Seattle, "beach" means "big lawn on the water") pulsates with bodies in various degrees of nudity. Some have started to hate coming to Madison because of how crowded it gets, but if you're into that sort of thing there's no place better. The major downside of the beach boom is that parking is totally awful, so bike or catch one of the inconvenient buses that travel up and down Madison ave if you can.
My dad lived in Madison Park for years in a sweet apartment right on the water, and summer dinners out on the balcony, watching the little white boats on Lake Washington, were paradisal. I was still living at home with my mom in those days (and as a result, got to drive her car), so it was pretty easy to come and go, but public transportation options basically suck and you'll need to transfer busses to get anywhere except Capitol Hill and Downtown (though the 84 bus takes a little detour through the Central District). There are a couple of cool bars, and I've heard some pretty kick ass blues music at the Red Onion, but the nightlife seems to belong mostly to the older (30+) set. Bing's has great burgers, and Bert's Red Apple grocery store is by far my favorite Red Apple in Seattle. Mad Pizza is an absolute must for anyone who makes the journey, and there is no greater beach snack than an ice cream cone from Scoop du Jour next door (still vaunted as 'way better than Molly Moon's' by some). McGilvra Elementary is my alma mater, so I may be biased here, but I cannot think of a cuter elementary school in the city.
Almost everyone living here is wealthy, so things tend to be nice, clean, and pretty, but the summertime influx of beach-goers from all areas of Seattle gives a sense of diversity and aliveness that can't be found in other bourgie neighborhoods. If you're worried about Madison Park being too stuffy or conservative, you can take solace in the fact that all those types were too freaked out by the bikinis and speedos to stay, and moved into the gated community Broadmoor up the street decades ago.
Josep .P
[/vc_column_text][vc_separator color="mulled_wine"][/vc_column][/vc_row]