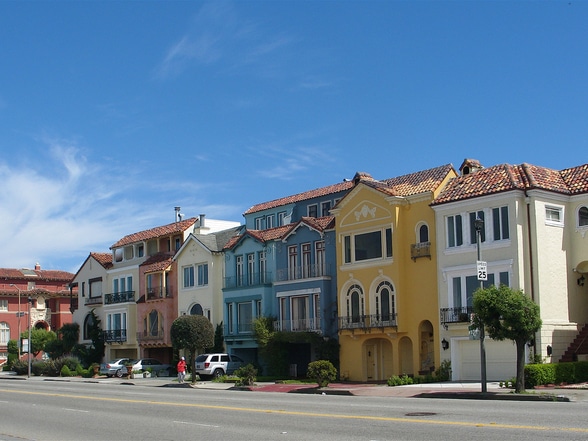 Marina District
by nabewise
Infomation
Crowds flock to the Marina, a waterfront nabe attractive to residents and tourists alike. Chestnut Street bustles with its well-loved restaurants and cafes attracting the lunch crowd during the day and fun loving singles at night. Chrissy Field sits at the waters edge, where joggers and tourists take in the stellar view of the Golden Gate Bridge and its harbor is home to the San Francisco Yacht Club. This nabe's most famous landmark is the Palace of Fine Arts–the iconic remnant of the Panama-Pacific Exposition of 1915. Equally popular Cow Hollow stretches just south of here.
Top Votes – Score out of 100
Exclusive/Prestigious 88
Income 83
Safety 78
Beautiful people 77
Clean 76
Lowest – Score out of 100
Public Transportation 32
Families 31
Seniors 22
Community 22
Parking 13
Top Reviews from Travel Rentals Neighborhoods
Love letter to the Marina, sort of.

"Marina"…your name rolls off my tongue with such ease, so delicate and sweet, yet I know the sour has yet to come. I walk down Union Street staring into the boutiques with up-and-coming fashions, unique trinkets and glistening jewels. I approach the entryway of one, yet am fearful to take the next step that will bring me into this world of wonder. A world of "I wonder how people actually afford this, I wonder why the store clerk is staring at me with such suspicion, I wonder why I set foot into the store in the first place." Instead, I continue walking. I hear the delightful purring of the electric 45 carrying my neighbors and friends to their beautiful, yet overpriced homes. I look up and four businessmen walk towards me with loosened ties, and hands in their pockets. They are ready to revisit their college pastimes down at the bar, that, to them, is considered second to NONE. Their feet walk firmly over the yellow bumps on the corner of the sidewalk while mine are cautious as I have witnessed many lives succumb to the forces of these plastic devils, especially when the raindrops come out to play. I decide to turn right on Fillmore and walk towards the blue diamonds glistening in the distance. This is what salvages my love for you, Marina. I can feel the wind on my face blowing colder and colder as my smile widens with anticipation for the view I'm about to experience. Is that grass I see? It has been too long! I have grown so accustomed to the stacks of cement that line the streets, that this green gold excites me more than it should. I kneel down and run the blades through my fingers to ensure I'm not dreaming…and I most certainly am not. Oh Marina, this is where your beauty lies; in the blades of grass that would tickle my feet if I weren't wearing boots in the middle of summer; in the glistening layer of blue diamonds too cold to ever set foot in, yet home to the Golden Gate Bridge to my left and Alcatraz to my right. My love for you often feels forbidden for I am fearful to mention your name in response to the question "Where do you live?" The stutter I never had comes out as I attempt my response in fear of judgment. "M…M…M" I see the eyes of the questioner widen…"MARINA" I say, "MARINA." Their head shakes in disapproval, but they don't understand. We all have our flaws, but yours are overshadowed by the beautiful view you offer me every day, except when I have done something to anger you and my view is covered with fog that only reveals the base of the bridge and engulfs the rest of the city. Love is pain I suppose and you bring a lot of that to the table, but I can handle it, as I know you mean well, we all do.

Marissa L.
The Marina is one of my favorite areas in SF

I have friends that live here and I visit whenever I'm in SF. I love, love, love this neighborhood. I know a lot of san francisconites love to hate on the Marina, but it has adorable houses, great boutique shopping, cute and relaxing cafes and it's on the water. Plus, imo Marina women are less frumpy than women across much of the rest of SF. I can walk around fashionably without feeling that I stand out so much. This is one of the main places I would consider living if I moved to SF (I live in NYC).

The only con to consider is that this area (since it's built on top of landfill) is expected to have major problems with liquefaction in any serious earthquakes! Check out some photos of this problem here:
http://earthquake.usgs.gov/regional/nca/qmap/

Julie P
It's the freaking marina!Josh B
Marina is the best

Been living in the Marina for past three years and love it. Large side-walks, safe, and the weather is pretty good, although there is a constant wind off the bay. Close to trails of Marina Green and Chrissy Field. There are a ton of great restaurants to eat at, and new ones constantly be added. Easy access to both grocery (Safeway) and farmer's market (at Ft Mason).

What's awesome

Parks galore, beautiful views of the bay and the golden gate bridge,

What's not so awesome

lacking culture, people look/act the same, its expensive to live here

Logan C.
I Don't Know

I just answered a bunch of the questions as "I Don't Know/Skip" because, really, I don't know and I'd rather skip. I don't know much about the Marina except it's a nabe I rarely visit and rarely enjoy visiting.

Like oil and vinegar, The Marina and I do not mix, mostly due to the people who tend to inhabit or regular this area. Though it should be noted that I CAN find beauty in the nabe. It's most certainly a nabe to check out a restaurant or thirteen, with one of the best sushi restaurants I've ever had the pleasure of experiencing being located here. It's also the best neighborhood to head, with a blanket, to watch the evening fireworks show that takes place over the Bay on the Fourth of July.

Kristine J
Pretty and trendy, but makes me feel awkward

I try and try with the Marina, but now matter how I try, it always makes me feel like an awkward character in a John Hughes movie.

Michaela Ann M
Loving the Marina

I love living in the Marina, even if it gets a bad rap. It is in the midst of and close to very fun night life; it's safe at night, which is a huge must-have for me; and, it has fantastic restaurants if you are a foodie. There is something to be said for living in beautiful apartments right on the water.

Joe M
A mixed feeling for the Marina

The Marina is a varied blend of families and young professionals. Some good eateries include Plant (Fillmore and Chestnut) and Lucca's (on Chestnut). Public transportation isn't as easy as other areas in SF, but this nabe definitely has an attraction for some night life and heavy spending. The Marina gets a lot of grief from those who don't live in the neighborhood, but I don't mind it every once in awhile for going out on the weekends with friends.

Jessie W.
Not so mellow Marina

Yes, the Marina is a gorgeous part of town but some of the most obnoxious crowds flock here. So I totally avoid the Marina when it comes to nightlife but there's nothing like strolling Chestnut Street on a sunny day and the Marina Greens is one of my all time favorite places to relax. The Fort Mason complex hosts year round festivals and arts fairs and the Palace of Fine Arts with the Exploratorium is a must do.
Chestnut is ripe with some amazing eateries like A16 and the boutique shopping is hard to resist. All in all, the Marina is a really a great nabe if you can get past the washed up jock crowd.

Gena