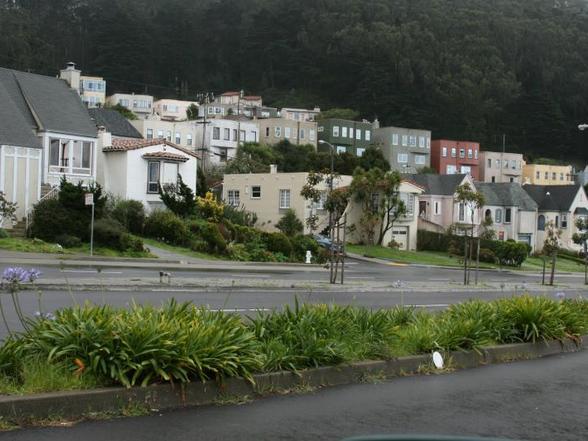 Miraloma Park
by nabewise
Infomation
Miraloma Park is an expansive nabe where single-family homes and quiet streets nurture local community pride. Developed between the 20s and the 50s, Miraloma Park boasts a wide range of architecture–from Tudors to Mediterranean inspired homes. Glen Park and its BART station are just a short drive away. Residents love to play or relax and enjoy some green space at Miraloma Park–it has a great playground and sports field.
Top Votes – Score out of 100
Families 79
Quiet 75
Clean 63
Safety 63
Wealthy 51
Lowest – Score out of 100
Shopping 38
Dining 38
Nightlife 25
Public Transportation 23
Singles 13
Top Reviews from Travel Rentals Neighborhoods
Safe and sound

This is an attractive, residential community. The streets are quiet, safe and kid friendly but there's not much else going on here. Hop on O'Shaughnessy Blvd. and you're in Glen Park in less than five minutes or Portola Drive will take you to Noe Valley.

Gena F.
Hidden Away

Miraloma Park is hidden away and not very well known, even amongst San Franciscans. However, it's a pretty cool spot; the Mount Davidson Cross is a touching memorial to visit for the religious and non religious alike, and when it comes to residences the nabe is safe and friendly. Public Transportation is pretty good along O'Shaughnessy Boulevard on the east border of the nabe, with Portola Drive to the north, Melrose to the south and Mount Davidson Park to the west. The crime rate is pretty low, of course there are a few break-ins every now and then, but those really are occasional. Portola Drive provides shopping, with the famous Tower Market, a landmark gourmet grocery. Oh, and along with about a million other nabes in the area, the views are stupendous.

Chloe N.
Argh! The students!! They just take over certain parts of this neighborhood after… wait, no, before… wait, no all damned day. The School of the Arts there on Portolaalways makes me wonder what kinda off campus rules they have. The kids are generally running up and down Portal and bleeding over into the business and residential parts of this neighborhood all day. What? Why?! I'm trying to work in peace on my laptop in Starbucks. Shut up, get out and go to biology class already!Joe C.