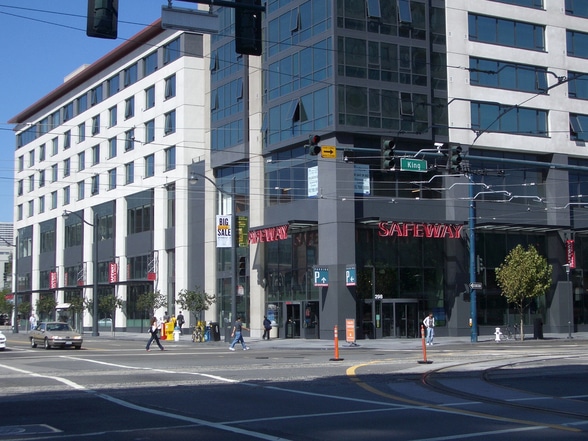 Infomation
Once a forgotten urban wasteland, Mission Bay is constantly redefining itself. New ventures are always sprouting up in this bay front nabe, taking on the hip characteristics of sister nabes like South of Market(SOMA) and South Beach. Created in the late 90s by the city, the nabe has undergone a rapid and pervasive transformation: UCSF is building a new campus here, and a host of biotech developments have come as well. The newly constructed Third Street Light Rail provides transportation to and from Mission Bay where high end condominiums and lofts are replacing warehouses at a furious rate.
Top Votes – Score out of 100
Gentrifying 83
Income 80
Trendy 75
Public Transportation 71
Students 70
Lowest – Score out of 100
Community 35
Families 34
Shopping 29
Seniors 26
Pet friendly 25
Top Reviews from Travel Rentals Neighborhoods
Working Professionals Still Have Fun

Mission Bay is an up and coming neighborhood in San Francisco. The area was once mostly occupied by railyards but in recent years it has been redeveloped and revitalized as a residential area. This was sparked by the construction of AT&T Park, home of the San Francisco Giants, the 2010 World Champions. Mission Bay is a relatively small neighborhood made up of two parts: Mission Bay North and Mission Bay South. Mission Bay South is home to UCSF's Campus whereas most of the action (as of now) is on the other side of the water in Mission Bay North.

Because much of the area is new construction, the homes are lacking that classic San Francisco Victorian charm but they make up for it with modern amenities like double pane windows, secure buildings, insulation, heat, etc. These amenities do make renting a bit more expensive. Mission Bay is a great hub for public transit with the Caltrain (commuter rail of Silicon Valley) station being located here and also several Muni lightrail and bus stops. The only drawback transportation wise is that there isn't a BART stop in Mission Bay. However, there is a free Mission Bay shuttle that runs mornings and evenings on weekdays for commuters who want a ride to the nearestBART station.

Because of its adjacency to the Caltrain station, there are many working professionals living in Mission Bay. The trains can be noisy but living here, you eventually start tuning it out. There are also a fair amount of young families. The neighborhood is clean, along the water and usually gets lots of sun. Mission Creek Park is a nice waterfront park that includes open space, grassy areas, pathways, benches and a fenced in dog park. This is a great place for dog owners. The wide pathway connects to the Embarcadero so bike rides to the Ferry Building are an easy weekend activity.

The nightlife in Mission Bay isn't as exciting as some other neighborhoods in SF, but there are still popular and trendy places to check out. And the neighborhood does liven up during baseball season. There are many restaurants and different cuisines to choose from and lots of modern furniture stores. It's mostly locals in Mission Bay, not exactly a tourist draw but that can be a good thing.

Katie R.
Up and coming

Mission Bay is one of the newer neighborhoods in SF, and you can definitely tell. Home to ever-expanding development, research institutes, and several big HQs, Mission Bay's got a lot going on! If chic condos and stylish lofts are more your thing, this nabe has tons of great housing options (many with awesome views!). There's a good amount of dining and entertainment options here, and for even more exciting things to do, this nabe is conveniently very close to SoMa and the Mission District. For more laid back recreation, several small parks and a super cool library are also located in Mission Bay.

What's awesome

Chic new condos, cool views, a constant "up and coming" vibe. In addition to the N/T lines, there's also a Caltrain station, which can take you all the way to San Jose!

What's not so awesome

Not quite as much entertainment as some of the nearby neighborhoods, but those are right around the corner!

Anna H.
it aint classic, but it is kinda cool

if ur looking for a classic sanfran nabe, i wouldn't say this is it. lots of new office buildings and condos make it feel like someone constructed it out of a super-mod lego set, it's very planned (acutally feels more like seattle than sf) that's not so much a bad thing, though. there's some good energy here b/c of changing atmosphere and a generally young population (i havent seen many pppl here that look below 35).

What's awesome

feels mod and there's of room for new stuff

What's not so awesome

umm, slightly steril planned feeling? also there's not tons of bars, but ppls condos look so cool here that they prob just drink at home and pretend they're in a bar.

Lucy M.
Mission Bay – Madrone Construction Photos
I was out and about today and took some photos of Phase 2 at The Radiance, now known as The Madrone.I also snapped a panorama showing Mission Bay Commons Park between The Madrone construction on one side and the Nektar office building on the other side. I am fascinated by the juxtaposition of old, new, empty, and under construction in the neighborhood.Matt Fuller
Ever Changing
I've worked near Mission Bay for several years and have watched it changed drastically over that time. New shops and restaurants are opening up all the time, mostly due to gentrification and start-ups taking residence.One of my favorite spots in Mission Bay is the super quiet library. During a hectic work day, it's a nice spot to walk to and gain a little peace, quiet and a bunch of Cds and books to take home and enjoy.Michaela Ann M.
Where it's at
This is a really exciting part of town. It seems like each week a new building begins to sprout up. The area was industrial and although that vibe is still present, I'd say it won't be for long. It will be interesting to see how it continues to grow and what type of development will follow UCSF. Mission Bay has some great views of the East Bay and Berkeley Hills.Gena F.