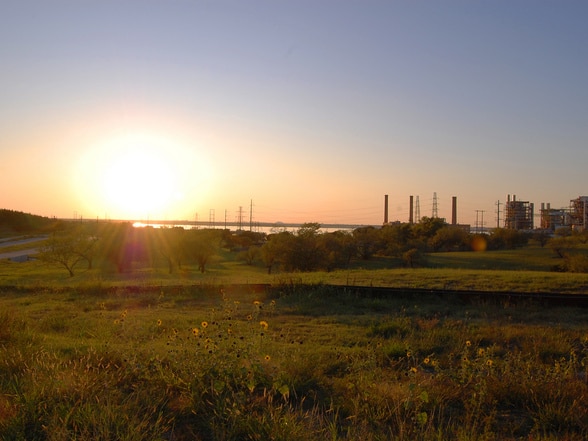 Mountain Creek Meadows
by nabewise
[vc_row][vc_column][vc_column_text]
Infomation
Mountain Creek Meadows is a sprawling green nabe located south of Dallas proper. The focus of this nabe is Mountain Creek Lake, which takes up about half of the area. The other half consists of the Dallas Theological Seminary (the 5th largest seminary in Northern America), the Dallas Naval Air Station, and tiny pockets of residential areas. The few residential areas in this nabe contain older apartments and modest homes. For those who love nature and appreciate green space, Mountain Creek Meadows is the perfect nabe.[/vc_column_text][vc_separator color="mulled_wine"][vc_column_text]Mountain Creek Meadows, Dallas Data : Neighborhoods & Travel – Score out of 100[/vc_column_text][vc_progress_bar values="%5B%7B%22label%22%3A%22Green%20space%2083%22%2C%22value%22%3A%2283%22%7D%2C%7B%22label%22%3A%22Quiet%2083%22%2C%22value%22%3A%2283%22%7D%2C%7B%22label%22%3A%22Clean%2075%22%2C%22value%22%3A%2275%22%7D%2C%7B%22label%22%3A%22Pet%20friendly%2075%22%2C%22value%22%3A%2275%22%7D%2C%7B%22label%22%3A%22Parking%2067%22%2C%22value%22%3A%2267%22%7D%5D" bgcolor="sky" options="striped,animated" title="TOP ATTRIBUTES"][vc_progress_bar values="%5B%7B%22label%22%3A%22Singles%2017%22%2C%22value%22%3A%2217%22%7D%2C%7B%22label%22%3A%22Families%2017%22%2C%22value%22%3A%2217%22%7D%2C%7B%22label%22%3A%22Dining%2017%22%2C%22value%22%3A%2217%22%7D%2C%7B%22label%22%3A%22Income%2016%22%2C%22value%22%3A%2216%22%7D%2C%7B%22label%22%3A%22Empty%20nesters%2010%22%2C%22value%22%3A%2210%22%7D%5D" bgcolor="bar_turquoise" options="striped,animated" title="LOWEST ATTRIBUTES"][vc_separator color="mulled_wine"][vc_column_text]Mountain Creek Meadows, Dallas Reviews
Escape from the city
Located southwest of Downtown Dallas, Mountain Creek Meadows offers a lush, tranquil escape from the bustling city life. Scenic Mountain Creek Lake is a popular yet quiet destination for weekend recreation, while nearby parks and scenic country roads occupy the rest of the nabe.
As for housing, options are limited. There's a small community of country homes situated near 12 and 180, student housing near Dallas Baptist University, and scattered farms on the west side of the lake. In terms of amenities and convenience, it is not the most desirable of places, but then again, if it's a peaceful natural setting you crave, this might be the place for you.
What's awesome
What's not so awesome
Very rural, lack of amenities
Steve R.
Eh, it's good for the DBU students.
See that big blue spot? That's a huge lake! Pretty rare in the Dallas area! It would be pretty sweet to live next to a lake, but there aren't many places to live in this nabe! Shame shame! From the looks of things, Mountain Creek Meadows isn't much of a residential area at all.
Dallas Baptist University is the most happening place in this nabe. So the majority of housing is set aside for the students. The usual cheapo, modest apartment complexes. Other than that, it's a bunch of green space and industrial buildings.
What's awesome
Green space and a big lake!
What's not so awesome
Not too livable.
Meredith L.
[/vc_column_text][vc_separator color="mulled_wine"][/vc_column][/vc_row]