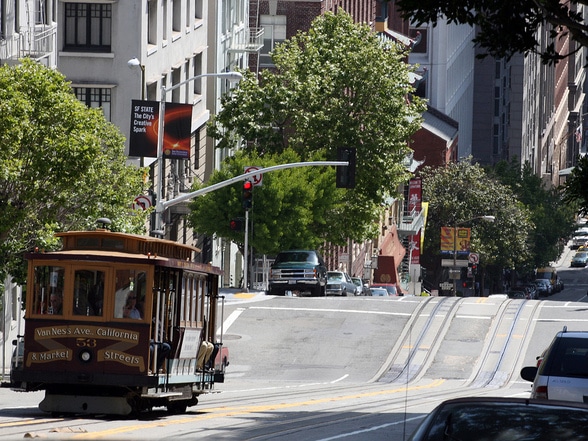 Infomation
A famous hilltop community where cable cars roll past historic mansions, Nob Hill is a pricey nabe where locals enjoy spectacular views and exquisite homes. Nob Hill is home to Huntington Park, beautiful Grace Cathedral, and some of the city's ritziest hotels–oh la la! Luxury apartment buildings line its periphery and the nabe is within a few blocks stroll from North Beach,Chinatown, and Downtown.
Top Votes – Score out of 100
Tourists 83
Exclusive/Prestigious 78
Dining 77
Clean 75
Safety 75
Lowest – Score out of 100
Singles 50
Shopping 38
Community 38
Income 33
Parking 19
Top Reviews from Travel Rentals Neighborhoods
A Day In The Life Of Taylor Street

Yes, you have to climb up a monster hill to get here. But, with several worthwhile stops along the way, and killer views from the top, really, it could be a lot worse (someone could make you pay).

Despite its fame, this nabe is actually a transitional one, with the more definedRussian Hill and North Beach on either side. To explore Nob Hill proper, start at Grace Cathedral. Stare at this glorious church from inside and out.

Walk north on Taylor Street. Grab a breakfast burrito and a coffee at Cafe Isabella (Taylor and Jackson), or try one of her excellent sandwiches. (You must arrive before she closes at 2pm, which shouldn't be a problem as you are saving your appetite for dinner in this City of Foodies, right?) Gorgeous views of the Financial District, the Bay Bridge, the Berkeley Hills and Oakland abound to the east. Don't miss the distinctly San Francisco architecture – tall thin structures with small balconies covered in personal plants.

Alcatraz and Angel Island await you once you reach Vallejo Street. Here, you can take the stairs to your left for views just that much higher, or, head down to North Beach if you're ready for more action. Surrounding the stairs are multi-use parks – you will find adorable dogs playing in the flower beds, free Tai Chi classes, and locals exercising or reading books. Join 'em!

Now, you're getting hungry. Some of the better italian restaurants of Little Italy, inNorth Beach just down the hill, seeped into Nob Hill years ago to feed the ritzy folk. Depending on your mood, you have four options. They will all be crowded, which is a good thing. Trattoria Contandina (Union and Mason) is on the cable car line. It has excellent drinks and typical, good italian cuisine. At the romantic Allegro Romano (Jones and Broadway) it is not unusual to be sitting by the likes of Demi Moore and Ashton Kutcher or Ben Stiller and Christine Taylor. Backtracking, try Venticello's (Taylor and Washington) melt-in-your-mouth Fettucine Con Salsiccia or crispy pizzas. For the most true neighborhood spot, go to the Nob Hill Cafe (Taylor and Clay). If you're lucky, you might run into the legendary Brown Twins of Nob Hill, two 83 year-old sisters who look and dress exactly alike.

Nightime is magical on Nob Hill. So, after dinner head to Grace Cathedral's fountained courtyard that will be yours alone, and enjoy the chunky lights covering the knobby trees of Huntington Park across the street, when it 'tis the season. Finish the night with a drink at Top of the Mark, a prized lounge on the 19th floor of the famed Intercontinental Mark Hopkins and relish in extraordinary views of the City by the Bay.
A must do

It's hard not to like Nob Hill. It's beautiful, iconic, picturesque with some of the best views around. Hike up those hills, check out Grace Cathedral and have a drink at the Tonga Room. While living there isn't an option for most, it's fun to visit. Nob Hill is quintessential SF and that's that.

Gena
A Worth-it Climb

Want buns of steel? Live on Nob Hill and climb home every day. The hill is intense, but when you reach the top you are rewarded with peak views of the city, a quaint little park and the towering Grace Cathedral, which is awe-inspiring in its architecture and fun to walk through or just to sit on the steps and catch your breath. The AIDSmemorial in the church is particularly moving.
This highly exclusive residential area is picturesque San Fran. All the homes are gorgeous and gated. The streets are broad, and did I mention hilly? I really can't imagine how old people, or even someone in a wheel chair, could live here, you do actually have to be pretty fit. Definitely worth a visit if not a reason to get rich.

Nina B.