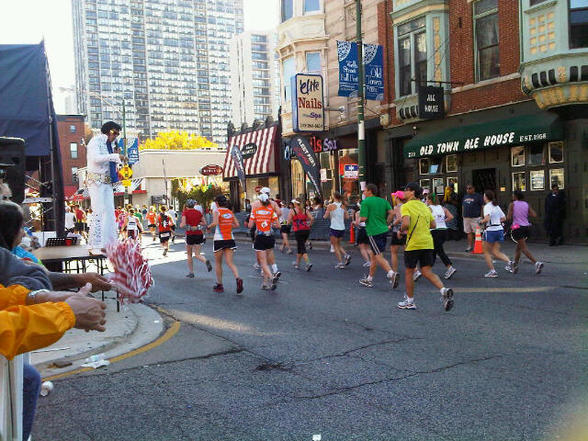 Infomation
Sitting at the top spot for historic nabes, Old Town is resplendent with grand Victorian-era architecture that proudly survived the Great Chicago Fire of 1871, and serpentine streets that escaped the utilitarian grid system. This All-American locale has great general store features—think fudge shops, tobacco stores, and fine ale. It's the home of modern American laughter as well, as it houses the famous 2nd City Comedy Club. Old Town is located within Lincoln Park and the Near North Side and boasts a Brown Line station.
Old Town, Chicago Data : Neighborhoods & Travel – Score out of 100
TOP ATTRIBUTES
Pet friendly 90
Dining 89
Safety 85
Empty nesters 84
Public Schools 83
LOWEST ATTRIBUTES
Income 64
Quiet 63
Community 59
Seniors 48
Parking 23
Reviews
Old Town has Lots to Love
The Old Town neighborhood has a lot to love. A part of Lincoln Park, it's situated just west of Chicago's Gold Coast neighborhood. The scene in Old Town all happens on Wells Street. During the day, there's small stores & boutiques & al fresco dining (in the summertime!); at night, it's upbeat, with a solid nightlife. Locals say there's a mix in Old Town. Lots of renters and home-owners alike. Big attractions are The Second Ciy & Zanies nightclubs & just about every kind of restaurant you can imagine. Try Salpicon for Mexican and Kamehachi for Japanese (my fav's). From Old Town you can easily walk to the beach; and you really don't need a car to get around. Public transportation is super easy. Rents are on a bit on the expensive side, and the strip has lots of nightlife (also tourists).
The neighborhood has a completely unique character that it forged back in the Depression era — when artists Sol Kolgan and Edgar Miller lived and worked here. Just walk down any of the old artist areas such as Burton Street or certain parts of the 1600 block of Wells, and you'll see hand-carved woodwork on buildings and beautifully inlaid tiles on the pavement. In a nutshell: funky, flavorful, social, vintage appeal & neighborly.
School options are numerous here. Private grade schools such as Catherine Cook,Chicago Grammar, LaSalle Language Academy, Franklin Fine Arts, the British School and Latin School are nearby. Walter Payton, one of the city's top college prep schools is just north of Division on Wells St.
Housing styles are as varied as as the neighborhood. The old Doctor Scholl's Shoe Factory is now a converted loft building. There are several neighborhood highrises, but mostly smaller homes & townhomes, 2-12 flats, vintage style housing, historical areas and single family homes. Don't expect to find too many mcMansions here. Land prices are very high & zoning is not favorable to building large homes.
The area just north of North Avenue and west of Wells Street is a wonderful historic area called "Old Town Triangle." Most of the homes here are landmarked, so its difficult to tear them down or change the facade. This area includes some of the most beautiful vintage homes in the city. There's nothing quite like Old Town.
What's awesome
What's not so awesome
Late night revelers
Lissa Weinstein
Small Town in the Big City
Take an old timey neighborhood, cryogenically freeze it, and then thaw that little thing in present day. Bam! You have Old Town! This little gem of a nabe is renowned in Chicago for its near downtown location without the busy professional vibe. Many of the older,beautiful brownstones are intact and inhabited rather than used as storefronts and such, and it seems that many of the residents are old chums, stopping on the street to chat rather than the typical "oh no, there's Mary I never responded to her dinner party invite, keep looking at the ground and cross the street, she'll never see you". Quite the contrary.
There are a variety of familiar shops and restaurants (Old Town Aquarium, Twin Anchors) and newer establishments (Old Town Social) that cater to both the aged and the youthful. Its quite a charming place for all ages and those that are able to just spend a night out in Old Town, be prepared to drop a few dollars.
What's awesome
What's not so awesome
Out With The New, In With The Old Town
If you've got some spare change and a hot date to impress, Old Town might be perfect for you. With plenty of dinning (Kamehachi, Orso's), entertainment (Second City, Zanies) and shops (Old Town Spice House, Piper's Alley Mall), this small neighborhood centered around Wells Street is the place to be. Fun for the youthful (Old Town Social) and those who enjoy the quaint nature of a social neighborhood (Twin Anchors), Old Town has some of the best attributes this city has to offer.
What's awesome
Dinning, Local Comedy, Community
What's not so awesome
Boho/Bourgeois
The people who live in Old Town are mostly 30-somethings with artistic pretensions. Full of chic, prewar studios, rent is sky-high, and in the touristy areas (like near Second City) so are prices. But the neighborhood is definitely a charmer and those who live there are proud of their community. Must-sees are the Second City theater in Piper's Alley and the 24/7 Starbucks which hosts a rotating variety of the young, the beautiful, and the weird.
Liz M.
Old and new, good and bad
Cabrini Green is gone and Old Town has blossomed into a kind of bourgeois monstrosity in its place, but if you're the kind of person who buys wine from a dedicated shop rather than a liquor store, this nabe may be perfect!
Pros
Comedy and theatre
Great dining
Historic
Access to amenities
Upscale
Good schools
Cons
Upscale
Stark and obvious income/racial divide
Affluent and expensive
Michael
Living in Old Town…..
I have lived in Old Town since the late 70's (longer than some of our readers have lived!). As a realtor, and native of Chicago, I am familiar with all city neighborhoods and can't imagine living anywhere else. The park and lakefront are at my back door. The neighborhood has incredible charm with historic houses and some original cobblestone streets….rich with history. Each of the townhouse complexes and high rises along the park are unique and well run and have maintained their value even in challenging markets. The Old Town Art Fair is reknowned with people coming down here each June from all over the city. And….we are home to the infamous Second City and Zanie's Comedy Club. You walk down the street to do errands and run into familiar faces, people walking their dogs, babies. The original 'Nookies' has become a landmark. There are boutiques with owners who know the neighborhood. I always feel like I'm saying hello to friends when I stop in.
This is a real neighborhood where people raise their families, or are proud to be part of….nestled inbetween Lincoln Park and the Gold Coast, easy access to the expressways and transportation.
Sherri K.
Great All-American Urban Neighborhood
BUZZWORDS: Historic, Affluent, Trendy, Foodie, Comedy Clubs, Ale, Gentrification, National Historic Registry, the Blues Brothers…
Smuggled somehow between Lincoln Park and Near North is one of America's most interesting urban nabes. Few nabes have the rich history that Old Town garners. Without a doubt one of the best nabes to visit when in Chicago. And hey if you can afford the rent, I'm sure its an amazing place to live.
Old Town is home to several infamous Chicago landmarks: Second City Comedy Club (few laugh factories in the US have a better list of alumni), Twin Anchors Restaurant (Amazing ribs), St. Michael's Church (a great structure for all you architecture wonks to observe)… just to name a few. Nightlife is not void of Old Town as it is no doubt home to some of Chi-Town's best restaurants and bars.
Take the CTA's Brown Line to the Sedgwick, and take a stroll down Wells Street on a summer evening to experience the epitome of urban gentrification; 100 year old structures retrofitted with trendy restaurants and tony shops on the bottom floors and gutted/rehabbed condos above.
Ryan H.
Old Town is a wonderfully quaint and historic neighborhood that lies within Lincoln Parkand the Near North Side. It's home to the Second City Improvisational group which produced greats like Jim Belushi, and the famous sculptors Edgar Miller and Sol Kogan. Many of the homes in the area survived the Great Chicago Fire. Each year the Old Town Triangle Association holds the Old Town Art Fair which draws artists from around the world to sell and display their works. But don't let the art scene scare you, it's one of the most popular street fairs and draws people of all ages to party all day. Take a stroll down Wells Street and you'll find anything from a Fudge shop to a Tobacco store…. Not to mention a huge variety of Restaurants to satisfy every craving! Old Town is easily accessible by the Brown line and by bus.
Lisa Nish
OLD TOWN…FOR U30'S…?
So I live in Old Town, I'm 24 and I'm not too sure this area wants me here. I work on my website earphoria.fm often and I live off my lap top, backpack & headphones = staring thoughts of "what is he doing in my neighborhood?"
Old Town has a lil bit of everything:
A few families spending 1 or 2 more years close to the city before they move somewhere with "more space."
U40 professionals balling out of control, causing all the bars to have practically no specials, no old style, and 4 dollar bud lights (ouch.) Ya, they can afford it… I can't.
Elderly that only walk down the street during the day to eat the many culinary options that I've never tried, but I'm sure they're ok.
If you plan on going across Sedgwick to the Cabrini Green side of things… think downtown Cincinnati (you been?)
So ultimately, Old Town has many things to offer, but if you're not making 70k+ a year, you're probably going to Jewel to buy your food and somewhere else to socialize unless you know about a loft get together.
Pros: Clean, many culinary options, cool architecture here and there, overall nice people if you don't end up catching a drunk executive after midnight.
Cons: Expensive, Cabrini green
Kent W.