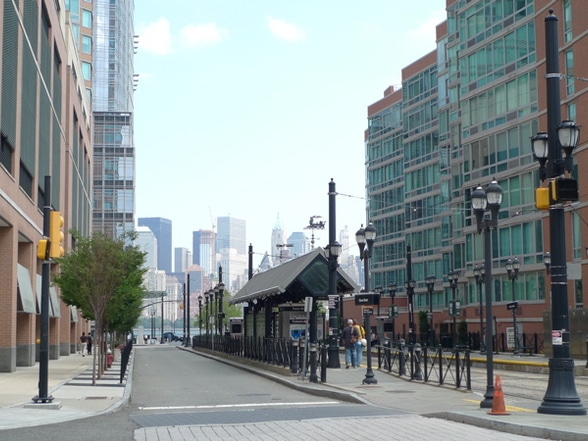 Paulus Hook NJ
by nabewise
Paulus Hook is a waterfront nabe with a historic feel. Here you will find classic brownstones and factories from an earlier time, all renovated and updated for today. There is also some new development, largely in the Colgate Redevelopment Area, that provides chic waterfront apartments and condos. Close to Manhattan, getting here is a breeze by rail or ferry, but Morris Street offers all the shopping and eating one would need.
Paulus Hook Data
Top Attributes
Clean 9.0
Public Transportation 8.8
Dining 8.5
Families 8.4
Singles 8.1
Lowest Attributes
Seniors 6.6
Green space 6.3
Shopping 5.6
Income 5.6
Parking 5.0
Paulus Hook Review
Leah H.
Hidden gem

Paulus Hook is a hidden gem. Quiet leafy streets, fantastic waterfront views and competively priced. It doesn't feel like Jersey City, and eventually I think it will kickPark Slope's ass! The downside to the nabe is that it is mainly residential with limited dining options that being said given that it has great transportation links so if you tire of brunching at Amelia's or Light Horse Tavern then it won't take you too long to get into NYC (via PATH) or Hoboken (via the Light Rail). The nabe also only has a few deli style grocery stores and a seasonal farmers' market. Most people living here have cars so can drive to grocery stores but I managed three years here thanks to Fresh Direct.
Jeffrey Radlin
Paulus Hook is a historic neighborhood community on the the Hudson River in downtown Jersey City. The neighborhood has retained many of it brownstones, churches, apartments, and factories. New town houses and apartment complexes have been going up over the last couple of years, adding to the neighborhood desirability. It's located right on the Hudson River, gives it easy access to Ferry, water taxi, light rail, bus & Path station. If you're into views, there are great views of NYC or Statue of Liberty from your home or waterfront.
Adam Bickoff
The classic section of Downtown Jersey City with cobblestone roads, numerous bars, restaurants, and cafes, plus great view of downtown Manhattan. Great NYC transportation with PATH, lightrail, and ferry service. Trendy yet inviting places to socialize and great streets for strolling. Plus many beautifull homes in highrises, townhouses, and brownstones.