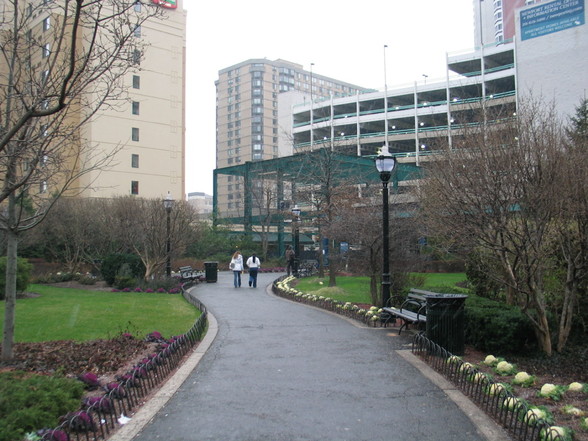 Pavonia Newport
by nabewise
Infomation
Pavonia Newport is a dynamic, largely master-planned nabe nestled in between Hoboken and Exchange Place. Transportation here is easy and varied, retail therapy tends to focus in the Newport Centre Mall, and there are handfuls of high-rise apartment buildings with views across the Hudson. Pavonia Newport offers plenty of well-polished amenities and opportunities, proximity to Manhattan, and a reasonable cost-of-living.
Top Votes – Score out of 100
Clean 86
Public Transportation 86
Pet friendly 83
Safety 81
Families 73
Lowest – Score out of 100
Nightlife 47
Parking 47
Singles 44
Green space 42
Income 38
Top Reviews from Travel Rentals Neighborhoods
An international feel—great for kids

I was someone who never thought I would leave the city, but after having a child I wanted more space. I looked across the river from the city and often wondered what it was like over there? Are they paying a lot less money over there for more space. Turns out, yes they are. I call Newport "pleasantville." It is a perfectly pleasant, convenient neighborhood perfect for small children. The population is a majority of Indian and Asian, very transient. It seems that a lot of families move here while their children are young and then either move back to their home country or to a suburb when their children are ready for school. There are a lot of daycare and childcare options, we have our son in the River School which we love. I have not heard great things about the public school options. There are a lot of playgrounds and always lots of activities and kids around, there is even an ice skating rink right in the center of town in the winter. And, the commute on the Path train couldn't be easier—much better than even the UWS to downtown where we work. It is true, not a lot of great restaurants and the grocery store is way over priced—-but we drive to Fairway in NJ and Whole Foods. There is also a Target within walking distance.

What's awesome

Childcare, playgrounds, commute, clean

What's not so awesome

Restaurants, nightlife, grocery shopping

Beth
GREAT commute to New York

If you can't afford the prices in New York or want more space for the money, this is a great option. You also will get more for your money than in Hoboken, but it is not a community/town like Hoboken is, wtih restaurants and bars you can walk to. It's essentially a collection of apartment buildings with a Path Train to the city and a reasonable mall across the street. But it's convenient. You have a lot of nice high rise and/or luxury apartment buildings with pools and gyms, and some very decent restaurants around. The mall itself is okay. It has a Macys and a Sears and a Gap and a few other shoppable stores, but nothing fancy. You are probably a $7/7 minute cab ride to Hoboken if you want more dining or nightlife options. Theres is also a Target within walking distance which is fantastic. The reason to live here is probably that for the same price, you can get a nicer/bigger place that is closer to the Path than you can get in Hoboken.

Stephanie C.
Little to no community, but great views!

I live on the top floor of a tower in Newport and believe that I have one of the best (urban) views in the entire area, if not world… I can see all of Manhattan from GW Bridge to the southern tip of the island. It's also quiet, and I get a lot more space for my $.

The downside is that if you are not Chinese or Indian, there is little community here. It's essentially a place to sleep. Hoboken to the north is a pale shadow of Manhattan, so I just go into the City for nightlife, etc. Ignoring the mall, Newport has few options: only one grocery store, one drugstore, one liquor store, one flower shop, etc. No competition means that retail prices are 50% higher than in Manhattan. Eating options suck, and Hoboken to the north offers little solace, with its poor selection, poor quality, and relatively high prices versus Manhattan.

The PATH train and ferries are your transport options to Manhattan. Ferries are fast but expensive and only go to midtown and financial district. I've been contemplating a zipline that goes from the top of my building to Tribeca. What do you think?

Ryan S.
Waterfront living

Before I started walking from Jersey City to Hoboken, via the waterfront, I use to think Pavonia Newport only had a mall and office buildings but it has a collection of modern apartment buildings hugging the waterfront. Some serious thought has gone into planning this community. There is a decent sized grocery store, drugstore and other stores plus a few restaurants and a sports center. It's a little too planned for me as I like the rough diamond of Grove Street but given the number of baby stores it seems to be attracting families. And why not, it has the feel of a gated community and there is now a walkway linking Newport to Hoboken so in ten minutes you can be in a livelier community.

Leah H.
Pavonia Newport – Lots to Offer!

Pavonia Newport consists of a mix of retail space, commercial space and apartments along the coastline. There are many dining and shopping options, with the Newport Center mall being in the main point of interest. There are many luxury low rise and high rise buildings that include endless amenities. Residents and visitors can get around conveniently by using the numerous public transportation options including the Light Rail, PATH, train and bus.

BrianDavid Realtors
The Pavonia Newport is a great place to live if you socialize in NYC but want to live in a much nicer place with more amenities. The area is all new, has so many conveniences, and is reasonably priced. The public transportation is great with PATH, ferry, and lightrail.Adam Bickoff