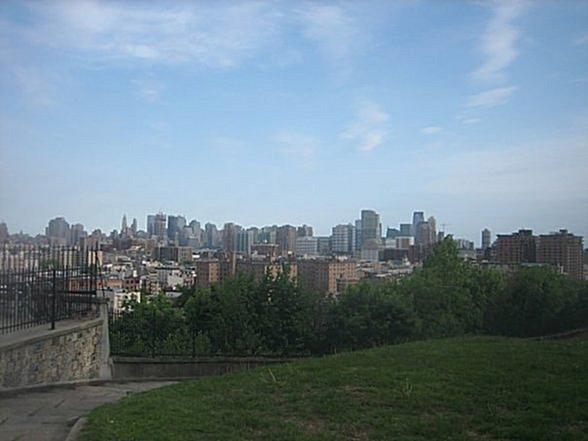 Riverview-Fiske park
by nabewise
Infomation
Just west of Hoboken, Riverview-Fiske Park provides sweeping views of the Manhattan skyline. A small and tight-knit nabe nestled in the Jersey City Heights, it offers community gardens, flea markets with a local flavor, and an outdoor movie night with free popcorn. Here you will find a mix of historic architecture, classic residential streets, and friendly neighbors. Commute is best by car, but possible by bus as well.
Riverview-Fiske park, Northern NJ Data : Neighborhoods & Travel – Score out of 100
TOP ATTRIBUTES
Charming 75
Nightlife 69
Public Transportation 69
Community 69
Parking 69
LOWEST ATTRIBUTES
Families 56
Empty nesters 54
Senior 53
Clean 50
Income 3
Riverview-Fiske park, Northern NJ Reviews
Great Park
I think there is a reason why Jersey City's oldest house, the Van Vorst, was located here. Up on a hill, the area provides sweeping panoramic views as well as quick access to the water, and is really geographically the most advantageous spot in Jersey City. I guess today the geography isn't as important as the neighborhood, but Riverview-Fiske offers both. It's more community-oriented than Hoboken, with gardens and civic groups and all that. I guess there are a few areas that might not feel super-safe to some people, but it is improving and is worth checking out.
steve L.
amazing VIEW!!!
You get the BEST views of Manhattan from the Riverview-Fisk Park. It's a little bit back off the water so not so windy and weird smelling, and you are up higher than Hobokenso you have more perspective. Also you don't have to deal with tourists or Goldman Sachs employees, which is a plus. There were some sketchy areas in the past but now I think it's not as bad. The neighborhood itself isn't as shiny as Hoboken overall, but the modesty and slower pace really do work to its advantage.
Coco P.
Vibrant
Riverview-Fisk Park is cut off from Hoboken by Paterson Plank Road and the viaduct, which you can only cross at a few spots. So it really does feel like a separate place. Generally, the area has fewer yuppies and more diversity, with a whole lot of good restaurants and shops back on Central Avenue. There are also two great parks here; Riverview-Fisk and Washington. All around The Heights offer solid, mostly safe, unpretentious living at its best, and the Riverview-Fisk Park area is the nicest part in my opinion.
Stacey A.