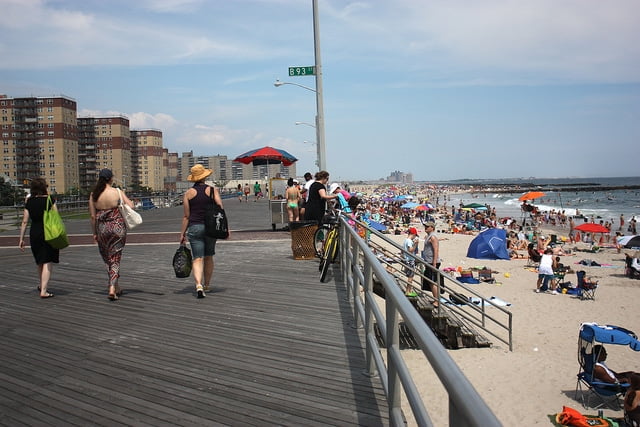 Rockaway Beach
by nabewise
Infomation
Named after the beach of the same name, Rockaway Beach is a small neighborhood sitting on the Rockaway Peninsula in southern Queens. Its beach wears the distinction of being the largest public beach in the country, stretching for miles along the length of the peninsula. The neighborhood was once the prime destination for resort goers and is now popular with surfers and fisherman alike. Nightlife and dining options line 116th Street, where plenty of pubs revel in the Irish spirit that has longed thrived on the peninsula.
Top Votes – Score out of 100
Public Schools 50%
Nightlife 50%
Quiet 50%
Green space 50%
Pet friendly 50%
Lowest – Score out of 100
Shopping 25%
Dining 25%
Seniors 20%
Community 17%
Income 0.3%
Top Reviews from Travel Rentals Neighborhoods
A ton of beauty here – visitors and newcomers respect it

Rockaway Beach has improved over the years but with it has come more people who are a bit cavalier about litter and a touch of graffiti – my advice is stop or else you'll ruin the place.

First off, the area in the Beach 60's and 70's is wonderful for the sanctuary it provides wildlife – you cannot swim there but it is quiet and beautiful to see from the boardwalk.

The shopping options are improving slowly around B 116th. The best part of Rockaway Beach and some of its sub neighborhoods in and near it are the remnants of the bungalow communities. The well-kept ones are wonderful. The new housing is a mix of decent well made 2 – 4 family townhouses and some cheaply put-up stuff. A mixed bag.

Near Rockaway Beach is Ft Tilden a wonderful area of dunes and beach – and is adjusting slowly to the increased tourism.

This area is great in the summer – a very laid-back beach community attracting surfers and sunbathers. The water quality ranges from so-so to nice. The natural beauty of the dunes and water is very nice and the feel is relaxing. Residents can come home and chill on the boardwalk to watch the sun set and hear the waves. In the summer and early fall the water can be good for a swim

In the winter time it is quiet and when nor'easters come by you are more isolated as it can shut down or delay public transport. In a way this is good for keeping the place clean and quiet, bad if you need a big-city hustle and bustle injection.

There is MUCH potential to maintain this as a retrat for blue collar, middle income folks. There are plenty of options for the well-off, walk to Neponsit to see.

If you want better public transport access but proximity to the Rockaways, your best bet is to live in Rockaway Park (which has some iffy parts but also quiet suburban like spots) or further inland to Woodhaven, Crown Heights, Bushwickwhere there is more transport to Manhattan and Rockaways.

What's awesome

Beach Ft Tilden, quiet, laid back, small, slowly growing artist community

What's not so awesome

still a few sketchy spots, limited transportation, limited shopping options, and in winter VERY quiet

chris s.
all knives aside, this beach kicks ass

Oh, Rockaway Beach—one of my favorite places to go during NY summer months. First, the beach itself: as far as NY beaches go, I think this one is the best. It's vast (so crowds don't bother you that much), waves are good, there's lifeguards (plus or minus depending on if you like chicken fighting), it's actually sandy, and long enough that you can go on a good walk along the water. Are you going to see folks of every walk of life scantily clad and wet? Well yes, but that's one of the best things about being here: people watching at its peak. The beach also offers up an interesting array of sealife: horseshoe crabs, some pretty big fish, the occasional shark (there were some problems w/ sharks there last summer), and, er trash. In sum, this is an every man's beach: if you're not ok with a bit of grunge, loud music, or large bellies, head elsewhere.

the nabe: my experience with rockaway outside the sand is limited (i.e the walk from the A train to the beach), but here's what I've got: this is quite a sleepy place. The locals are Queens natives, not transplants. The stretch from the subway to the water has enough cheesy swim shops to fulfill all your beach needs. In the winter, things get quite eerie here (I recommend checking it out once in snow though, it's quite an experience)

What's awesome

big open stretches of sand, an easy commute (take the A to its last stop and then the shuttle to the beach—really cool above ground views on the way)

What's not so awesome

a bit of trash on the beach (once my friend found a knife in the water?), the nabe itself is a bit grungy and very chill, if you're looking for nightlife or a good meal after a day in the sun, you'll have to get on the subway.