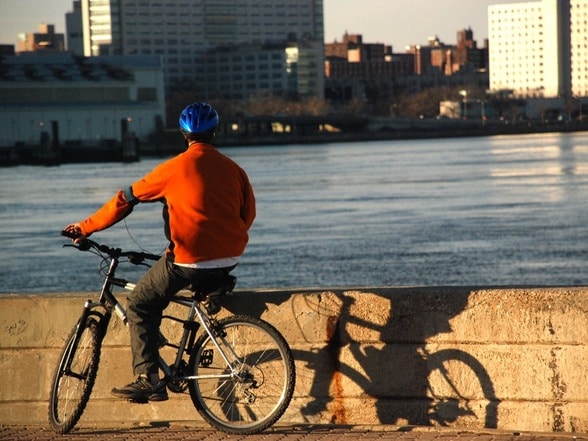 Roosevelt Island
by nabewise
Infomation
Roosevelt Island is that long, skinny piece of real estate on the East River between Manhattan and Queens. With green streets and broad demographics, Roosevelt Island has a distinctly residential feel. Many UN employees who work across the river in Manhattan call the nabe home and while there isn't a bustling downtown, there are a few bars and restaurants on the island that locals faithfully frequent. Roosevelt Island can be accessed by the F train and the Roosevelt Island Tram.
Top Votes – Score out of 100
Safety 98
Clean 81
Community 81
Empty nesters 78
Quiet 75
Lowest – Score out of 100
Parking 31
Dining 31
Nightlife 25
Income 16
Shopping 13
Top Reviews from Travel Rentals Neighborhoods
Scaled Down, Secluded NYC

In some ways Roosevelt Island feels like NYC, considering the high buildings and views on the river reminding you that Manhattan is never too far. But in other ways, you'll find that Roosevelt Island is its own nest, a community all its own.

The tram is a great way to travel to Roosevelt Island, and the views are gorgeous from up there – just not if you're afraid of heights!

There are plenty of green patches on which to play and relax on the island, but much of it is privately owned, so make sure to keep that in mind.

Also, there isn't much shopping to be done, so remember – whatever you need is just a tram ride away in NYC's midtown.

What's awesome

tram, secluded, beautiful, nyc w/o the noise, safe

What's not so awesome

Richard H.
Suburb In Manhattan

Surrounded by a looping bike path, Roosevelt Island is a unique and quiet place to live. Though you'll feel somewhat segregated from the rest of the city, the sense of community is like nothing else.

With the Tram, the F train and the Roosevelt Island Bridge as the only options for getting back and forth, there's a palpable sense of claustrophobia when one or more of the three get shut down.

Though most everything is within walking (or biking) distance, the island does offer transportation in the form of a 25¢ "red bus" which loops between the Tram on the south and Lighthouse park on the north.

If you're just visiting, don't expect there to be too much to do. Just enjoy walking around (you can walk the perimeter in under 2 hours) with the skylines of Manhattan or Queens as the backdrop.

Paul S.
I took the tram out here for a bit of a tourist ride and it was beautiful! We crossed the river and got all of these nice views of Manhattan and Roosevelt Island. There were some nice parks and some historical-type stuff. It was fun but once night fell we left since there isn't much in the way of evening activities here.ben