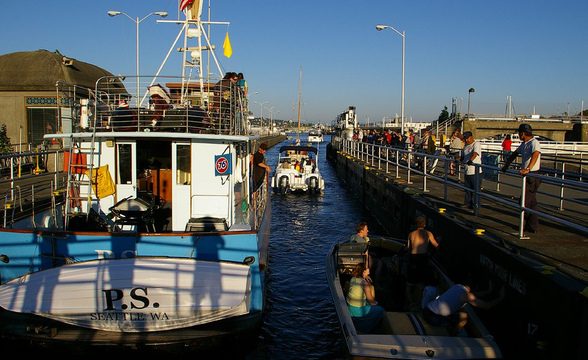 Ballard
Infomation
Truly a community catering to all types, Ballard is a thriving neighborhood in the Northwestern part of Seattle. Though still retaining a strong sense of its origins as a fishing community, Ballard has a bustling nightlife, a strong array of schools, and a growing arts scene. Locals can look forward to the year-round Sunday farmer's market, as well as the Second Saturday Artwalk, not to mention the Hiram Locks, which provide a beautiful panoramic view of the local seafaring industry. Trendy and peaceful, hip and traditional, nostalgic and cheap, Ballard certainly has something for everyone, especially if you like chili.
Ballard, Seattle Data : Neighborhoods & Travel – Score out of 100
LOWEST ATTRIBUTES
Empty nesters 65
Quiet 57
Parking 54
Seniors 50
Income 23
Ballard, Seattle Reviews
Oh Ballard…
Ever so brief, since I'm paraphrasing for my sister. She's been living in Ballard for 10 years, with 20+ spent in Seattle area. She's very fond of the Ballard area, and the numerous times (5+) I've visited her in Ballard I've had a great time.
Easy to get from her house to the park overlooking the marina, which is just up the street from her local favorite coffee shop.
She has bicycled to her job at a couple of UW worksites, as has her significant other.
Their investment in a nice house on a somewhat busy street has only been a good thing, and their neighbors (a mix of owners/renters) have never caused her much pain. Chicken in both her yard and the one behind their house.
Strolling around downtown Ballard has always been enjoyable, only getting more so once the across the street neighbors opened a coffee shop that is her morning stop on the way to work.
Independent record store was there in January – very nice. Retail was good, dining options abounded as well as watering holes. I'll edit this soon with names and specifics.
Trying to help out NabeWise – hope they add Durham soon!
sW
Scott W.
The North End's Proudest Neighborhood
The first thing I noticed looking at the Ballard profile page, under the tagged reputations, was "We're the Best!" Ha. Oh so apropos of you Ballard. If you're an out-of-towner, this is what I mean by that: Ballardites are known within city limits as famously proud if not borderline arrogant when it comes to their hood. Stick around long enough and you will spot the famous "Free Ballard" bumper sticker slapped on a crappy Volvo, driven by a pseudo-hippy wearing a bucket hat and a "Save Seattle Salmon" t-shirt. But hey, that's funny bumper sticker and Ballard is a great neighborhood, no doubt. For a largely residential area, the bars and restaurants in the downtown area are fairly popular and have range between lo and up-scale. When people call Seattle a "neighborhood city" Ballard will likely be one of the first neighborhoods they list. It's one of the city's first; popular for its proximity to the Puget Sound and the Ship Canal, where the salt and fresh water meet. The Ballard Locks is a tourist destination but perhaps not necessary on a short visit. Is it close to downtown? Yep, ride the Aurora Bridge over the Ship Canal and you'll be there, ~2 mi. from downtown. In Old Ballard you'll find a small but lively stretch of bars and restaurants that rival the U District for north Seattle entertainment. Being one of Seattle's first suburban neighborhoods is the reason for its residents proud attitude. As Seattle becomes denser with condos and apartments, neighborhoods like Ballard will lose their charming old-school style. It has happened in many parts of Seattle and is pushing both north and south. Miles of mixed socioeconomic residential blocks and the Puget Sound to the west make Ballard both a popular place to live and a tourist destination. It seems the bulk gentrification is past but it'll still become more expensive to live near Old Ballard. There is good mix of young and old, perhaps most popular for 30-somethings. Crime is low. Also, it is home to Golden Gardens, which rivals West Seattle's Alki as Seattle's best beach. As a north sider I may be biased, but if you're looking for a California style beach, the imported "golden" sand is the city's tops. Ballard is pretty snug in the west end of the city, further from the I-5 expressway than most parts of north Seattle though you have two bridges connecting Ballard to downtown anyway so no problem!
What's awesome
Golden Gardens
Sonic Boom Records
Sunset Tavern
Tractor Tavern
People's Pub
King's Pub
What's not so awesome
Nightlife, Restaurants are good, but restricted to small area
Curt B.
How Many Nabes Have Their Own Bumper Stickers?
Ballard was one of the first neighborhoods I was aware of when I moved to Seattle simply due to the fact that anywhere you go in Seattle you can find a car with a Ballard bumper sticker on it. The Ballardians are a proud people and probably one of the most tight-knit nabes in Seattle.
Perhaps they're drawn together by the pride of their fishing village heritage. Perhaps it's because of their easy-going yet interesting pace of life you can find there. Perhaps they just unite over their dislike for the recent waves of fancy condos and boutiques in the neighborhood. Whatever it is they're proud of their nabe.
Bowen S.
Free Ballard!
From watching the sun set behind the Olympic Mountains across Puget Sound, to moseying along Ballard Ave sampling the many happy hours, this neighborhood has something for everyone. However, as any local will tell you (or perhaps complain), this nabe is changing. In the early 1900s Ballard was home to a community of Scandinavian fisherman with a Norwegian Independence Day parade every Spring that rivaled Oslo. While most of the Norwegians have moved on, the parade persists and, a new neighborhood identity is emerging.
Affectionately referred to as "a sleepy little drinking village with a condo problem," Ballard is in the midst of an unprecedented urban renewal. Once the haunt of hardscrabble fishermen and blue-collar workers, this area of Seattle has become increasingly popular in recent years. Though most people stick to the trendy boutiques and expensive restaurants along Market and Ballard Avenues, hidden gems abound in this relatively isolated area of Seattle. From small neighborhood cafes (Café Fiore, Café Besalu) to locally-famous restaurants (Red Mill Burger, Paseo's), Ballard rewards those who invest a little more time in the area. For outdoor lovers, northern Ballard is home to one of Seattle's largest and most unexplored greenbelts, offering a chance for the dog or your two-year old to be let off the leash safely. Next to the Hiram M. Chittenden Locks, Seattle's largest climbing gym, Stone Gardens, brings in locals and visitors alike with a view of Mt. Rainer from the top of their outdoor wall.
Its hard to imagine a neighborhood in Seattle with more promise and possibilities. As someone who has grown up and lived here his entire life, I am admittedly biased. Keep an open mind though. Buried underneath the veneer of hipsters riding fixies and restaurants most locals cant afford, there is some serious fun to be had.
John V.
Ballard, what are you?
I'm told (by my wife who lived there as a child) that Ballard had changed a lot in the last 25 years, and it's easy to believe. Although slowed by the recent economic turmoil, the old streets of Ballard, many of which retain their gritty, aged facades, have evolved into something much more swanky. Boutiques and fine dining restaurants abound (along with new condo developments) and nightlife is vibrant. What was a neighborhood of humble Scandinavian households has turned the corner and become an upscale, art-infused community, likely inspired in part by the nearbyFremont neighborhood. Not that you can't find a good hole-in-the-wall either. From an entertainment standpoint, I was a 10 minute walk from almost anything that a big city offers, despite living in a fairly quiet little residential area.
One downside, as a person with two grade schooler daughters, I was at times a little uncomfortable with the presence of the homeless, who could usually be found in downtown Ballard, but would sometimes appear in the more residential areas. Not that we ever had really bad encounter, but my girls and wife were frightened a few times by some that seemed to have a hard time keeping their grip on reality.
All in all, it's a good place to be if you can afford it, offering many of the benefits of city life along with many of the positive aspects of a suburb. Walking down my street I came to almost enjoy the eclectic mix of cars — 80's and 90's beaters sprinkled between sparkling newer models. Highlights include the Ballard Locks, Golden Gardens beach, and the Farmer's market.
David C.
Ballard: Not-Too-Urban, Not-Too-Suburban & Perfectly Down-To-Earth
BALLARD:
This not-too-urban, not-too-suburban Seattle neighborhood has a particular draw to down-to-earth people.
A FEW UNIQUE "BALLARDARDIAN" FACTS:
1. The University of Washington linguistics department performed a study that determined that lifelong Ballardites actually have an accent particular to the neighborhood.
2. Ballard is rich in Scandinavian culture, demonstrated by the summer street fairs and the unique viking facades. Unfortunately, these architecture details grow more rare with every passing year as the buildings get cleared in order to build luxury condos.
3. Ballard has access to one of the only two sand beaches in Seattle: Golden Gardens. Enjoy gathering around bonfires, attending impromptu festivals, and watching the weddings that take place here in the summer. In the winter, Ballard residents have a beautiful beach practically to themselves for long strolls and moody contemplations. Cross the street & the train tracks to a hill of walking trails!
4. Ballard is home to Seattle's only functioning locks and fish ladder. You can stroll through the park, watch the boats- from kayaks to mega yachts- and keep an eye on the sea lions poaching the salmon ladder.
5. Ballard has a historic movie theater within walking distance that is up-to-date on all latest releases.
6. Ballard is the only neighborhood where you can bike from brewery to brewery, starting at Hales Ales and taking the Burke Gilman Trail to the Redhook Brewery inWoodinville.
A FEW "BALLARDIAN" MYTHS, REVEALED:
1. Ballard is inaccessible.
In fact, Ballard is five minutes from downtown, and there are dozens if not hundreds of ways to access multiple freeways heading north, south, or east. Additionally, Ballard is an ideal midpoint if you want to access any of Seattle's ferries.
Unlike many neighborhoods that have access only to I-5 or Highway 99, a Ballard driver can chose his route based on the day, the traffic reports and his mood: the only factor that he can't fully determine is the schedule of the two drawbridges that are such a poignant part of Seattle's streets and waterways.
You can even access other North Seattle neighborhoods and other Washington cities (Bellevue, Redmond, and Woodinville) by bike, via the Burke Gilman Trail.
Really, Ballard is accessible to so much that it's hard to rationalize leaving the neighborhood once you're there:
*Grocery stores, high-end and low-end: Trader Joe's, Ballard Market, QFC, Fred Meyer, Safeway, Grocery Outlet….
*Shopping: local boutiques, Ballard Farmer's Market, consignment stores, Goodwill, Value Village, and a direct connection to Northgate Mall via Holman Road
*Eating: Authentic Italian gelato, the chef's tasting menu at local restaurants, dive bars
*5 minutes from the beach or hiking trails (Discovery Park in Magnolia).
*Apartments with delightfully low rents and mansions with ridiculously high mortgages.
2. Since Ballard is in the city, it's impossible to find parking.
Go one block from the main streets and you will find plenty of parking options in Ballard: pay lots, street parking by the hour, and free unlimited street parking. If you have a gym membership to the Olympic Athletic Club, you can even park for free in one of their many lots scattered throughout the neighborhood. Don't listen to the cynics who claim that parking is terrible in Ballard. The benefits of the neighborhood far outweigh the fear of potentially having to parallel park, and there is a parking space to fit everyone's need.
3. Ballard's nightlife is "dead".
People who say this have probably only driven through Ballard via Market Street late in the evening. Park the car and walk down to Ballard Ave where you'll find a cobbled street lined with amazing eating establishments and well-known music venues who have shows every night of the week. Check out "Tuesdays In Ballard" to find local deals on happy hours.
My favorite part of Ballard nightlife is that there are plenty of bars and venues that are trendy enough to draw "outsiders" into the neighborhood, but there are also fantastic hangouts for locals to relax in jeans and a sweatshirt without worrying about dressing to the nines in order to go to "da club" (there aren't really any of "da clubs" in Ballard).
Having lived in multiple Seattle neighborhoods, Ballard is the only place where both my boyfriend and I wanted to re-up the lease. It's great for locals, young and old, at any time of day, and Ballard keeps tourists pretty entertained, too!
JIll Y.
Cross the bridge heading north from Queen Anne and Magnolia and you enter Ballard. Ballard is actually a very large area of Seattle that includes Sunset Hills, Blue Ridge, and the Loyal Heights neighborhoods. Many of homes that were built in these areas were developed in the 20s, 30s, and 40s. They were modestly priced and built well. In other parts of Ballard you'll find larger homes with splendid western views of Puget Sound and the Olympic Mountains.
Once a tidy, blue-collar neighborhood of Scandinavian fishermen and mill workers, Ballard today has evolved into a multi-ethnic neighborhood with an influx of young, educated professionals. This once quiet community has quickly become a hot spot with second-hand stores, trendy cafes, fine dining, galleries and a monthly art walk. Ballard is the home of Fisherman's Terminal, and a very large commercial fishing boat wharf. It's a neighborhood that is proud of its Scandinavian roots, as seen by the Nordic Heritage Museum and several specialty food stores and restaurants. Nearby are the Ballard Locks (officially the Hiram M. Chittenden Locks), and the Carl S. English Jr. Botanical Gardens.
A variety of housing styles can be found here, including new construction, and Mench-built houses (named after their 1940's architect). The commute to downtown is 15-30 minutes, depending on whether the drawbridge is up or down.
icklie Stone
Ballard – Two Sides
Ballard is a neighborhood which to me, always comes across as a split occasion. One side of Ballard could be called the working part of it, while deeper in is the trendy and lovely residential and park areas of the neighborhood. While the visual difference between them could be startling, what is most notable to me is how regardless of this difference, you feel as if you are in the same place no matter where you are. This is a tribute to the deep Scandinavian culture that has taken root in the neighborhood.
Ballard's food and diversion opportunities range over a large scale. There is fine dining in the old firehouse, but you can also try out a bowl of the famous Mike's Chili in its true hole-in-the-wall business practically under the Ballard Bridge. As far as entertainment, Ballard boasts proximity to the Hiram Locks, which while they will not thrill you, can easily suck away an afternoon in the pursuit of boat-watching, an experience as relaxing as it is addicting.
Ballard is building itself up as well. In my time in Seattle, I have seen more and more quality apartments and condos coming up, and a sense of prosperity in face of tough economic times. In all, Ballard can give the resident or tourist a fine mix of beauty, but on a hardworking frame that creates charm and a likability which is hard to shake.
Curran R.
If you dig eco friendly residents, oatmeal babies, trendy adolescents, and people who wear wool socks with sandals, then Ballard is the place for you. With its vibrant pulse that resonates throughout its streets of red brick buildings it has a subtle wild feel to it, you can't put your finger on it, but Ballard screams uncharted territory. If you believe in stereotypes of Seattle, then come to Ballard for conformation; Plaid, rain, coffee, and recycling bins.
liz s.
Take everything you've ever loved or hated about a neighborhood and mangle it into one area, this is the essence of Ballard. There's the crotchety Senior citizen set clinging desperately to the once Swedish heavy outskirt of their youth, there's the sandal and socks wearing contingent who seemingly do nothing all day but ride bikes that cost more than your entire house. Then there's the families popping up left and right, the shadows of yesterday's hipsters settling down with Subarus and property taxes and don't forget about the hipsters of now, spending their hard earned(?) cash on PBR and basking in the glow of local Alt Country bands at the Tractor every weekend. It's the melding of various social groups that make Ballard unique and, honestly, a great place to visit or live. After living there for about a year, the Larry David in me melted away and I came to embrace the changes making their way into Ballard. Unfortunately, one of the more alarming trends is the condo boom taking place along Market Street. Ballard has lost some killer old houses and one legendary Bowling Alley to make room for condos. But putting up with the rapid urban renewal is a small price to pay to live in a clean, fun and safe neighborhood with grocery stores, bars, music venues, bakeries and one hell of a record store (Sonic Boom) all within walking distance from the clutch of houses and apartments tucked along the adjacent stretch of residential streets.
As far as visiting goes, Ballard is a great neighborhood to spend a night out. Some quick picks: Senor Moose for some of best Mexican food you'll ever eat (despite the Sierra Club meets Spring Break name), Cupcake Royale for out of this world cupcakes and finishing off the evening with some skee-ball and beers at King's. Parking can be dicey, but no more so than your average busy neighborhood on a weekend night. Buses come and go to the heart of Ballard on a pretty frequent basis so you can always ditch the car and make Al Gore proud.
Jason R.
Beautiful Ballard
I have lived in several Seattle neighborhoods, and Ballard is by far my favorite. Between the huge restaurant/bar selections to the Sunday Farmer's Market (year round) and the affordable rent, this place rocks! 🙂 Though the heart of Old Ballard is a bit far away from the freeway, the are several buses that connect you to the rest of Seattle, and getting downtown is very simple.
Because it is such an old part of the city, with so much rich Scandenavian culture and fisherman background, I truly cant think a better place in this state to live!
Free Ballard!
Celia H.
nabewise