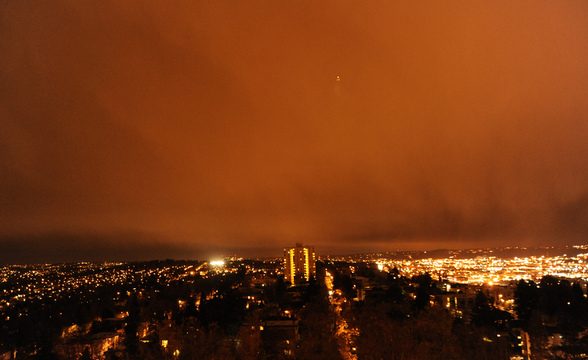 Beacon Hill
Infomation
Located in southeast Seattle and just off the I-5 to the west, Beacon Hill is a small neighborhood bordering the Seattle core. With an elevation of over 300 feet, Beacon Hill has beautiful views of downtown and Elliot Bay, and features a diverse range of shops, restaurants, parks, and cafes. The crown of the hill is distinguished by the 16-storey Pacific Medical Center, which is now primarily the home of Amazon.com (I guess Beacon Hill residents get their packages very quickly). All that aside, how could you not live in a community that has an annual piñata party?
Beacon Hill, Seattle Data : Neighborhoods & Travel – Score out of 100
LOWEST ATTRIBUTES
Nightlife 47
Safety 47
Singles 31
Shopping 28
Income 8
Beacon Hill, Seattle Reviews
A Little Less Trendy Can Go a Long Way
"Where's that?" is a pretty typical response to my statement of living in Beacon Hill. The typical Seattleites are not drawn to places like Beacon Hill. First, it's not necessarily a hot spot. Also, it's one of the few areas of Seattle where the lovely waters of the city aren't visible at every other turn. Finally, Seattleites have a low tolerance for bus transfers or more than an eight-mile drive from anywhere. Little do many of these Seattleites know, but the light rail (still relatively unexplored by Seattle) actually enables this modest neighborhood to connect to the city and all it's glory. So, you probably aren't quite sure why I am writing about this not so hot, oddly located, landlocked neighborhood. Beacon Hill fills quite a few needs for those interested in living modestly. First, only after living there do you realize that it is actually easy and fast to get to the city whether by public transit, bike, or driving. It's affordable, there's always parking, some of the best Asian food you can find in the city, and it's a hop, skip, and a jump from the unusually cool Georgetown (the punk rock capital of the city). Affordable is the key to unlock the many other desires that exploratory people in Seattle have. The produce stands galore are shockingly budget-friendly. Notably, Macpherson's produce is a gold mine. If you want Pho, the sky is the limit for options, and rental property is priced to perfection. By living in this quiet and solitary neighborhood, I was able to make ends meet and still have a bit of jingle for the plethora of events and sights in this part of the world. I have to say; my favorite part of living in Beacon Hill was that trendy hipsters didn't inundate my day. Don't get me wrong, I love the hipster character of Seattle, but by nature, I take on a whole new level of respect for things that are authentic and real. Beacon Hill is far from manipulated and artificial. It embodies a blue-collar simplicity that is quick to feel respectable and, appropriately, maintains one of the last standing, classic bowling alleys of the city to this day. The cool points just soared when I learned of said bowling alley. The downfall, unfortunately, is that the waters of Seattle do make the city magical. Living near them, seeing them without effort, and enjoying activities in and around them are benefits that I can't resist. Hence, I have left Beacon Hill, but not without plenty of good to say.
Brianne M.
Diverse, and ridiculously convenient.
Situated just south of Downtown, Beacon Hill is a historic neighborhood filled with old houses and gorgeous tree-lined streets. Beacon Hill's proximity to Downtown, the many bus lines, and the recent addition of an incredibly efficient light-rail line makes it an excellent choice for those who want the experience and convenience of livingDowntown, but prefer to not live in an eight-by-ten box that costs an astronomical sum of money. Food and shopping options are rapidly on the rise as North Beacon Hill, the area closest to Downtown, and served by the new light-rail line, begins to gentrify. A predominately Asian nabe today, the diversity of the neighborhood is responsible for the large influx of unique markets and ethnic restaurants that have begun to spring up along Beacon Avenue South. The neighborhood is lacking a centralized micro-downtown of the sort you would find in Ballard or Fremont, but more and more businesses are pouring into the nabe everyday. There are multiple large parks in Beacon Hill, the largest of which is Jefferson Park, offering a golf course, a large lawn, multiple walking and bike trails, an indoor gymnasium, and stunning views of Puget Sound, Downtown, and the Cascades when the weather is clear. A large art-deco hospital sits on the northern tip of Beacon Hill, serving as a landmark for tourists, and today housing Amazon.com's world headquarters. The convenience of Beacon Hill, combined with low-rent due to its low level of gentrification, makes it an ideal location for new families, or students looking to find a bit more space to live in, while still being close enough to Downtown to enjoy the nightlife. What it lacks in character it surely makes up in convenience and price alone. Zachary Walker
Unassuming, Family-Friendly & Convenient
I bought a house and have lived in Beacon Hill for a few years now. We fell in love because our house is on green belt, nestled in trees…seemingly rural yet only a 10 minute drive/lightrail trip from downtown. If you think not-trendy, authentic, diverse, quiet, affordable and convenient are good things then you'll love Beacon hill. There's no night life to speak of. The hood is gentrifying but quite slowly. The main strip is owned by old timers who don't want their area to change much and have managed to fight zoning to allow big mixed-use developments that catalyze rapid change. There's regular street parties – as in kids, hula hoops & potlucks, not bands and beer tents. El Centro de la Raza is an epicenter of cultural activity offering inclusive events, child care and other services. There's two big product markets, lots of yard sales, and not much that's fancy (no
PCC
, WholeFoods or haute cuisine). You get the picture!
What's awesome
Parks, golf course, community center, green belt, quiet, family-friendly, diversity, produce stands, affordable.
What's not so awesome
Car and home break-ins more common than in your all-white boroughs North of Seattle. Mahalie S.
My New (Temporary) Life & Home
I won't lie, I grew up in unincorporated King County, amongst the cougars and critters that wandered over from Issaquah, and spent my weekends tearin' up Bellevue. The jump to Beacon Hill has been a bit of a big one. I appreciate the diversity, the closeness to ethnic restraunts, the access to public transportation, and being able to hop right on both I-5 and I-90. I just don't appreciate the rough and tumble of it all. It's gritty, it's tough; my roommate's car was stolen a month into living at our house. The neighborhood is great for a kid in his mid-20's with a small budget but I wouldn't suggest it as a go-to spot to raise families…regardless of the amazing multi-cultural aspects of the area.
What's awesome
Nearby: Flying Squirrel Pizza, Columbia City, Caffe Vita, Safeway, Light Rail, huge Goodwill
What's not so awesome
Crime Jon H.
The Best of Beacon Hill
Beacon Hill is a hill and neighborhood in southeast Seattle, Washington. Beacon Hill is a sought after neighborhood and offers views of downtown, the Industrial District, Elliott Bay, First Hill, Rainier Valley, and, when the weather is good, Mount Rainier and the Olympic Mountains. It close by to conveniently located to Interstate 5, on the north by Interstate 90, on the east by Rainier Avenue South, Cheasty Boulevard South, and Martin Luther King Junior Way South, and on the south by the Seattle city boundary. Transportation via Seattle Metro Beacon Hill Light Rail is a also an option for commuters to the downtown area or airport. Homes on the northern part of the hill were mostly built in the early 1900s; thus, North Beacon Hill contains many excellent examples of Craftsman bungalows. There is so much I could say about Beacon Hill if you have questions let me know. Thach Nguyen
That Neighborhood with the Big Orange Building
When you drive South on the 5 through Seattle you see this big beautiful orange-ish building. This is the PacMed building and is the home of Amazon.com. That's all I knew about this neighborhood—aptly named Beacon Hill—for a while. Upon closer inspection, I found out a big part of this nabe is residential. The residential streets reminded of me more of being in the residential part of a small city of about 100,000. I got a Bellingham/Spokane vibe from the place. Unlike a town of 100,000 though, you're really close to a major metropolis' Downtown and a couple of community colleges. Also not too far from the arts and sporting events of SoDo. The nabe is fairly cheap for its location. It's doesn't exude the metro-charm that a lot of the Downtown nabes do—think Queen Anne and Belltown— but isn't a bad place to pay rent and stay near Seattle.
What's awesome
Close to Downtown
What's not so awesome
A little Sketchy Rodney H.
I say give it five
Beacon Hill, accessible most conveniently by the Seattle Light Rail, is home to the headquarters of Amazon.com. It has several parks, including "Lewis Park", a community project to preserve natural vegetation and clean up the neighborhood, and Jefferson Park. Housing here is relatively cheap, with architecture dating back to the 1900's, demonstrating the classic Seattle box house style and craftsman bungalows. Access to other areas of Seattle are a bit limited, but the Light Rail is an excellent new development, linking Seattle in a ecofriendly and efficient way. It would be interesting to chart the development of this fast growing nabe, and see just how much it will have grown in the next five to ten years. Christopher M.
nabewise