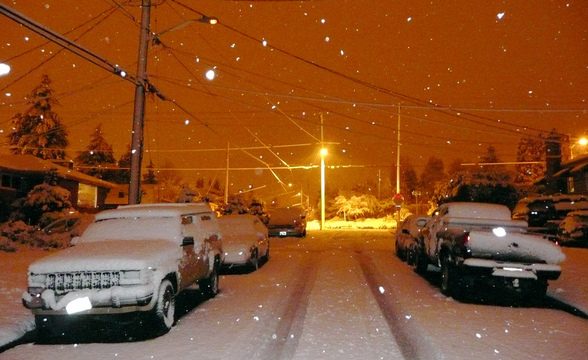 Bryant
Infomation
Located in northeast Seattle, just south of NE 65th Street, Bryant is primarily a residential neighborhood home to an array of schools, parks, and libraries. The community is occasionally referred to as Ravenna-Bryant, because it borders Ravenna Park, (so you might want to look at Ravenna to get the full picture of the area). Small but fun, the neighborhood is served by two grocery stores and contains a cute selection of bars, cafes, and restaurants along 55th street. On July 4th, Bryant has a block party, with firefighters leading a parade down the street, trailed by kids, parents dressed as historical figures, and the proverbial Statue of Liberty lady. The parade, and this neighborhood, are adorable.
Bryant, Seattle Data : Neighborhoods & Travel – Score out of 100
TOP ATTRIBUTES
Families 87
Dining 75
Pet friendly 75
Empty nesters 73
Public Transportation 69
LOWEST ATTRIBUTES
Green space 58
Community 58
Quiet 56
Parking 50
Income 30
Bryant, Seattle Reviews
More Urban Suburbia (In a Good Way)
In the heart of urban suburbia lies more urban suburbia. There's charming houses, grocery stores, schools, families, young people, trees, Universities—okay just one University—, basically there's everything you could need or want. Plus all you need is a bicycle. This neighborhood, though it could be autonomous pretty much bleeds into all the ones around it, including Ravenna, The University District, Windemere, etc. and kind of takes a page from each of their books and makes it's own comfortable haven.
Rodney H.
Hipsterish Haven
If you constantly find yourself wondering where the American people's 44th president Barrack Obama's mother, Ann Dunham, went to school, well obviously it was Eckstein Middle School. If you're from my generation, you'll hopefully remember that fact for a very long time now.
Other than being the schooling area to Ann Dunham, Byrant is often being confused with the adjacent neighbor Ravenna. It's boundaries are NE 75th to the north , around 45th on the east, Sound Point Way to the south and south-east and finally 35th on the western flank. NE 55th street offers a range of different types of food or entertainment. The nabe itself is a very safe area, with a couple great elementary schools, though renting options are a bit more expensive due to high demand. If you're a Husky's fan, you might find yourself in this area at a bar before, after or even during this game. Go Dawgs!
I wouldn't say that this nabe is filled with the same type of energy you might find in theUniversity District. It's much tamer. Similar to maybe how the Stevens is a less-hip get away from Capitol Hill.
Kevin H.
Convenient and super cute, Bryant has it all
Bryant is a stupefyingly cute neighborhood in northeast Seattle proper, very close to the University of Washington and the University District and all of the wonders that it has to offer. While Bryant is mostly residential in nature, it does have a small commercial district along 55th Street, and it's proximity to the University Districtessentially gives its residents infinite dining, drinking, and shopping options.
Since Bryant is located in the densely populated north-side of Seattle, the houses are small and the rent is a bit on the pricey side, but the convenience factor of being able to walk to anything you could need, along with excellent access to Seattle's sprawling bus system, makes it one of the most livable neighborhoods in the city. It's a tad bit less bustling than the nabes of Ballard or Fremont, and there are fewer noisy college kids than the University District (which is probably a good thing), but the access to awesome restaurants, parks, bars, and pretty much all of the other attractions of living north of Lake Union is no less spectacular.
If Ballard or Fremont are too hipster-infused for you, or a bit busy, Bryant is the perfect counterpoint to all that, without sacrificing any of the convenience.
Zachary Walker
nabewise