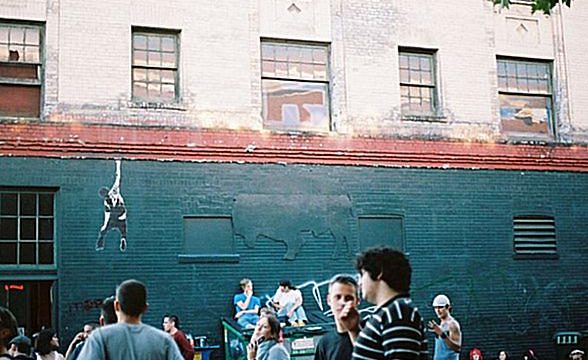 Capitol Hill
Infomation
Northeast of downtown, Capitol Hill is fascinating for its array of hair colors and for the clockwork-like fashion in which partygoers converge on the neighborhood at night. Capitol Hill is one of the most vibrant areas in Seattle. The community is home to all sorts your parents wouldn't approve of, from punks to artists to bohemians, but contains a growing number of those with more conservative wardrobes. Broadway, the main artery of this neighborhood, is lined with alternative boutiques, restaurants, cafes, bookstores, tattoo parlors, and everything else that wasn't in Our Town. Parking is scarce, but drinking isn't, so you shouldn't be driving anyways.
Capitol Hill Data : Neighborhoods & Travel – Score out of 100
LOWEST ATTRIBUTES
Empty nesters 43
Clean 42
Quiet 27
Seniors 19
Parking 18
Capitol Hill Reviews
Autumn A.
Capitol Hill is more than a coffee fueled existence for hipsters and a place for bohemians.

Capitol Hill is a neighborhood that is easy to describe when it's being explained to outsiders: trendy, hipster, gentrified, expensive, liberal, alternative, coffee fueled etc… However, those of us who live here, who play here, who shop here, who exist here, cannot easily describe this neighborhood in those, in this near decade resident of Capitol Hill reviewer's humble opinion, simplistic terms. Often this neighborhood is classified as that place for hipsters or Seattle's more, how should I say, alternative, metropolitan residents. But those of us who have spent a significant amount of time here know Capitol Hill as more than a place where the subcultures of the subculture come to flourish. While they are definitely what make this neighborhood standout, we long term residents know that the longer you stay, the more Capitol Hill revels itself in many other forms.

Families, couples, singles, retired folk (aka a skilled conversationalist), life enthusiasts, artists, intellectuals, geeks, nerds, loners, social butterflies, entrepreneurs, the rich, the poor, the in-between, the established, the not so established, and America's transients – all cohabit in the flora and fauna diversity that is Capitol Hill. And despite it holding the title of being the most urban Seattle neighborhood, Capitol Hill is quaint, cozy, and has a certain je nes sais quoi that this reviewer cannot get enough of.

Capitol Hill also has a well-known small business culture, a myriad of restaurants and cafes to satiate any palate and budget, and two, well-established, uniquely different parks.

Capitol Hill's more urban park, Cal Anderson, lives near Broadway (a thriving, yet laid back strip of city life). It was also in Forbes Top 12 list of the nation's best urban parks. Cal Anderson Park is not only a true example of how a park can bond a community, but it is also a profound example of how a place can bring you peace from the madness of city life. Cal Anderson Park covers nearly eight acres of city, but inside it there's vast green, a fountain inspired by the eruption of Mt. St. Helen, flora diversity, an abundant of city benches to sit on and trees to sit under, and most recently commissioned sculptures from local artists. It is also the home to the future Capitol Hill light rail. To the northern, quieter, more established part of Capitol Hill is Volunteer Park.

Volunteer Park is a forest within the city. From end to end massive, venerable trees thrive. It's the home of a long standing greenhouse (free and open to the public), the Seattle Asian Museum, and every summer many of medieval plays and sword fights, and to this reviewer's recent and most delightful discovery, a bustling and edible mycological biodiversity.

The best parts of Capitol Hill are the areas close to the three main hubs: the Pike/Pine corridor, 15th Avenue and Broadway. Each of these areas has the amenities that make a city life very convenient. The good news is is that really no matter where you live on Capitol Hill (north or south), you will most likely be within walking distance of these streets. The not so great parts of Capitol Hill is the far southern area of 12th avenue, close to the International District; however it seems since the creation of a community coalition that area is now a burgeoning neighborhood within a neighborhood.

So come to Capitol Hill, enjoy a happy hour drink, slowly sip a cup of our ubiquitous coffee, learn about edible fungi, or devour a cheap bowl of Vietnamese Pho (if you plan on living here, you will need to know it's pronounced fuh). Get here by bus, bike, foot, cab, or yes, even a car. Against the will of this reviewer there has been an ongoing effort to improve the parking situation. Don't let that effort fool you though, it is a progressive city neighborhood: it's dense, thriving and eco-minded, but as most other Americans – oh, the car, the car, the car. Who knows? Maybe you'll decide to stay. And stay. But remember, like the hipsters try not to act like you care.

What's awesome

From May to October every Sunday there is a neighborhood Farmer's Market open from 11-3 featuring local produce from small Washington farms. Get a chance to become closer to your food source.

What's not so awesome

This really isn't a "what's not so awesome" but rather a warning: Capitol Hill is an urban community. What that means is that along with urban amenities like walking distance of pretty much anything you need – there is also urban noise. Also known as city life. The awesome thing is is that you can avoid this noise by living in the quieter parts of the neighborhood. From my own experience I have found that anything east of Cal Anderson is fairly quiet and North Broadway where it turns into 10 Ave East is as quiet as any North Seattle suburb. (Well, besides the many birds that like to chirp at the sight of the rising sun.)
Greg Gamble
Eclectic, vibrant, and urban. Wonderful inner city neighborhood that has something for everyone!

There is no state capitol on Capitol Hill despite the dreams of early Seattle leaders. However, no neighborhood in the city has a more active sidewalk scene, day or night, than Broadway, Capitol Hill's believe-it-or-not version of Main Street. And no neighborhood in the city has a more diverse population.

Seattle's gay community, grunge rockers and twenty-something's of many races share the area with longtime residents ensconced in the historic mansions, elegant old homes and classic apartment houses of Capitol Hill.

Educational institutions enliven this neighborhood's life, with Seattle University, Seattle Community College and Cornish College of the Arts all located here. There are movie theaters, clubs, taverns, dance steps imbedded in the sidewalk and a variety of shops from around the world.

Volunteer Park is the gem of Capitol Hill, original home of the Seattle Art Museum, a much-beloved building now handsomely restored as the Seattle Asian Art Museum. The spacious grounds of Volunteer Park also include a conservatory and an old battlement of a water tower which boasts, at the top of 108 steps, one of the best views of the city. Via www.seattle.gov
Elle G.
Fun Fun Fun

Its 2 in the morning, and all the teenagers who have found the loophole in thier cerfew roam around Capitol Hill in clove smoking packs. They cant get into bars, so they hang around the all night cafes and shops that are everywhere. The dirty streets lined with refuse, both garbage and human form, are always packed, never leaving a parking space. If you are lucky enough to find one, the tight parallel parking situation mars bumpers, scratching away the trendy band and current popular political views bumperstickers.

Of those able to visit the bars, a thriving gay community exists. It is not uncommon to see a man wearing teeny weeny little shorts and a cut off tank top smoking a clove near the door of a bar whose trendy dance music is blaring obscenely.

Trendy trendy trendy is Capitol Hill, with it's tea shops and it's urban outfitters. Trendy individuals trying to be different in a community of collective rebellion. Brightly colored heads and flamboyant individuals run amouk as touriss hit up Dick's Burgers and get treated like crap by the burger hawkers. No sauce? They all come one way. Eat it or get out of the way.

I never want to live here. It is a younger person's world. I visit often the wonderful array of bars and restraunts that serve a healthy mixture of comfort food and crazy dining. A must visit.
Olivia Z.
True Life: I drink Organic Coffee and Casually Wear Flannels

Capitol Hill is lemony with cosmopolitan demand; tart, authoritative, knowledgeable, perceptive. Alternatively suave. It exhales a kind of stained urbanity. The streets protrude a nonchalant middle finger to each tourist, because these are where the artists live, man.

Scrumptiously acquainted with the Emerald City, Cap Hill, as us locals call it, exudes an edgy feel that provides the quaintness in my step, especially through Broadway Street. The regulars accessorize with Value Village Ray-Bans, a grande recyclable cup, and oversized headphones. Each shop, restaurant, and pedestrian is all about cutting edge newness, because this is where ever-blooming music, food, and art exists. Oh, and people honestly don't care what you think about them. Really.

The neighborhood validates the proposition that yes, Seattle contains more guitar-strumming and flannel scruff balls than LAX. It withholds the neon attitude of the city, and is the source of constancy that keeps us all in-motion; it's a timeless indispensability. When you're there, you get a similar feeling like when you hear the ice cream truck for the first time of the summer – a bit weirded out, but you're so going for it.

The neighborhood is for the nonjudgmental, because this is the brewing spot for ruthless creativity. The spawn of it all, that is always just a tad bit marijuana induced. It's all very wildly individualized yet collectively cool. For the locals, they run their little shops to pass the time till that evening's rehearsal. When you go and grab a coffee from one of their cafes, they'll look at you with oversized glasses, dyed black hair, and rolled up sleeves. He or she will sarcastically grimace, "What can I do for ya, honey?".

Hopefully you're at Minervini on Harvard Ave at this point, looking at the handcrafted jewelry and chatting with one of the twins. They're brothers and both managers of the minute espresso place, but everyone calls both of them Joe. No one has ever been corrected. Anyways, you better be getting their $2 latte and making a bid for a turquoise ring, because both will make you weep in devastation. Let's face reality: you will never be as darling as they are.

As you go more more North, you'll lose the grandeur of all the alternative folk, but you'll reach the gorgeously geometric homes that sit next to each other like dollhouses. If you head more South past Madison street, then you'll hit the area where I went to high school. The Central District is our own ghetto of the city, so I like heading that direction because it's rich in culture, sass, and vivacious people. However, if you're looking to buy a pretty new home, definitely go North.

If you actually live in Capitol Hill, you're automatically trendy, love underground theatre shows, are snobbishly agile with the metro system, and despise going downtown. That's where all the corporate people pack their lunches and scoff at drugs and free time. If you don't live there and you're a local, they'll accept you mostly because you'll end up buying at least a handmade Italian soda. And you'll dorkily be a bland and simple dresser to them, but they could like you anyway.

As either a male or female attendee of Capitol Hill, the clothes will always be the best part. 80% of the stores are literally one-of-a-kind and awkwardly cramped, but as a creative shopper, you'll no doubt find yourself some bizarre yet assertive pieces. Fatty corporations like Macy's or the Gap could never pull off the things you'll witness. There lies the ostentatious intrigue of Seattle fashion. The last time I went shopping in the area, my friend purchased a sparkly crop top that featured a sequined unicorn head on the bosom. She got it for $10 and rocked it, clad with her tight black skirt, red ankle boots, and a men's flannel draped around her shoulders. She waved a cigarette in her right hand all night long, making the sparkles flash in and out. It was like the shirt was saying, "Yeah dude, I picked it out myself".

In terms of food, you have to go to the Oddfellows Cafe, a local hotspot that is responsible for making me completely head over heels for the concept of a B.L.T.A sandwich. I am entirely open about my obsession, and have no shame regarding the matter. It is NOT just a sandwich, okay? The people that work there understand the sad portion of our population that get hungry every two hours. How wholly romantic for my appetite! Naturally, I get the menu updates on Twitter, and then embarrassingly gasp with excitement when they announce the menu's new additions. I particularly adore the darling tweet banters between Cupcake Royale and the Oddfellows Café, as they give each other complimentary shout outs via "tweeting". Both are proud Seattle-originals that provide acclaimed treats.

So, can you pronounce the term "Molly Moon's"? What does the flavor "salted caramel" mean to you? If you can't answer me, get out. Or, at least go buy a flannel and dirty yourself up a bit, and then we'll talk.

Ladies and gents, welcome to Capitol Hill.

What's awesome

What's not so awesome

The cracked out man that hangs out in front of Q.F.C., not because he's cracked out, but because refuses to stop singing.
Roxy V.
A Vibrant Cultural Center

Very trendy neighborhood with lots of interesting looking people of all kinds. "Freak-friendly" and mostly open-minded people.

Great place to get a bite to eat or a cup of coffee, shop at thrift stores (Red Light,Crossroads, Half-Priced Books, Twice Sold Tales), and watch indie movies (The Egyptian Theatre and the Landmark Harvard Exit Theatre). There are lots of bars and a lively night life. Cool place to hang out for all types of people, but hip young artist-type people and LGBTQ people would fit in the most with the residents.

Easy access to the metro bus. No need for a car.
Bowen S.
If you hear about one of your friends graduating college and moving to Seattle, chances are they're moving to Capitol Hill.

Like any other neighborhood it is home to pretty much every kind of person you can think of but that's not what defines it. It is, above all, a cluster of alternative trendy people.

It's probably one of the best places in town to go for shopping at thrift stores and attending indie concerts at small venues. It's also probably one of the best places to have a crazy night clubbing.

This is the part of Seattle that makes it like Portland and San Francisco. So dress up and visit if you're lookin for a good time or move on in if you wanna make a splash on the arts scene. This is one of the funkiest nabes in town.

What's awesome

Music and People Watching

What's not so awesome

Crowds if you're not in to that sort of thing and some pretty sketchy characters
Layne Tisdel Martin
Beyond Revelry

Widely regarded as Seattle's preeminent capital of counterculture, Capitol Hill people-watching is indeed a spectacle to behold, replete with drag queens, goths, and street punks galore. But the nabe is also home to a thriving creative culinary scene, two serene green spaces, and a mélange of avant-shopping options not limited to secondhand sartorial sundries.

In this devoutly LGBT-supportive and nightlife-heavy region, one needn't venture far to find a rainbow-bannered church or mirthfully raucous corner tavern, but many less conspicuous establishments in the area are also noteworthy, and not without their own individual articulations of eccentricity.

Poppy is an innovative Northwestern dining concept that centers on chef Jerry Traunfeld's nouveau interpretation of the thali (a Hindi term referring to an assortment of individual dishes). On offer is an ever-changing choice of tantalizing tasting menus served on a single plate, and each one is an edible work of ultramodern art. A recent thali included pork loin with apricot-spring onion relish, and spiced fiddlehead ferns with ginger and garlic.

Hidden away inside the historic Odd Fellows Building, the speakeasy-style Tin Table has a menu of imaginatively adapted classic cocktails and creative comfort food such as the delectably dressed duck confit with rutabaga pureé and kumquat preserve, as well as the mouthwatering "Floozy Burger", a masterfully crafted concoction featuring roasted sweet onions and local bacon that's presented with an extravagantly mountainous side of truffle frites.

Fortunately, there are two urban parks in the vicinity for walking off culinary indulgences, or for meadowside lounging if you prefer. Cal Anderson Park's fountain-fed pools, tennis and basketball courts, and oversize chess boards offer the resources for activity and languor alike, while Volunteer Park is home to the Seattle Asian Art Museum and a free tropical conservatory with five greenhouses.

Notable shopping ops include the new SugarPill Apothecary on E. Pine, a fetching little mercantile with exposed brick interiors selling an eclectic menu of herbs, artisan salts, and chocolates. The Square Room is another, more surreal, dimension disguised as a design store that's run by two local artists who've curated the impossibly imaginative assortment of furniture, jewelry, and home decor items on sale. Seattle's most beloved independent bookseller, Elliott Bay Book Company, recently relocated to Capitol Hill from Pioneer Square and now includes a cafe alongside it's stellar selection of reading materials, guest author events, and book club meetings.

There are certainly ample opportunities for carousal and festivity here, but the area has more to offer than just drinking and dancing. And fortunately, the other aspects of the neighborhood uphold the atypical essence that puts Capitol Hill in a class of its own.
Erin M.
Capitol Hill: Seattle's Counterculture Mecca

Like prison, when you live in Capitol Hill at the very least you come out of it with a lot of really good stories and for some "lifers", they can never really function anywhere else. Unlike prison It's long been the GLTB center of Seattle which has lent its self to a thriving night life, theaters, dance halls, boutique clothing shops, and a safe haven to tons of diverse communities. It seen huge change in the last few year. So many restaurants seem to be in carousel-ing in and out and some of the Hill staples just relocate and carry on. ( Bimbos, and The Bus Stop ) Whether you're living here or visiting there will always be something to do at almost any hour. Art walks, nerdy networking meet ups, drag queen performances, and food/wine/beer/chocolate tastings are happening all the time. Even with all the people constantly touring Capitol Hill, it still has pockets of streets that are relatively quiet and full of nice little studios to rent. Many people move to Capitol Hill and just never leave, everything you could possibly need is within walking distance. Unless you have kids that is, you don't see many children. They are replaced with Boston Terriers, Shiba Inus and Pomeranians. There are parks with jungle gyms and parents bring their kids to play, but for the most part parks are filled with 20 something's sunning themselves in the summer and sleeping homeless all year round. Capitol Hill isn't for everyone, but the people that do find their scene here usually become lifers.
Jon H.
Hipster Heaven

So is Capitol Hill worth all the hoopla all the trendsetters and youngins are giving it? Why yes, it actually is. If you're feeling adventurous, there's always a new shop to visit, a new restaurant to eat at, a new person to rub elbows with and a new place to people watch. This part of Seattle is a wonderful place to socialize and networking; everyone involved with the music industry, be-it musicians, labels, or journalists, all trickle in to one bar or another…along with cuties for every type of person. The bar scene is wonderful and intimate, as are the surrounding music venues. Though it's not pristine in visuals, it's relatively safe to walk around, even at night.

What's awesome

Cha Cha, Bimbos, Neumos, Big Marios, Chop Suey, Caffe Vita, Castle, Sonic Boom, Vedanta Society of Western Washington

What's not so awesome

I'd rather be kicked in the crotch than look for parking
Derrick W.
Seattle's Street Cred

Located just east of Seattle's Business District, Capitol Hill is the social melting pot of the city. This neighborhood embodies the attitude ("Seattle chill" is what the locals like to call it) that gives the city a unique culture and pulse. Those familiar with the attitude of the rainy city will know that the senses of humor are darker here. Irony is king, along with the passive aggressiveness that seems to seep into all interactions – whether it be casual, professional, or social – in the greater Seattle area. But don't let that turn you off; the love for subtlety and and quickness of wit is something that must be experienced to fully appreciate, and it can be experienced nowhere better than Capitol Hill.

The most striking thing about the Hill is the large presence of the hipster crowd. A cross between grunge and new-age trendiness, hipsters are everywhere, doing their best to look cool without trying. Bars, restaurants, stores, pretty much any establishment on the Hill won't be able to survive in the neighborhood if it doesn't cater at least a bit to this crowd. With the addition of the many students from Seattle Central Community College and Seattle University who live or commute to this neighborhood (many of them hipsters themselves), the hill is very young and vibrant as a result, and is relatively tolerant of even the most eccentric personalities. But tolerance is not the same as acceptance. You will never as cool as the hipsters, intellectually superior in their skinny jeans, kilts, messenger bags, and one gear bicycles. They know something we don't – accept it and move on.

Most of the nightlife is in the Pike/Pine corridor, where, appropriately, most of the alcohol is served. Packed on the weekends, they are an equal mixture of out-of-towners and locals, all young, and all bar hopping from one dive to the next (most bars in this neighborhood are pretty down-to-earth) while getting inebriated on cheap pitchers of beer and well drinks. This is also where a lot of culture is showcased. The music scene is big here, and there is always live music at the Comet, Chop Suey, and Neumos. Their booking agents usually do a decent job scheduling talented musicians. For lovers of alternative art, there is an art gallery/wine bar called the Vermillion. The art is off the wall, ranging from the down-to-earth (Lego-spaceship building contests) to the seriously talented, with artists regularly invited to put on shows to showcase their techniques, philosophies, and creations. As a whole, the corridor is loud, boisterous, and pretty damn fun, if you're into that sort of social scene. The Hill also plays host to a vibrant gay community, who gravitate towards the dance clubs (you can't miss them) in this area. They are quite literally everywhere, which gives me reason to reiterate the heartening and impressive tolerance of diversity in this neighborhood.

The neighborhood continues along Broadway, where shops, restaurants, and the occasional dive bar line the street. Dick's, the Seattle fast food chain, has a location on Broadway, between Denny and Olive Avenues. For the quintessential Capitol Hill dive bar, go to Charlie's. A healthy mixture of regulars and hipsters with one goal in mind (to drink and be merry) makes it a great place to socialize. Parking sucks pretty hard; its all on the street, and the highly profitable Seattle Parking Enforcement have many of their jackals preying in the neighborhood. The roads are free of parking restrictions from 6:00pm to 8:00am on weeknights and Sundays, but that may be subject to change, as the city has been aggressively pushing for increased restrictions and fees in most Seattle neighborhoods.

At the North end of the Hill is Volunteer Park. Dog walkers, joggers, people, and the ever-present vagrants regularly enjoy the park and its relative peace in the middle of a dense neighborhood. Anyone who has spent a summer in Seattle can attest to its lush beauty, and Volunteer Park is a prime example of this city's love of greenery. Weather permitting, Rock climbers looking for a convenient place to work out (or avoiding climbing gyms' expensive membership fees) can find bouldering routes on the bricks that make up the face of the water tower. Many climbers do laps around its exterior to increase their endurance. Aesthetic beauty of the city can be enjoyed here as well, by going up to the observation deck of the tower, which boasts one of the best views of the city. At Cal Anderson Park, located just north of Seattle Central Community College, nightly games of dodgeball – ridiculous, but incredibly fun – are played on the tennis courts.

While not the most refined neighborhood, Capitol Hill usually offers an enjoyable experience. It is by no means loved by everyone, but its diversity and the resulting richness in culture is what makes the Hill a unique and intangibly pleasant place to be
Claire K.
Bridge and Tunnel Capitol Hill

When you're within Seattle proper, your experience is based on what neighborhood you find yourself in. When you navigate the city, you're also navigating where your night will lead you. Each distract has its cliches, demographic, and character; whatever your mood there's a neighborhood to suit it. I've spent time in so many, but more often than not evenings end in the Capitol Hill area. Capitol Hill is hip. Its hipster denizens can be drafted into two very different categories. First and perhaps most iconic are the devil-may-care hipsters. These kids are s hip that they must make extra effort not to appear to be trying at all. Most often both male and female will have strikingly similar hairstyles, saving for the fact that facial hair grooming is not something that the male hipster often partakes in. Bed head hair and got-dressed-in-the-dark outfits go over well. There are many varieties on hipsters of course, each adding an their individual twist to this broad, free-spirited collective identity of coolness. Cheap, local beer (think Rainer or Olympia) is often the drink of choice, though the more refined intellectual sorts may sip Fernet and frequent American Spirit or self-rolled cigarette breaks punctuate the evening. However, the face of Capitol Hill changes on the weekend.

The weekend to Capitol Hill is the full moon to the Werewolf. It goes through a change, to its detriment.Interestingly,its because Capitol Hill is going through some growing pains. Word has spread that a night out on Capitol Hill is almost always a good time, so a weeknight on Capitol Hill versus a Friday or Saturday hardly bear any resemblance to one another. On a weekday you'll find the natives and some day-trippers from other neighborhoods, but the Hill retains its hipster feel and edge. The weekends bring creatures. Creatures from Kent, Everette, Bremerton, Snohomish, or Lynnwood. They heard from a friend of a friend that the Cha Cha was a really cool bar, or that Unicorn was awesome. And these places are cool; they ooze contrived artiness and edge, but give off a vibe letting patrons know that they could care less if you agree. On a Tuesday you'll find patrons crowded around booths or tables bathing in the distinctive red light with images of Lucha Libre wrestlers lining the walls. On a Saturday twenty-somethings dressed in club attire will be elbowing each other for tequila or lemon drop shots, crawling on the seats. Last Friday, there were two youths at Unicorn, obviously hitting it off, who ceased to dry-hump and lick one another only after some uncouth bar-goers began using them as a backdrop for a number of photos.
Going out in Seattle seems to be all about timing. Early evening happy hours all over the can be boorish, filled with yawning professionals or overly-chatty office workers. Any neighborhood has its ups and downs, but most of Seattle retains a city within a city quality. Regardless of what your looking for, in can be within down one of the streets, in one of the doorways in this city.
Dominic J.
The Hill

It's easy to love Capitol Hill as it is to loathe it and many people seem to do both at the same time! It's a neighbourhood that will draw opinions out of you no matter what your lifestyle is, or which part of it you live in, because of its diversity and awareness of itself as the place to be in Seattle.

People will often just speak of it as being "hipsterville", or summarise it as a gay neighbourhood that is loud and the place to party at weekends. You often hear people bemoaning its trashy bars or trendy stores that are filled with people who believe themselves too hip and cool to hang out anywhere else. Capitol Hill boast hosts the city's famous music venues like Neumos and Chop Suey, where the world dominating Grunge scene spawned Seattle's now legendary bands. It also has the distinction of having some of Seattle's best restaurants and cafes located on its hilly streets. There's always something to do here, especially if you're into music, clubs and cinema, for the Hill is undoubtedly the cultural epicentre of Seattle.

What people don't give it enough credit for is its diversity and the great variety it has within the neighbourhood that makes it such a great place to live for all different types of people. North Capitol Hill has Volunteer Park, a beautiful and relaxing green space to take a walk, run the dog, play tennis or hang out with friends. It is surrounded by the lush and leafy roads on which stand some of the finest old houses of the city. Families live there, as well as the Seattle elite in their secluded mansions. The huge, old trees in this area are alone just worth a visit, and you wont find them in Fremont orBallard. If you feel like chilling out with a coffee you can go to Victrola or Liberty on 15th, a more relaxed and slower paced area of Capitol Hill than Broadway just half a mile away. The suburbs around 15th are host to a more mature and quieter type of resident, although you'll find student houses intermingled there with big family homes. Head on down to Pike and Pine and there you'll find your brash bars, seedier stores and dirtier streets that some of Broadway shares. Catch a gig there or just watch all the hipsters on parade, it's Seattle's most colourful area.

If you really want a quiet life, then maybe the Hill isn't for you. Planes go overhead every couple of minutes, can wake you up in the middle of the night, and the bars get loud on all its boulevards. Parking is horrendous, and now and again you'll want to just get out of the neighbourhood as it can get in your face sometimes. You'll always pay a bit more for your pint or meal on the Hill, but to offset that there are some cheap restaurants with great food, you'll be spoilt for choice and it won't empty your wallet.

For its central location, proximity to the i5 and to downtown, the convenience of having everything nearby means Capitol Hill beats the other neighbourhoods of Seattle for getting the best out of the city. You may not love all things about this neighbourhood, but it deserves its reputation as the most interesting and vibrant part of town.
Jason R.
Love/Hate

I have a love/hate relationship with Capitol Hill. I lived there briefly so obviously a part of me has a soft spot for skipping over puke and hearing techno remixes of Cher songs blast out of bars every weekend. Capitol Hill is blessed and cursed with a sort of permanent "hip" tag. Since I first moved to Seattle over 15 years ago, Capitol Hill has been perennially been the flavor of the week, month, year, decade…what have you. And hanging out on the Hill is fairly ubiquitous. Even the staunchest of Hill-o-phobes finds themselves up there for a concert or to try out the latest hipster dive every once in a while.

While this all might sound a tad harsh, there is plenty to like about Capitol Hill. There's some astounding restaurants (Poppy, Lark, Sitka and Spruce) and as a big supporter of indie film, the Northwest Film Forum is a true destination almost every weekend. There's also the cream of the city's musical crop performing regularly at the best clubs in the city (Neumo's, Chop Suey, The Comet) as well as some good DJ/Dance nights (I'm too old to know what these are anymore but rest assured, they are out there). It's also a fairly diverse area, being the city's resident gay and lesbian neighborhood. Add to the pro column some interesting art spaces and used clothing shops and overall the Hill isn't too bad a place to spend a Saturday. Just don't drive if you can avoid it as parking is notoriously a pain in the you-know-what around there. If you are like me and are creeping closer to age 30 than you care to admit, get off Broadway and head to the eastern side of the Hill (15th Ave, Madison, etc.). It's a little slower speed, with a handful of nice shops and restaurants and a more sedate crowd (read: less vomit dodging).
Michael S.
It's a state of mind…

Gays.
Lesbians.
Hipsters.

Gay, lesbian hipsters.

all you need to know.
D.
Capitol Hill

Do you long for the early 90's Seattle grunge scene? Are you a gay male under 30? Have you ever described yourself as Emo, Goth or Alternative? If you answered yes to any of those questions, then bypass all other Seattle neighborhoods and set up shop on Capitol Hill. Broadway, the main thoroughfare is chock-a-block full of restaurants, bars (gay and straight) and funky consignment stores. This is the youngest, least traditional of Seattle's neighborhoods (people-wise, architecturally and as a nabe, it's been here forever – or at least the early 1900's, which is forever in West Coast terms). When you hit 15th, and towards the Northern end of Capitol Hill, you'll get more families and more cash but generally speaking, this is a young, relatively affordable nabe, with lots of apartments and condos. You're young so the walk from downtown uphill to Cap Hill won't bother you, you'll congratulate yourself on not having to spend $ on a gym membership. Parking sucks so just forget it – get a ZipCar (flex car), a bus pass and call it a day.
Elizabeth S.
The religious influence which dominated Capitol Hill until the 1980s is still visible in the many beautiful churches and cathedrals dotted around the area, but today Capitol Hill is the hub of Seattle's counterculture scene. As with most of central Seattle, modern and rather generic condominium complexes are being built on Capitol Hill streets, but as of now it still maintains its unique and artistic flavor. It is marked by brightly colored houses, pea-patches, several public art pieces including a statue of Jimi Hendrix, and a plethora of small theatres and art spaces. Clothes shopping options range from trendy (American Apparel) to retro (Redlight) to downright kinky (Metro Clothing), and the locals match this eclectic and versatile selection; despite their differences, however, they all seem to get along! There is also a vibrant nightlife scene that centers on two main streets: Broadway Avenue and 15th Avenue. Because of its popularity among a variety of social groups, public transportation is readily available to Capitol Hill from several other neighborhoods, but parking is often troublesome.
Matt G.
Yuppies and Hipsters

I've lived in Capitol Hill for six years. When I first moved to Seattle I chose to live on Capitol Hill because of its many dinner and nightlife options and because its location makes it easy to hop on I-5 and take either I-90 or 520 over to the Eastside. Fortunately I no longer live on the Eastside and Capitol Hill is perfectly situated for rolling downhill to work in either Downtown or Belltown.

The nice thing about the Hill is that the number of restaurants and nightlife options continue to grow. Especially in the Pike/Pine corridor. There's also more diversity than ever in terms of dive bars, faux dive bars and upscale restaurants.

The downside to living on the Hill, or at least, living on a busy street on the Hill is the noise. But once I bought a white noise machine that problem went away :).
Alex D.
Insider Scoop on Capitol, Much Experience

Coming from Los Angeles, California I was in for a tremendous surprise. Where in LA, people uphold themselves to standards to the likes of those seen on 'reality' televisions shows, Seattle may just be the opposite of such standards. And I am extremely glad for that.

Briefly I will highlight the negatives and positives of the capitol hill area of seattle and do note I have only been living there for 2 years now.

The kind of people you are going to see are unlike anywhere else, and I've been to every continent in this world. First you will notice that there are probably more gay/lesbian couples walking about the streets then straight people. To give you a small anecdote, I walked into the local grocery store today and counted more people with purple hair than natural colored hair as well as a lesbian couple chained together neck to neck. But that is typical in capitol as freedom of expression has run rapid.

Essentially the vibe is the most peculiar of all places I have been. That does not mean people are not friendly, they are some of the kindest people around. Just watch out for those in the trenchcoats on try not to step on a syringe lying about.

Now to the details.

Pluses
The pluses are that you may express yourself however you want, and i meanHOWEVER. Anything goes. The police are also extremely friendly. Everything is walking distance and the nightlife is pretty good, but extremely great if you are gay/lesbian as most bars cater to them.

Negatives
CLOUDY CLOUDY CLOUDY. It's extremely easy to get depressed. But once over yourself, it's pretty easy to feel normal again. In fact I like the whether.
nabewise