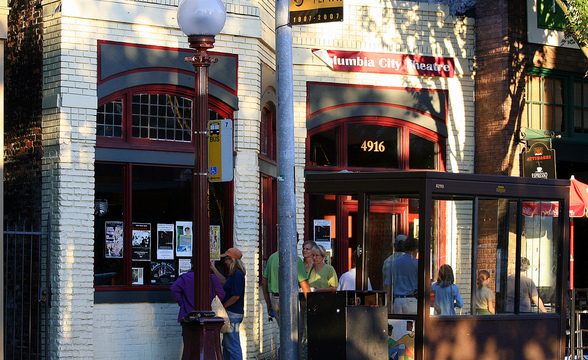 Columbia City
Infomation
Located in the Rainier Valley area of southeast Seattle, Columbia City is a historic district and one of the most diverse areas in the Northwest. Its main artery is Rainier Avenue, which is lined with bars, restaurants, boutiques, art galleries, bike shops, community service centers, and the headquarters for the Freedom Socialist Party. Between May and September, the neighborhood holds a monthly "BeatWalk," which features, "a diverse line-up of first-rate, local musicians." Columbia City also has a great farmers market.
Columbia City, Seattle Data : Neighborhoods & Travel – Score out of 100
TOP ATTRIBUTES
Dining 92
Public Transportation 88
Pet friendly 83
Community 82
Shopping 71
LOWEST ATTRIBUTES
Safety 61
Empty nesters 59
Parking 57
Seniors 56
Income 6
Columbia City, Seattle Reviews
Charming
This is probably one of the nicest nabes along Martin Luther King Jr. Way and is in one word: charming. There's a ton to do and a lot to eat, mostly centered around Ranier Ave.
The houses are old but mostly nice and are affordable. This is a great place to live for anybody of any age.
Bowen S.
Totally Awesome
Columbia City is one of those places that totally escapes the radar. Most of my buddies that have graduated UW have made this their new home for the time being, and think its rad. Tons of great bars, art-house theatres, local art, good music, and pretty much most of the beautiful things you could want out of life. I occasionally make the journey down from the University District and am very few times disappointed. I wouldn't be surprised if this area blew up to the hispterific proportions that places like Cap Hill have. There certainly are plenty of fixies browsing the streets of Columbia City.
What's awesome
More action than you would expect from a place that's little know.
What's not so awesome
Damien P.
My new hood – Columbia City!
Papa loves him some Chocolate City!
I am a life long city boy, living most of my years on Capitol Hill with some side jaunts in West Seattle, Ballard and Ravenna. Columbia City was an area of town that I drove through to get to and from work for a few years, but never made a stop in. When a moving opportunity presented itself and Columbia City announced as the destination, I was dubious, but eager to break from my mold and try something unknown.
So glad I did!
Earlier this year the New York Times proclaimed 98118 to be the most diverse (class, race, sexual orientation, etc) zip code in the entire country. What only 10 years ago was "the hood" has gentrified and spread it's beautiful wings. Ethiopian restaurants next to BBQ next to Verve wine bar next to Island Soul Carribean next to Wabi Sabi Japanese next to Tutta Bella Italian next to El Sombrero Mexican next to Full Tilt ice cream and pinball – in three short blocks you can go around the world and deliciously.
The first thing I noticed about this hood is that people are nice. I know that sounds weird, but I'm from Capitol Hill. There is no freeze in Chocolate City whatsoever. In my last place on the hill, I lived in a 12 unit building for 5 years. I met 2 of my neighbors. In CC I moved into an 8 unit building. I met all the tenants within 2 days. People say hello to you on the street and strike up conversations in bars and restaurants. What strange place is this? And only 15 minutes from Downtown on the light Rail!
If you haven't been, come to my hood. I'll buy you a drink at Lotties.
Todd B.
Columbia City – Up and coming section of Rainier Valley!
This neighborhood is where it's at! We have a great little cinema here (Columbia City Cinema), Social Clubs, Great Dining, you name it…it's here.
patrick c.
nabewise