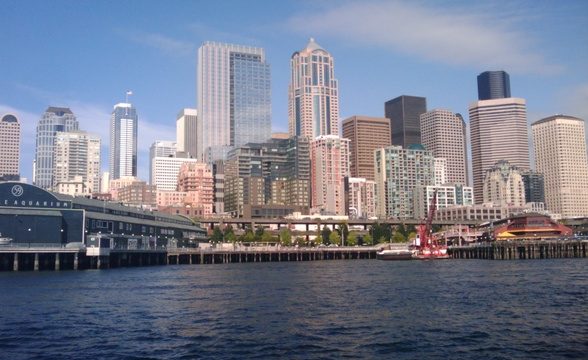 Downtown
Infomation
Towering skyscrapers, tourist hotspots, and vast amounts of shopping are the name of the game in Downtown Seattle. The Pike Place Market andWestlake center provide almost limitless shopping and people watching opportunities for tourists and residents alike. Like most other American downtowns, Seattle's offers little in the way of permanent housing, but abounds in hotel rooms and other temporary options. Other features to note are the sprawling and amazing Seattle Art Museum and Rem Koolhaus' stunning Seattle Central Library–an award winning and awe-inspiring piece of contemporary architecture
Downtown, Seattle Data : Neighborhoods & Travel – Score out of 100
LOWEST ATTRIBUTES
Seniors 40
Parking 38
Community 36
Families 36
Quiet 28
Downtown, Seattle Reviews
Bowen S.
A Downtown and Then Some

Downtown Seattle is a downtown. As such, it offers tall buildings with offices, and lots of large department stores and Urban Oufitters-esque stores. It offers panhandlers and dark alleys. It offers good public transportation and horribly expensive parking. So, what's the big deal?

What makes it unique, besides the laid-back—hustle without the bustle—vibe, is a little semi-outdoor market called Pike's Place. It's packed to the brim with Pacific Northwest goods, fresh seafood, hand-picked produce and flowers, odd stores, and accompanying colorful characters. Beyond that, this little market was the birth place of the empire we now know as Starbucks Coffee.

So whether it's a busy work week or a lazy weekend, this nabe has something good to offer and plenty of coffe to go with it.

What's awesome

Pike's Place and free buses once you're downtown.

What's not so awesome

Not having a bus pass to get downtown in the first place and having to sell my birthright for parking money.
Layne Tisdel Martin
A Cultural Medley

Seattle's compact, high-contrast urban axis is a forward-thinking and aesthetically complex environment with the diversity to sate many a distinctive appetite. It's an entrepreneurial atmosphere full of paradox where the mainstream and the cutting edge coexist and the distinguished lives in cozy quarters with the dissident.

Motivated, if slightly disheveled, vagrants sell newspapers to smartly suited professionals through the Real Change Homeless Empowerment Project. Sophisticates soak up symphonies at the monumental Benaroya Hall, just around the corner from whatever outré musical revolution is happening at the Showbox. Eateries both grand and gritty line every avenue and art exhibits range from the prestigious permanent collection at Seattle Art Museum to the motley assortment of work shown by emerging artists at Art/Not Terminal on Westlake Avenue.

It's certainly a high dollar district to live in, but there are several affordable housing properties in nearby Pioneer Square, for those who qualify, and the menagerie of attractions and advantages at one's fingertips is well worth it for most. Not least significant on the long list of blessings is that Pike Place Market is the neighborhood grocery joint. Yes, that's the place to see the famous singing fish flingers at Pike Place Fish Company. But it's also home base for a multiplicity of other local food vendors, from farm-fresh produce stalls to artisan bakeries and handcrafted cheese shops. At Westlake Center and along Fifth Avenue, the retail-ready will find a hefty helping of stores and boutiques ranging from haute to homespun.

Transportation is easy and the choices are abundant, with regular ferries leaving the waterfront for Alki Beach, Bremerton, Bainbridge and Vashon Islands, and Victoria, BC. Central Link light rail whisks travelers between downtown and the airport for $2.50. At 40 minutes transit time, it's quicker to drive, but for those without wheels, it's a better deal than a $50 taxi. Once arrived, the vast majority of Seattle's most desirable tourist destinations are within easy walking distance of the ride free zone, within which hybrid electric buses shuttle wayfarers all over the downtown core at no charge between 6 a.m. and 7 p.m.
Zachary Walker
A true city center

For Seattle's size, you would be forgiven for thinking that Downtown is probably similar to other "downtown's around the country: bustling but sterile during the day, and desolate at night with the occasional tumbleweed or transient blowing through. How far from the truth this is. Seattle's Downtown is truly a multi-use part of the city. Sure, Downtown is the center of commercial business for the city, but there is so much more to the nabe than just business. An unbelievable plethora of excellent restaurants and multitudes of other attractions please locals and tourists alike, and the streets are never empty. The Seattle Art Museum, The Central Library, and The Pike place "https://nabewise.com/seattle/market">Market are just a small spattering of the excellent attractions this nabe has to offer.

Beyond the incredible dining and attractions, this also happens to be the shopping mecca of the American Northwest. Designer boutiques exist on nearly every street, and the Westlake Center makes shopping a breeze with multiple stories of greatness.

Downtown feels super urban, skyscrapers shade the streets, and the wide sidewalks are almost always completely packed. This downtown district is exactly what it should be: The center of attention.
Katie P.
why yes, I would like a piece of your delicious citrus

My experience of downtown Seattle in a nutshell: walking through Pike PlaceMarket, a friendly teenager in an apron approached and happily asked if I would like a slice of his orange. When I hesitated, he assured me that it was organic. Little did he realize I hesitated because in New York, we don't take food from strangers. Needless to say, the orange slice was so yum. After wandering endlessly around the market (I think we looped around 3 times!), I hung out by the waterfront and soaked up the amazing views. It was so refreshing being in a city that actual knows how to rock being by the water. I hauled luggage around downtown for 5 hours and still had an amazing day. It didn't feel crowded or rushed. People in cars stopped to let me cross the street when I j-walked. Whoever knew urbanites could be so kind?

Only down-side: finding public bathrooms here was a bit of challenge—they were being cleaned at the market and everywhere else required you buy something before visiting the loo. This nabe is worth holding your pee.
Kati
Employee Paradise

Call me a nerd, but there is something exciting about working in a tall building Downtown. It's a sensation that I thought would fade over time, but it hasn't. Add to that the fact that you're working in Downtown Seattle, where we also have:
– Pike PlaceMarket
– Any store you can dream of…chain or one-of-a-kind
– Gazillions of restaurants of all sorts
– Transportation options galore
– Beautiful Sound and mountain views
– Tons of events – music, food and otherwise
– And more
…and you're in employee paradise!

A lot of people question safety, and my response is: yes, there are some areas that I tend to avoid after dark if I'm alone, but I feel Downtown safety concerns are largely based on perceptions for the most part.

At this point, I can't imagine working outside of Downtown.
Judy W.
I loved stepping out of my apartment building and into the heart of the city. There was always something going on. The market is crowded, but worth it once you get to know the venders—and they get to know you as not a tourist. Same goes for the boutiques. Walking home may take a while, as you might be prone to stopping in stores on the way.

Accessing I-5, I-90 and 99 is easy, but why would you go anywhere else?

The reason I finally left was space issues. Be prepared for small apartments, but if you can get one with a view of the water and Olympic mountains, it's breathtaking, especially in the summer.
Greg Gamble
Downtown Seattle has grown up since the 1962 Worlds Fair which featured one of the nations best known landmarks, The Space Needle. Downtown is the central business district of Seattle, Washington. It is fairly compact compared to other city centers on the West Coast because of its geographical location. The Queen Anne neighborhood is on the north and to the east is Capitol Hill, and on the west the downtown core is Elliott Bay. South is located Safeco and Qwest Fields. Other areas of interest arePioneer Square, Pike PlaceMarket which are draws for locals and tourists. Downtown Seattle's population is growing, with a number of high and mid-rise condominium towers being constructed. Many of these condominiums were aimed at the affluent housing market. There are four inner city parks; Westlake Park, Freeway Park, and Victor Steinbrueck Park and the Olympic Sculpture Park that offer employees and residents places go walk to and relax and enjoy the beauty of this great city.
Di Y.
Everyone wants Downtown

Downtown Seattle is among the first places that come to mind when trying to figure out where to go for fun. It is all-inclusive: shopping, dining, touristy-attractions, jobs, etc. It's fast-paced and somewhat upscale. Pacific Place is one of the nicest parts. It hasAMC theaters on the top floor; restaurants such as Todai, Wild Ginger, and Johnny Rockets; stores such as Barneys, Tiffany's, and Barnes & Noble.

Another nice part is the shopping district. Every major store you could think of is there: Sephora, Gap, Urban Outfitters, Abercrombie & Fitch, Niketown, American Apparel, Nine West, etc. At least five Starbucks stores and a handful of other coffee shops span out in downtown. There is also the financial district, where you can see the skyscrapers of Wells Fargo, HSBC, and UBS Financial.

By the water and at Pike PlaceMarket is not as nice as the shopping and financial areas, but it has its own quaint feel, and it is the go-to place for almost every visitor. No one goes to downtown Seattle without at least visiting Pike PlaceMarket for the fish throwing and buying over-priced coffee at the very first Starbucks. And by the piers, there is a Red Robin, an Anthony's, several other expensive seafood restaurants, and some local tourist shops.

Visiting downtown is hands-down less expensive than living there. You don't need numbers to know that living in downtown will bankrupt you unless you have a solid, full-time job at some conglomerate corporation.
nabewise