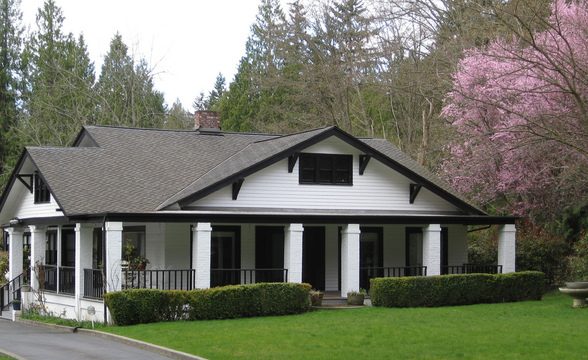 Lake Forest Park
Infomation
Lake Forest Park is distinct for having three nouns in its name, but there's more to this community at the northern tip of Lake Washington. Varied housing options, multiple parks (including two beach clubs), and a broad public transportation system make this a mecca of calm, small-city living. Commercial activity is on the rise, with many retail businesses located around the Lake Forest Park Town Center, and at the southern tip of the city near 145th Avenue NE. Check out the annual Secrets Garden of Lake Forest Park tour to discover the areas other hidden charms.
Lake Forest Park, Seattle Data : Neighborhoods & Travel – Score out of 100
LOWEST ATTRIBUTES
Shopping 40
Dining 35
Nightlife 35
Singles 30
Income 19
Lake Forest Park, Seattle Reviews
Far from the sight of outsiders
Lake Forest Park does an exceedingly good job of being large, but finds a way to hide itself from the public eye. If you were ever playing a game of hide and seek in the Seattle area, Lake Forest Park is probably better than Redmond or Kirkland, although Bellevue is still your best bet, since no one really cares about it enough to check. Just kidding. Realistically, there are few reasons to visit this area if you're not living here or visiting a friend that lives here. It has an interesting location, however, not too far away from places like Downtown Redmond, Market or other fun low-key areas.
What's awesome
What's not so awesome
Geoff B.
Not much going on here
Lake Forest Park is your standard bedroom community suburb. Which means it's rather boring as hell. But it is nice. Located north of the Seattle city line, this nabe, it's neighbor Shoreline, and pretty much all of the nabes of the north Bellevue area are indistinguishable from each other. All of them are essentially upper-middle class suburbs constructed in the late fifties.
Almost no dining, or shopping options exist, but there is a farmers market in the summer, and we all know how much Washington farmers markets rule.
Sean M.
Homey suburban Seattle
Similar to the rest of the neighborhoods of suburban Seattle whose houses were all built thirty to fifty years ago, Lake Forest Park is full of families. LFP has the added charm of its name describing precisely what it is comprised of: it is close to the lake, it can get quite woodsy in the more forested bits, and there are a few small parks scattered around. Lake Forest Park has the added convenience of the Lake Forest Park Shopping Center, home to a large bookstore, library, grocery store, and some restaurants. Bothell Way is also stocked with convenient amenities for necessary goods (grocery stores, gas stations, etc). Besides this, however, there isn't a whole lot to do.
The public transportation aspect isn't as dire as it can be in other suburban parts of Seattle, as Bothell Way — a relatively major boulevard that snakes around the lake and into Bothell and eventually meets up with 405 to take you down into Bellevue — accommodates a decent number of Metro buses that head into mostly Shoreline or downtown Seattle.
LFP's primary selling point is that it is quiet and relatively safe, and not too far from the busier parts of Seattle. As stated earlier, Lake Forest Park isn't the most happening place ever, but its quietness is part of its appeal!
nabewise