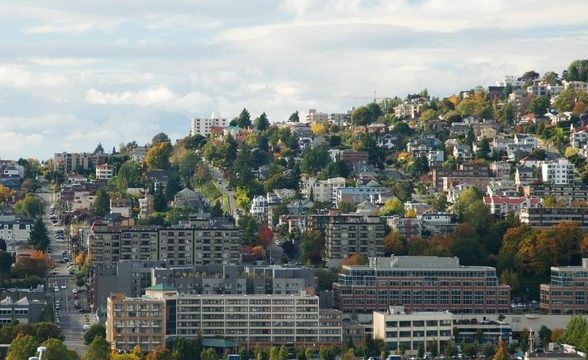 Lower Queen Anne
Infomation
A vaguely-bordered nabe, Lower Queen Anne sits somewhere between the base of Queen Anne Hill and Denny Way, just under the shadow of the Space Needle. Defined by dense commercial activity, LowerQueen Anne contains a wide variety of restaurants, apartment buildings, theatres, tech companies, and bars. It also happens to house some of Seattle's brand name attractions, from the Key Arena (where the Storm play) to McCaw Hall (where Mozart plays). There are efforts being made to call the area "Uptown," but don't count on it just yet.
Lower Queen Anne Data : Neighborhoods & Travel – Score out of 100
LOWEST ATTRIBUTES
Community 50
Green space 50
Pet friendly 50
Income 39
Parking 25
Lower Queen Anne, Seattle Reviews
Could LQA be more convenient…and fun?
As a late-20s single gal, LQA couldn't be a better fit:
– Easy/fast commute to Downtown for work or fun…and by "commute" I mean "bus" for the most part…although I can walk to my office in 30-40 minutes, which I like to do often
– Easy/fast commute to other fun neighborhoods such as the top of the Hill, Ballard,Fremont and Capitol Hill
– Walking distance to not one but THREE grocery stores
– Walking/stumbling distance to multiple restaurants/bars
– Walking distance to salons, a record store, book stores, an antique store, a liquor store, hotels if you need to accommodate friends/family
– Relatively easy access to I-5 and 99 (although Mercer and Denny can get pretty backed-up) and the Downtown ferries
– If your place isn't on a main drag, the neighborhood is pretty tame/quiet except for the occasional siren
– I feel completely safe…all the time
– In short, I love living here!
You're looking for fun things to do? Look no further! Seattle Center constantly has events of all sorts, for all types of people.
My only complaint is that parking can be a total pain if you don't have an assigned parking spot. I have done my fair share of street parking in my day, but street parking + a steep hill isn't fun…mostly the walking-back-up-the-hill-when-you're-in-a-hurry part.
For the record, I rent. I am planning on buying a home/townhome come the new year, and I am fairly sure I will end-up in a different neighborhood. I would love to continue living in LQA, but I simply can't afford to buy anything more than a condo here.
I give LQA a solid A; it would be an A+ if the parking were better. However, the pain-parking is a sacrifice I am willing to make to live in a place that I feel is otherwise perfect.
Kati
The Date Night Nabe
This nabe in addition to being a fine place to live, especially if you're in that point of life when you've finally stopped wearing your old college clothes, is probably more than anything the kind of place where you would go on a date night.
There's Key Arena and other venues/theaters within walking distance and there's a ton of restaurants to go with them. They've bundled up date night and made it a neighborhood for your convenience. From all of them in LQA—you're welcome.
What's awesome
What's not so awesome
A cornucopia of excitement
I feel as if I'm always in Lower Queen Anne, although that may just be my obsession with Seattle Center. Whether I'm watching a movie at the IMAX, going to a show, or attending a theatrical production this area keeps me busy. There are many, dive dinging and drinking options too. This means you can start off in Lower Queen Annewith a nice dinner, hit a venue, and then grab drinks afterwards without even leavingLQA. Gotta love it
Francesco N.
Lower Queen Anne or "Uptown" is where I live, work and play. I love the views, the convenience, the great restaurants and coffee shops and how easy it is to walk downtown. Sunsets are gorgeous from here, the people are friendly, the architecture diverse and the transportation options make commuting easy.
Ricklie Stone
nabewise