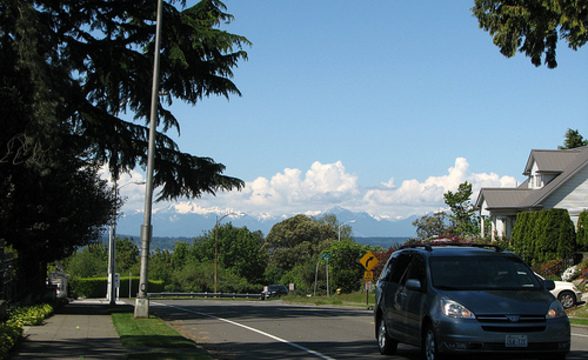 Magnolia
Infomation
Magnolia earned its name when Captain Vancouver mistook the madrona trees along the peninsula's southern bluffs for magnolias, though the area is also home to some real magnolia trees. Sitting across fromQueen Anne Hill, Magnolia is a small idyllic community known for its stunning views and small-town familiarity. It contains Discovery Park, Seattle's largest park, where birdwatchers can see herons, eagles, and falcons. To building-watch, you might head down to the local branch of the Seattle Public Library, and explore its award winning architecture. The main business district is split by West McGraw Street, and features assorted shops, cafes, and some of Seattle's best restaurants.
Magnolia, Seattle Data : Neighborhoods & Travel – Score out of 100
LOWEST ATTRIBUTES
Dining 60
Income 44
Nightlife 40
Shopping 40
Singles 38
Magnolia, Seattle Reviews
It's hard to top Magnolia
Magnolia really is a green Oasis in the middle of the city. You would be hard pressed to find a quieter and more relaxing area in Seattle. Consequentially, most people would also be hard pressed to afford it.
Magnolia is essentially a mini peninsula on a high bluff adjacent to Puget Sound. This affords spectacular views of sunsets over the water, and, on clearer days, theCascade mountain range. It's also home to Seattle's biggest park, Discovery Park. I've lived in Seattle for 27 years and still haven't trekked all 530 acres. The sand dune on the top of the cliff there is always a great spot to meet up with your out of town friends or significant other. After that, take a quick hike down the trail to the beach. Careful, you can literally get lost in this park.
Since the main area of Magnolia is hidden by a steep (19% grade) hill, you are shielded from some of the less desirable elements of the big city, including the freeway noise. Downtown Seattle seems so close you can touch it from Magnolia's west side, yet there is really never a time when anyone who lives there will drive through your neighborhood. This keeps Magnolia really quite, calm and local to itself. Its main street area is charming with locally owned shops, a hardware store and a conglomerate grocery store. Not the best place for a midnight "Jager-Bomb", as most shops will be closed by 8 pm, but with downtown so close that really isn't an issue. It has that "small town charm" but it feels classy. Somehow, it's the perfect mix.
There are really only 3 bridges, over railroad tracks, out of Magnolia. That can lead to some traffic congestion during peak hours, but what neighborhood is immune to that. One entrance is that hill I mentioned earlier, West Dravus. It is one steep hill in a city famous for steep hills. It is hardly even an option for sledding when snow is on the ground so you'll have to use an alternate route when it's icy or snowy outside.
In Magnolia there are definitely more luxury SUVs than Hybrids and more retired people than working people, but that is to be expected as housing in Magnolia is luxurious and expensive. I, myself, can only imagine that it's one of the few neighborhoods that's actually worth that high price.
Tyler M.
Laid Back
Lots of condo's and apts. Most have territorial views of Queen Anne across the way. A good mix of students, professionals and retirees keep the neighborhood shenanigan free. Ample dog parks, grocery options and off street parking.
Sean O.
If you don't mind distance, Magnolia is the bomb
People often joke about how far away from everything Queen Anne is, and how confusing it is once you get there. Well, Magnolia is like that, but times ten. I've never tried to get to or from Magnolia on a bus, and probably wouldn't try. Even just driving through Magnolia is phenomenally confusing.
HOWEVER: if you can get past these aspects, Magnolia is really, really awesome. The views of Puget Sound can't be beat. Discovery Park is one of the biggest and most incredible parks in Seattle- scratch that, in the Pacific Northwest. The sense of community is really strong, and Magnolia residents are as prideful of their neighborhood as even the most ardent Ballard-ians (the distance from everything really contributes to this effect, which some people really, really love). Some areas of Magnolia are pretty bland – especially near Interbay – but the closer you get to the water the more beautiful it gets.
Distance from downtown is definitely the biggest sticking point, but Queen Annebecomes the Magnolian's downtown in a way, and Queen Anne is great, so many people won't mind that. So if you can get past that, in my opinion, Magnolia is one of Seattle's most up-and-coming nabes.
Rob S.
Magnolia is a quiet, comfortable neighborhood close to Downtown. Situated on a peninsula west of Queen Anne, Magnolia was primarily built between 1930 and 1960, giving it a very different architectural feel from its neighbors, Queen Anne and Ballard. Made up of two hills, Magnolia enjoys views of downtown from east hill, and views of the water from west hill. Its natural boundaries create limited through-traffic and one of the lowest crime rates in the city. The neighborhood, which has almost an island-like quality, is a mix of upscale contemporary homes, mansions, ranch-style houses, condominiums and apartments.
The area has an urban center called "The Village" which lies in a valley in-between Magnolia's two hills. Here you'll find delicious restaurants, cafes, shops and grocery stores.
Magnolia is also home to a number of local parks, including Magnolia Park and Discovery Park, Seattle's largest green space. This sprawling 534-acre park has woods, open areas, beaches and a lighthouse and is kept wild for an urban wilderness experience.
Ricklie Stone
nabewise