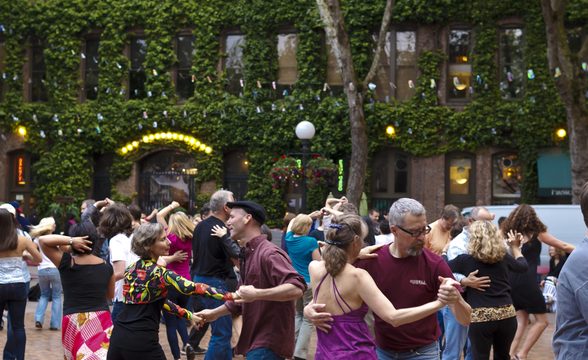 Pioneer Square
Infomation
One of the last remaining vestiges of old Seattle, Pioneer Square retains an old town vibe that has been lost elsewhere in the metropolis. Turn of the century brick buildings now fill the spaces left over by wooden buildings lost to the Great Seattle Fire of 1889, and the subsequent raising of street level has given Pioneer Square its main tourist attraction: The Seattle Underground. Tons of restaurants, bars, nightclubs, and unique boutiques give Pioneer Square its reputation for heady nightlife and wild parties.
Pioneer Square, Seattle Data : Neighborhoods & Travel – Score out of 100
TOP ATTRIBUTES
Public Transportation 93
Gays/Lesbians 83
Artists/Creatives 83
Nightlife 79
Pet friendly 75
LOWEST ATTRIBUTES
Empty nesters 41
Quiet 29
Seniors 22
Families 20
Income 18
Pioneer Square, Seattle Reviews
A Definite Feel…
Pioneer Square has a definite feel to it. It might be due to the vintage signs that hang from the old brick buildings or the amount of green that sprouts and grows from every crack on their surfaces. It's possible it's due to the wooden Native American statue that looks over the square or the historical underground city that lurks below.
Whatever it is, it drives you to want to stay and eat lunch in one of the many little deli's or buy a souvenir from one of the odd stores; it makes you want to congregate with the masses and enjoy the rare sunshine on the square or huddle together and tour what lies beneath.
What's awesome
What's not so awesome
Parking as always.
Bowen S.
Safer than you think & an awesome sense of community
My office is in Denny Triangle but I am down in Pioneer Square often for work, and I get excited to go every time!
Pioneer Square is a complete original: historic buildings, one-of-a-kind shops and restaurants, beautiful public spaces with lots of big, beautiful trees…. It's visually stunning with plenty of options for things to do.
Do you like sandwiches? Because Pioneer Square is your place to get a kickin' sandwich. If you've never been to Salumi, you're missing out – best…sandwiches…ever! There are other great sandwich shops there as well.
Transit options up the wazoo: transit tunnel station with buses and light rail, street-level buses, train station and proximity to ferries.
People tend to question the safety-level in Pioneer Square. As a single girl in my late 20s, I feel pretty safe down there. Chances are that you'll feel pretty comfortable going anywhere you'd like to visit; you have to go out of your way to find pockets of questionable activity.
There is a fabulous sense of community among the workers and residents in Pioneer Square; everyone is working together to make it a better place. And as far as Downtown goes, Pioneer Square has the most community events. First Thursday, Seattle Square, marches to Sounders games…the list goes on and on.
Kati
Pioneer Square is the old center of Seattle. Originally constructed in the 1860's, a reconstruction was needed in the 1890's after the Great Seattle Fire reduced the neighborhood's entirely wooden collection of buildings to smoldering ash. Centered around the small square that the neighborhood takes its name from, it is still characterized in feel by the brick buildings that replaced the burned down wooden tenements. The neighborhood has remained relatively unchanged since the early 1900's, refusing to gentrify and lose its old city charm. Because of the unique vibe of the neighborhood, Pioneer Square has become a tourist hotspot, and is well known as being the center of the Seattle Underground (I would recommend a quick Google search on this topic if you don't know what I am talking about).
Tons of quaint bars and restaurants surround the square, and little boutiques pop up on the streets leading away from the square. Vintage clothing and vintage musical gear seems to be the taste of the neighborhood, and as such, it is easy to meet some like minded individuals, if music is your bag anyways. The bars are expensive, and the restaurants even more so, but they all exude that old brick building charm, and there are interesting choices, and some real good pizza to be found.
The bus options are almost limitless, and one of the main terminals for the city of Seattle is a quick walk away. Proximity to the sports stadiums makes the neighborhood a hotspot before and after games, and is likely to blame for the influx of sports bars in the area.
Small, but unique, and filled with history and interesting places to eat and shop, Pioneer Square is a good neighborhood for tourists and locals alike to take in something a bit different from the rest of the city.
Zachary Walker
Pioneer Square
I just moved here about 2 weeks ago, it's a charming neighborhood if you can put up with all the bums and sirens. There are always a lot of things happening in Occidental park and waterfall park is nice. Public Transportation is awesome as well. Out of town visitors can easily get here via the Light Rail.
B.L.
Pioneer Square is not as scary as it appears to be. A lot of people tend to avoid it due to the homeless population, but if you've worked, lived, or hung around Pioneer Square for long, you tend to get to know the area, and realize that most of the homeless are harmless. They may ask for money, or offer to sing a song or tell a joke for a buck, but for the most part, they're just doing their own thing.
Besides, most of the bartenders, bouncers, and doormen know the locals and shoo them away. Pick a bar, go there a few times, and they'll know your name, your choice of drink, and who you go with pretty soon.
If you're a tourist, skip the underground tour. Go into the basement of a few bars, such as The Merchant or the Elliott Bay Cafe and you can see the so-called "underground city" just as easily.
Judy W.
nabewise