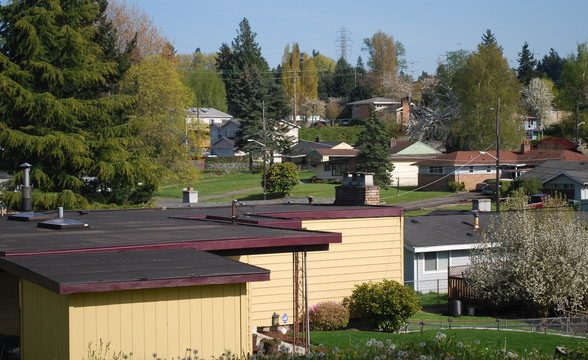 Rainier View
Infomation
This mellow and mostly residential nabe has much in common with its neighbor, Rainier Beach. Both have had a tumultuous history resulting in their current unjust reputation, but change is coming to Rainier View these days, and it's coming fast. New restaurants and businesses open practically daily, and old homes are modernized almost as frequently. Gives this nabe another couple of years, and you will have one of the most desirable spots in all of Seattle.
Rainier View, Seattle Data : Neighborhoods & Travel – Score out of 100
TOP ATTRIBUTES
Pet friendly 75
Public Transportation 75
Parking 69
Artists/Creatives 67
Green space 67
LOWEST ATTRIBUTES
Quiet 33
Clean 31
Seniors 30
Empty nesters 24
Income 9
Rainier View, Seattle Reviews
Rainier View has a lot to offer.
The Rainier Valley in general is known for being incredibly diverse — about a 1/4th split between white, black, Asian, and Hispanic. As a result, the outsider-in perspective is that crime from gang activity has taken a toll on this area. Residents argue that the myths around the area magnify crime more than the community action taken against it, which has driven the crime rate down significantly in the last 10 years.
I'm upfront about these types of things because anyone researching the area will run into these types of data. What people see less often, is community efforts that try so hard to make Rainier Valley a culturally and ethnically diverse area that thrives to become an area for current and subsequent generations to thrive.
Though Rainier View encounters less of the tensions involved with northern areas of Rainier Valley, it is not exactly exempt of them either. Projects like the Rainier View Christian Church provide services to any who need them — people hit hard by the economic climate, or people who have been without a home for years — ranging from support groups for recently divorced, to programs like to "Hot Meals" and "Clothes Closet".
As for housing, you'll find it to be much cheaper than northern or eastern areas. I would say, if you don't mind shopping at a Vietnamese Grocery store or being adventurous about some of your daily choices such as food, clothing, or recreation, you're going to love Rainier View. Beacon Ave, Rainier Ave and many of the main streets offer diversions which you'll not find in many places in Seattle.
Commuters know this: public transportation is super amazing. You really can't find anything comparable in most areas of Seattle. Getting north to Downtown is minutes away, thanks to the Light Rail. You can hop on the nearest Rainier Valley stop, and be on Pine and 4th in about 15 minutes for the change in your pocket.
virginia j.
Rought and Tumble kind of nabe
This nabe is next to alot of happening areas — Dunlap and Brighton and pretty much all of Columbia City are super awesome — but venturing into the unknown may be a quest I can't recommend. Parts of Rainier View have that sort of locals only vibe. Altogether, not a bad place to live if you're trying to pinch your pennies — good parks and lots of open spaces. Houses come pretty small here, so if you're bringing a family of more than 3, consider carefully where you'll be staying.
What's awesome
Next to awesome Rainier Valley spots and lots of parks and open spaces.
What's not so awesome
Housing is pretty small and looks a bit gritty in some areas.
Jessica P.
A little bit of common sense can get you a long way.
I would venture to say that Virginia said almost everything there is to say about this nabe, awesome job. I would only add that Rainier View has accumulated a reputation for a reason, but good judgment and common sense can be your best friend in avoiding the issues people complain about. Know where you are, be aware of what is around you, and try to stay where you're comfortable. If that means walking a few blocks extra along a street you feel safe getting home to, then do it. I used to live an an area of Seattle that had accumulated a bit of a poor reputation as well, and getting to know your neighbors, and who actually lives in your neighborhood are always good ideas. Get to know the people you see on your commute, and be friendly with them. You might find out that simple conversation — amazing as it sounds — dispels enmity and hateful stereotypes pretty quickly.
Christopher M.