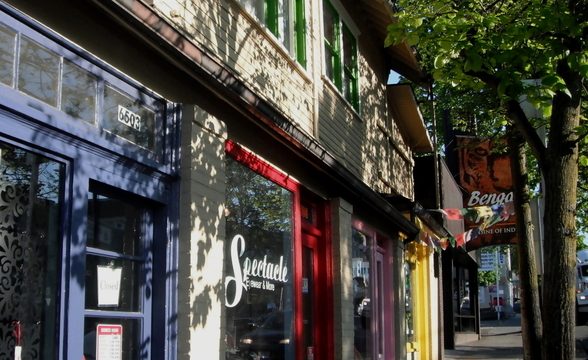 Roosevelt
Infomation
Located in north Seattle on the edge of Cowen Park, and bounded by the I-5 to the west, Roosevelt is home to many different types from students to professionals. Its main thoroughfares are Roosevelt Way (southbound one-way), and 12th Avenue NE (northbound one-way). The commercial center of the primarily residential Roosevelt is 65th Street and Roosevelt Way, which has a Whole Foods, a pharmacy, restaurants, bars, and an unusual amount of high-end audio/video retailers. You can also have an ethical bite to eat at Sunlight Café, the oldest vegetarian restaurant in Seattle. One great thing to do in Roosevelt is wait for the train, which, with the construction of a light rail station, should be arriving in 10-12 years. Bring a paper.
Roosevelt, Seattle Data : Neighborhoods & Travel – Score out of 100
LOWEST ATTRIBUTES
Community 57
Seniors 54
Shopping 50
Quiet 42
Income 27
Roosevelt, Seattle Reviews
Just Plain Pleasant
Roosevelt is the grown up, well-rounded, charming nabe next to the University District. As students walk or jog through there on their way to Green Lake it sort of serves as a refreshing reminder that there's such a thing as life after college where people go out for just a couple drinks and shop at grocery stores for things other than pasta and burgers. Most people looking for a real job and simple city life would probably be happy calling this nabe home.
What's awesome
Nice vibe.
Bowen S.
Roosevelt – Substance over Style
Named after Teddy Roosevelt, founder of the Bull Moose Party and arguably the most ebullient American president ever, the neighborhood of Roosevelt is more far more peace loving than its ass kicking namesake. Roosevelt is paradise for mature hippies; people who gave the up tie dye for a suit and tie decades ago, but still fondly reminisce about the old days of peace and love. With its array of socially and environmentally responsible dining and shopping options, it's easy to understand why Whole Foods Market decided to locate one of only three Seattle stores here.At the junction of NE Roosevelt Way and NE 65th St there are several notable shops and restaurants. Here you can sample some of the most delicious frozen custard in Seattle (or anywhere) at Peak's, a mom and pop operation which uses local ingredients and environmentally sustainable processes. Or you can nourish your "Qi" with a visit to the East West Bookstore and Tea Garden before heading off to feast at either Sunlight Vegetarian Café, the oldest vegetarian restaurant in Seattle, or Thrive, a raw foods café/mini grocery which, according to its own website, aims to "inspire the body temple to shine." For a pick me up, head to Espresso Express, the only coffee shop in Seattle where you can recharge with a lavender infused café latte while you fill up your gas tank with biodiesel. Satisfy consumerist tendencies by perusing the multiculti goods of 10,000 Villages, a national retail chain devoted to advancing fair trade in the developing world, or help fund local and international charity projects through a purchase at Cloud Nine Consignment. The prevalence of apartments, condos, and townhomes and proximity to the cheap rents of University District has kept rental prices reasonable, although housing prices on single family homes can be high, especially in the quaint residential neighborhoods north of historic Roosevelt High School. Gentrification has resulted in the construction of nondescript complexes which serve as anchor points for the area's shopping district, so although Roosevelt's history dates back to the 1920's, it can be difficult to imagine a past that predates 1990. Overall, the area has a generic and slightly corporate feel to it; however, the lack of style is compensated for by a superb location. From Roosevelt you can easily walk, bus, bike or drive to nearly all of the hot spots in North Seattle, and several express buses make getting downtown from Roosevelt a breeze. The proximity to Interstate 5 is a mixed blessing- great for people who need to car commute, and bad for those dislike congestion and the constant hum of passing vehicles. The bottom line is if you prefer substance over style, and have already made peace with selling your organic soul to corporate behemoths like Whole Foods, Roosevelt is an excellent place to hang your hat.
What's awesome
Great stores and restaurants, very walkable, very conveniently located to other North Seattle neighborhoods, good place to live car free
What's not so awesome
Close to I5, architecture lacks character, lots of traffic
Natalie B.
TEDDY'S!!!
Most of my friends went to Roosevelt High School, but I never spent much time around there until I turned 21 and said friends turned me on to Teddy's, which has since become one of my favorite bars in Seattle. Relaxed, super-friendly, pool table-equipped, Teddy's has that organic Seattle vibe that is completely unique to our wonderful city. And, it has become something of a portal into the rest of Roosevelt for me. Though I can't speak to the qualities of Roosevelt residentially, from a commercial standpoint it much be one of the best nabes in Seattle. Eccentric, unique home stores and antique shops sit side by side with megastores like Dania and Magnolia Hi-Fi. It also seems to be a mecca of specialty-stores; I always go to the little vacuum shop on 65th for my Miele vacuum filters and replacement parts. The cuisine in the area is apparently exceptional -Pies n' Pints is a favorite for many – but my eating experience has been restricted to the Taco Del Mar (which is really awesome, don't get me wrong!). However, possibly my favorite thing about Roosevelt is that there is a huge Whole Foods smack dab in the middle of it, which I would designate 90% of my paycheck for if I lived in the area. It seems as though Roosevelt is more of a visiting nabe than a living one for students, but it seems to be beloved by single adults and families, and I'm always willing to make the pilgrimage for a night at Teddy's.
Joseph S.
Lovin' Roosevelt
While growing up in Kirkland, I always vowed to live in the "big city" and never return to the suburbs. My first apartment was in a rather crummy part of West Seattle where my car was broken into, police helicopters roamed freely, and walking to the corner store after 9pm was not a great idea. Then I lived on Capital Hill and initially loved the constant mumur of people on the go and the fantastic options to get into trouble on any given night. But after a year of that, I finally settled in the Roosevelt neighborhood and found what I didn't know I wanted: a cute little place that feels a bit like a suburb in the middle of the city. There are yummy, diverse restaurants, rad, slightly divey bars, three grocery stores (including a Whole Foods), great schools, and it's all super close to a popular park (Green Lake). And it sounds strange, but I even find it somewhat charming that my car has been broken into in this neighborhood. I guess it makes me feel like I haven't completely given up on my dream of living in the city. Speaking of cars, I barely have to use mine since there are many buses that can take you all over and most of the amenities are within walking distance. I love that I can get up on Saturday morning and work on my garden, run some grown up errands and then head to the Atlantic Crossing for brunch and a bloody Mary. This is a place that seems to attract the whole spectrum: singles, yuppie couples, retired hippies, new families, and college kids. All of this makes for a great mix of amenities and patrons. Come visit Roosevelt, you'll love it!
Shanelle D.
Viva Roosevelt!
I've lived in quite a few neighborhoods in Seattle, but have lived in Roosevelt the longest. I love it! There are great restaurants (Marcello's, Pies n Pints, Bengal Tiger) lots of grocery options (Whole Foods,
QFC
, Safeway) and 2 of the best bars in the city! (Teddys and Atlantic Crossing) I love the small neighborhood feel of Roosevelt and it seems like most residents stay here a while and aren't just passing through. It is right next to Greenlake, but the rent is quite a bit cheaper. Super Doggie friendly and friendly overall! Mwah! I love you Roosevelt!
Lisa H.
nabewise