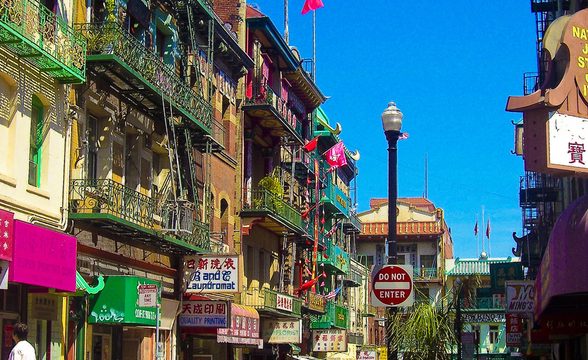 Chinatown
Infomation
Bordering the famously Italian and artsy North Beach, San Francisco's Chinatown is a lively nabe rich in history and culture. Boasting colorful pagoda roofs and narrow alleys strung with lanterns, it's easy to see why the nabe wears the distinction of being the largest Chinatown outside of Asia and the oldest in North America. With well over 300 restaurants and markets, Chinatown's one of SF's top spots for culinary tradition. Tourists stroll down Grant Avenue where local merchants sell their wares from colorful storefronts and locals do their weekly shopping.
Top Votes – Score out of 100
Dining 89
Ethnic 75
Tourists 69
Shopping 63
Public Transportation 59
Lowest – Score out of 100
Green space 38
Pet friendly 17
Quiet 9
Income 9
Parking 5
Top Reviews from Travel Rentals Neighborhoods
One piece of advice: If you're planning on visiting Chinatown DO NOT bring a car. I always make that mistake and find myself driving around for nearly a half an hour in search of a spot. If you take the bus, be prepared for battle because it gets tight as sardines in there and it's a well known fact you may have to stand a little straighter in order to gain and guard yourself a spot.

Chinatown is crowded and relatively loud and not the cleanest nabe, but it's rich with culture and history and a day spent walking around will introduce you to sights and experiences you won't have any any other parts of San Francisco. I'm always fascinated by how close it is to other nabes, like North Beach, but, just walking around the corner, it's like you've walked into an entirely different world.

If you do one thing in Chinatown, eat! The little mom and pop restaurants line every single street and it's a great adventure to try a little bit of something at each, stepping outside of your comfort zone and tasting items on the menu that you may or may not be able to recognize.

IF you're looking for a small living space with cheap rent, Chinatown may be a spot to check out. A lot of hipsters and singles make the rather aging apartments in Chinatown their home because of the affordability of living there, convenience to the neighboring hoods, cheap eats and public transportation options.

Kristine J.
Chinatown shuffle

Chinatown is a neighborhood where tourists wander slowly in awe. It's a fun, albeit chaotic, place to pass through during the day; at night, it's mostly deserted. Chinatown exhibits cultural tidbits of China – vibrant sidewalk produce markets, laundry hanging on fire escapes, the steamy scent of dim sum cooking, grandparents taking care of children, and, unfortunately, casual yet loud spitting on the street. Rents and quality vary in this crowded neighborhood. Living here yields a super short walk to the Financial District, Nob Hill, and North Beach. Public transit is frequent but almost always packed with Chinese hitting the markets. Don't wait in line, best to fight for your place on the bus with the rest of them. A new subway tunnel is planned to cruise from downtown under Chinatown to North Beach; construction will begin in the next couple of years, so more chaos will surely ensue.
Here's My List:

Pros:
Historical
Great Chinese Food
Architecture

Cons:
Dirty
Crowded
Touristy
Rude people
Unpleasant Smells
Over-hyped

That's really all I have to say about that.

What's awesome

Chinatown is an iconic part of San Francisco, and a lot of the buildings are older, which is pretty cool and interesting. It goes without saying that the Chinese food is authentic and really good.

What's not so awesome

There are a lot of nasty smells. If you love animals, stay far away, because there are a lot of graphic dead animals hanging in butcher shop windows. The streets are dirty, and people spit a lot. It's always crowded and people push and pull.

Chloe N.
Don't miss the grub!

San Francisco's Chinatown is among the best! If you want to play witness to a little piece of San Francisco's history, come to Chinatown! Much of the neighborhood was formed in the 1850's following the Gold Rush and the authentic feel of many of the restaurants and shops are a testament to this! Looking for somewhere to get dim sum? Any of the restaurants in Chinatown are the answer! Cheap goods and the presence of Chinese language, people, and culture are in abundance here. It will feel like you entered another universe strolling away from Union Square and up into this neighborhood. The large park overlooks the TransAmerica Pyramid and plays host to Chinese culture and games. The neighborhood is accessible from almost any part of the city. Tucked away in an 100-year-old restaurant, you will not regret coming to see what it's all about!

What's awesome

What's not so awesome

Emma G.
Big Eats or Cheats in Little China

MMmmm…can you smell that? That is the smell of Dim Sum and specialty baked pastries in the ovens. Sweet smelling delights that come in little pink boxes and so much dim sum you'd be foolish not to visit this part of the city. China Town visits turn into tourist trips or, if you're not careful, tourist traps. While you can find a great tea pot set for a reasonable price, beware of the sell tactics that may creep from time to time. If your only goal is to get a feel for Chinatown and taste the flavors that make it one of a kind, learn to say no if someone asks if you want to "try" something. Don't forget to grab some pastries to go.

What's awesome

Tea tastings and fortune cookie factory.

What's not so awesome

Everyday hustle: Pushy sales folk at your beck and call.

Stephanie M.
Great Place To Visit

Chinatown is not a place I could imagine living, but it is a great place to visit. Yes, it's full of tourists, but it is unlike anywhere else within the city, or the surrounding Bay Area. Whenever a friend comes into town, Chinatown is on the agenda. It's colorful, and vibrant, and a little bit smelly. There are ducks hanging in the windows, lanterns hanging from the buildings, and yelling at almost any hour of the day. If you're planning on looking at this as a place to move, definitely spend some time here first. If you're looking at this as a place to visit, it's a must. Be sure to check out the Fortune Cookie Factory (but don't expect a huge factory, or you'll be disappointed!).

Kati S
My favorite place in SF

The second you pass through the Chinatown entrance at Grant and Bush, the mayhem begins. It's noisy, crowded, and while you stroll…I mean, jostle your way through the crowds, you might need to watch out for the little old ladies who will beat you with their canes—just kidding, they only shove. On one street corner a man sits and plays the erhu, on the other, a woman sings about the deal you'll get if you buy her cherries. And let me tell you, those cherries are damn tasty. Even though each sector of San Francisco is a unique cultural experience, none of them make me feel as though I've traveled outside the United States. You won't hear English while walking around here, just Cantonese. All kinds of foreign fruits and vegetables can be found, and this is the place where you can buy some of the cheapest groceries in the city. The Chinese

BBQ

and dim sum are quite delectable, and the Golden Gate Bakery is famous with good reason. And I'll say it again—cheap. But wait. It get's better. There are also a variety of events that take place each year. The Autumn Moon Festival includes traditional Chinese dancing and drumming, and in the Spring the Chinese New Year Parade ends with a magnificent 200-foot dragon snaking down the street. I could go on and on, but you should just go. Go get lost. Wander around, all the while enjoying the free entertainment that Chinatown has to offer just by being its everyday self.

Ash R.
Dense Living

Chinatown SF is one of the most densely populated neighborhoods in the US. In a day's visit, you will ovberve how high the population is here, including its fair share of tourists. Behind the daytime tourism, there is a lot of low-income living in the neighborhood; people have immigrated here from China in hopes of a better life for themselves and their families. There is a plethora of single resident occupancy hotels and low-income housing; some apartments as small as 10' by 8' housing families of 3-4 people. Chinatown is without a doubt rich with culture and vibrancy. It is not a neighborhood that goes unoticed, though the reality of the majority of its occupants is unlike much of the wealthier, gentrified neighborhoods of SF.

emily w.
The many faces of Chinatown

There seems to be two Chinatowns. The one that tourists flock to that sells cheap junk and the one that the Chinese community calls home. Somehow they are totally different and exist in a relatively small neighborhood. It's colorful and crowded and a great neighborhood if you're in the mood to brave the masses of people that swarm through its alleys day and night.
Chinatown is at its best during its yearly festivals, when crowds fill the streets and drum beats echo as dragons and dancers parade through the neighborhood. Portsmouth Square is a focal point and a great place to check out locals practicing Tai Chi. All in all, Chinatown is an interesting, lively neighborhood and its location can't be beat. There is some great food to be tried and amazing hole in the wall bars if you dare to enter them. May I sugget the Li Po Lounge?

Gena F.
Beware of the Crowds!

Always crowded, but a must visit especially if you are a visitor. It is one of the largest Chinatowns outside of Asia. Beware, it is always crowded for this reason. Also, very tight living quarters. Grant Avenue is the main tourist street, with all that you can expect from Chinatown. You don't need much of a game plan if you are just perusing. Great live markets on Stockton on Saturdays if you are more adventurous. Buddha Bar is a great dive bar if you love juke boxes!! Cheap food.

essie W.
nabewise