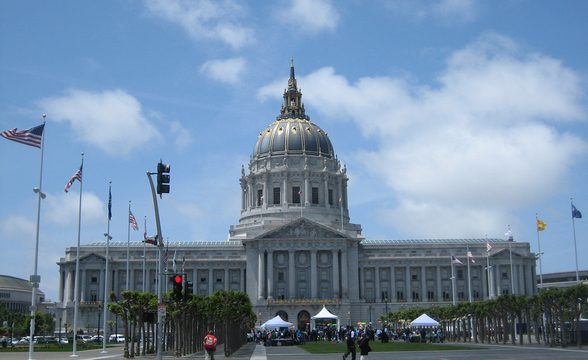 Civic Center
Infomation
San Francisco's Civic Center, most well known for the impressive gold leafed dome of San Francisco's City Hall, is the seat of the local government. Civic Center Plaza sits at its core, surrounded on all sides by classic Beaux-Arts style architecture housing and some of the most important cultural institutions of San Francisco. The War Memorial Opera House and the San Francisco Public Library call it home as do the Asian Art Museum and Davies Symphony Hall. It's a short walk to the cool nabe known as South of Market(SOMA), the place to find popular nightclubs and hip loft apartments. Nearby is the United Nations Plaza where a weekly farmers market attracts crowds. Civic Center Station provides access to both Muni Metro and BART on Market Street.
Top Votes – Score out of 100
Public Transportation 56
Blue Collar 56
Public Schools 50
Clean 50
Nightlife 50
Lowest – Score out of 100
Quiet 31
Green space 25
Singles 25
Families 17
Shopping 17
Top Reviews from Travel Rentals Neighborhoods
Cultured or Sketchy?

Civic Center, you really confuse me. On one hand, there's a lot of fantastic culture: the theater district is very close, the City Hall (which is absolutely gorgeous), the Opera House, the San Francisco Ballet, and the Asian Art Museum are all there. There are also a ton of homeless people, and the area is especially sketchy at night. We have to walk fast and look straight ahead when near a large conglomeration of down-and-outs. But for the most part, in the good areas, the Civic Center is teeming with life. So which one are you, Civic Center? Classy or Sketchy? Maybe both?

What's awesome

Culture
Museum
Art
City Hall

What's not so awesome

Busy
Sketchy
Homeless People

Chloe N.
Unavoidably Busy

Pros:

– The Civic Center BART station. Makes getting around a breeze.

– Their weekly Farmer's Market. Totally a strange place to hold it, but it works somehow.

– Some really great dive bars, even in the sketchiest parts. The grittier the better the bar.

– Some of the finest architecture in the city.

– The Asian Art Museum is here which is, totally, my favorite museum in the city. No question.

CONS:

– Busy. It's the Civic Center, dude. People swarm all over this place during the day because of the amount of businesses in the area. Hard to avoid, really.

– Sketchy as a mother. Some people just kinda hang around the streets during the day and, especially, at night. You never really know if they're going to rob you, ask you if you have any crack or ask if they can wash your windshield. The expansive area just in front of the library is where a lot of homeless people (and their carts) call their their "kick it spot". Why? I don't know. I've often thought of asking them what's so happenin' right there that it is the place to be. I'm kinda curious. I mean, what the hell am I missing?

Peter T.
I never think of Civic Center as a nabe, but more of a "stop" on the BART train line. It's also home to some of the more frequented city buildings: the main library, the Asian Art museum, the courthouse, city hall.

They host a farmer's market on certain days, which, I suppose, is to draw the individuals that work around there. It's a sketchy neighborhood and I would definitely not advise walking around at night alone, especially if you are a woman. However, in the daytime, Civic Center is a hot bed of activity, due to the many businesses and governmental buildings in the area. It's a nabe to visit, drive through and work in, but not really live.Kristine J.
Watch out for Civic Center

Civic Center is where you can find City Hall and some of the most elegant buildings in the city like the opera and the symphony. It's also home to some of the sketchiest blocks in San Francisco. The UN Plaza is downright scary and I find it amusing that it hosts a farmers market. Can't the city find a nicer block to sell fresh fruit and vegetables? Basically, don't be fooled by the ornate, grand buildings here and watch your back.

Gena F.
wouldn't live here, but there is a lot going on.

Very easy access to BART (Civic Center exit) and Muni. The Civic Center Plaza is a mecca for political and social protests. You'll also find large crowds here during major San Francisco events: Gay Pride, anti-war rallies, Bay to Breakers Marathon, etc.

Jessie W.
nabewise