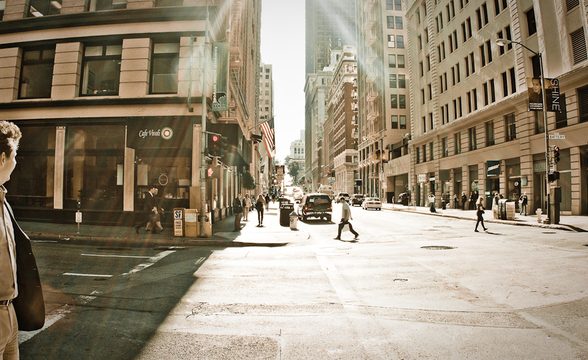 Financial District
Infomation
The Financial District, located at the northeast tip of the city, is the heart of San Francisco's business world. The Transamerica Building stands as the tallest building in San Francisco and its pyramid design is perhaps the most famous of the San Francisco skyline. Buzzing with people during the week, the Financial District nearly empties out on the weekends, providing a serene glimpse at an otherwise hectic part of town. Crocker Galleria and the Embarcadero Center are replete with shopping options and the nearby Ferry Building offers up gourmet food to the masses.
Top Votes – Score out of 100
Public Transportation 85
Dining 77
Shopping 67
Safety 67
Clean 63
Lowest – Score out of 100
Community 21
Seniors 20
Income 18
Families 11
Parking 7
Top Reviews from Travel Rentals Neighborhoods
Hustle and Bustle of the Financial District

Scenery: Skyscrapers, banks, people speed walking on phones, people without shoes on, dirty sidewalks, clean, huge glass doors, smog smells, coffee shops; panhandling.

Must: Stay at Omni or Intercontinental. Your body and your common sense will love you for it.

Food: Embarcadero Center or Ferry Building. Good eats on a budget or splurge central.

Fun Fact: Well, not so fun fact this time. The 1906 Earthquake almost completely demolished this part of town followed by a fire that burned for four days.

What's awesome

Busy worker bees need reward. Go shopping at Embarcadero Center and let off some corporate steam.

What's not so awesome

PARKING. Don't get towed. Read the bajillion colored signs if you park here. 9 times out of 10 you will get towed after a certain time and your pocketbook will hate you for it. Trust.

Stephanie M.
Wall Street of San Francisco

When I was a little girl, having a cold was exciting. Being sick meant that I got to go to work with my mommy, who worked in the Financial District. For a couple of years, she worked in the Transamerica Building, the big tall pyramid that San Francisco is famous for, and can you get any cooler than that? Even after she moved from the big triangle to another big building, going to work with my mommy was still the most fascinating and exciting experience. The Financial District is a beautifully done area, with all the tall important buildings housing everything from law firms to bank offices, with enough old-timey looking oval topped windows to make any 6+ year old feel important. There are lots and lots of little cafes and coffee shops catered to working people where you can grab breakfast or lunch. And then, at the point where FiDi merges with the Embarcadero, you have the magnificent Ferry Building (see Shakespearean Embarcadero poem).

What's awesome

The historic buildings, the buzzing excitement, proximity to the Embarcadero

What's not so awesome

Mostly catered to the workweek (Monday-Friday 9AM-5PM)

Chloe N.
Business on the water!

The financial district of San Francisco is a beautiful one! Besides being right by the water and having access to the Embarcadero, Fisherman's Warf and Pier 39, the financial district houses its very own attractions. The lunchtime options are innumerable (probably because of the businessmen that frequent them). The accessibility to public transportation is an important part of this neighborhood. You can easily cruise to Chinatown for a bite to eat or even to North Beach or Powell for some fun after the sun sets. The beautiful bridge can be seen from almost any spot and the nearness of Pacbell Park brings people to the area often.

What's awesome

What's not so awesome

Emma G.
FiDi's One Big and Many Small Wonders

Hopefully you don't live here because everything that goes on is during and catered to the work week, except (and this is a big except), the Ferry Building – a great place to begin. The Ferry Building, a true ferry terminal for North and East Bay commuters as well as tourists, also boasts excellent restaurants (for breakfast, lunch, dinner and drink). Boulette's Larder makes and sells unique and wonderful gourmet goods. You can sit down to eat, take out, or buy those hard-to-find herbs (for example) to use at home. Of course, try The Slanted Door, a seriously San Francisco treat.

Give your grocery shopping the focus it deserves and head to the Cowgirl Creamery's Cheese Shop, Acme Bread, the Golden Gate Meat Co., McEvoy Ranch Olive Oil, and finally grab anything you haven't yet at the Farm Fresh to You store. Stop in The Gardner or Heath Ceramics for simple serving dishes, handmade wood utensils or flower vases. I could go on and on, and I haven't even mentioned the Ferry Building's Saturday market that just can't be missed. But, this review is about FiDi the nabe, not the Ferry Building. As you can gather, it is a primary draw.

For that quick but important outdoor work lunch hit Focaccia Cafe & Bakery for freshly tossed salads with toppings of your choice, excellent sandwiches or a great hot meal. Then, head to Justin Herman Plaza where it is likely some intriguing event will be taking place (i.e. city zip-lining, a Motown band or, currently, a production of Peter Pan). Even without an event, this plaza is bustling with people, probably because of its varied lunch selections and sunshine. Here, a lesson in San Francisco weather: the further east you go, the more likely it will be sunny.

Not going back to work? Browse through the Embarcadero Center's useful clothing and accessory shops. If you're new to the city, join the San Francisco Bay Club, with locations in and around downtown. This gym has a great squash community, indoor pools, pick-up and league basketball games and yoga and pilates classes galore. Or, try to the YMCA next to One Market Plaza, a huge office building where at least one person you will know works.

For the post-work or -workout drink, try Perry's for that everybody-knows-your-name feel, or Hotel Vitale to see and be seen. Want a drink without an agenda? Pier 23. Beer, on the water, fried seafoods, music. I guarantee you'll like it.

Anne L.
Fantastic FiDi

San Francisco's FiDi buzzes during the weekdays as business people ferry about while it all but empties out during the weekend, my favorite time to visit. There's some really impressive architecture here, although you may get a neck ache trying to check it out. Some old school eateries like the Tadich Grill and Sam's are hard to get into but if you're lucky, you're in for a treat. The cable car rumbles along California and can easily take you up and over Nob Hill.

Gena F.
Alive during the weekdays. Dead on the weekend.

The Financial District is also known as FiDi. Make way for the lunchtime crowds on the weekdays! Not much life here other than during the weekdays. A decent happy hour joint to mention (with your colleagues after work): The Rickhouse, on Kearny. Really tasty drinks! The cocktail list is so extensive it's intimidating. The most iconic part of FiDi is the TransAmerica building: the pyramid San Franciscan skyscraper.

Jessie W.
nabewise