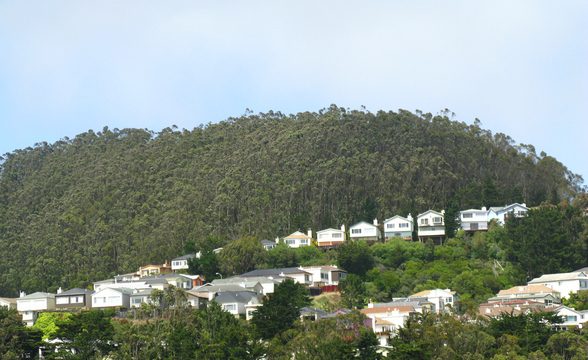 Forest Knolls
Infomation
Sitting in the shadow of soaring Sutro Towers, Forest Knolls' quiet streets foster a mellow vibe uncharacteristic of typical city living. Forest Knolls cascades down Mt. Sutro where mid-century homes seem to cling to the sides of its steep slopes. With views to be had from nearly every street, the properties here range from single-family homes to town houses and condos. Privacy is top notch in Forest Knolls–the nabe is surrounded by groves of eucalyptus and redwoods.
What word/phrase comes to mind when you think of this nabe?
Top Votes – Score out of 100
Families 83
Quiet 69
Clean 67
Safety 63
Parking 63
Lowest – Score out of 100
Seniors 48
Nightlife 25
Shopping 25
Dining 25
Singles 25
Top Reviews from Travel Rentals Neighborhoods
Grouch

Forest Knolls is a nice, suburban style subdivsion.

It is NOT a Neighborhood… It ZERO beyond homes and a school…. It is isolated. It needs some zing, to give it focus….. Planning should have mandated at least one corner store. ….one something…

What's awesome

nothing… nice homes. none awesome…. (lets be real.)

What's not so awesome

EVERYTHING….. Forest Knollians: Unite.. Call in a planner,,, designate a Focal Point… at least a couple of Benches and a a concret game table for chess and checkers, etc. Arise, and act.

jack barry
Underrated, or Underknown

You probably haven't heard of Forest Knolls before, which is quite a shame. Tucked into the hillside, Forest Knolls is like a leafy mountain community with close proximity to everything the city has to offer. The views sweep out across the city, reminding you of what a beautiful place you are in. It also houses the University of California San Francisco campus, one of the best medical schools in the country. So now you know about Forest Knolls, one of the city's best secrets.

What's awesome

What's not so awesome

Chloe N.
Daly City-esque

Forest Knolls reminds me of Daly City. Rows and rows of 2-story homes lining the hills, surrounded by trees and covered by a dense fog. There's nothing spectacular about Forest Knolls, but it's a quiet, pleasant little neighborhood that many are in love with, live in and choose to raise their families.

If you can, take a Sunday morning and find the staircase and get a little bit of exercise or head up and get a fantastic view of Sutro Tower at night.

Michaela Ann M.
Neighborwoods

The houses here look like they're resting on stilts from afar. Sitting on such a steep hillside, they look pretty precarious! The best part about Forest Knolls is the greenery. The woods are so thick in some parts, you'd swear you weren't in a major city and the scent of eucalyptus in the air is refreshing. There's also a great set of stairs that climb up the hillside but are pretty hard to find.

Gena F.
nabewise