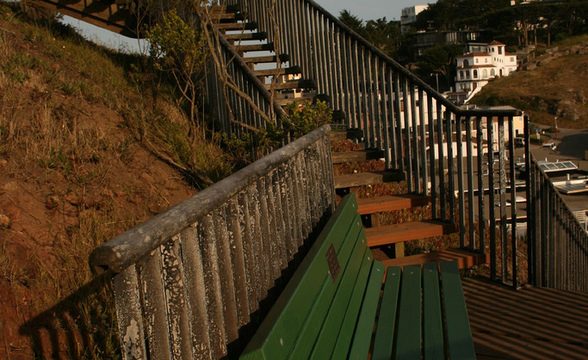 Golden Gate Heights
Infomation
Golden Gate Heights' small windy streets, massive retaining walls, and network of towering staircases characterize this nabe. At the top of the northern side sits Grand Park View, where locals funded and designed a beloved staircase decorated in ornate mosaic–rock on, local art! Often shrouded in fog, this nabe is cherished by residents for its excellent views. From your windows, When the mist clears, you'll get some of the most beautiful views SF has to offer–including glimpses of Mount Sutro, Golden Gate Park, and the downtown area.
Top Votes – Score out of 100
Quiet 91
Families 88
Safety 75
Empty nesters 67
Clean 63
Lowest – Score out of 100
Income 40
Nightlife 38
Shopping 38
Dining 38
Singles 13
Top Reviews from Travel Rentals Neighborhoods
Stairway(s) to Heaven

Golden Gate Heights is not for the weak of heart, not for those who cannot fathom hills or staircases. Lots of staircases. But for those who can, Golden Date Heights is a haven. It's literally build on the side of a small mountain, so the layout is interesting at the very least, with the topographic variety of staircases and hills. Largely ignored by tourists, Golden Gate Heights will provide you with sweeping views that only the locals know about, with the ocean in the distance. And on top (pun not intended) of all of this, public transportation is a breeze.

Chloe N.
Nice Place to Spend Some Time Outside

I can't believe no one has has mentioned the great parks and staircases in this neighborhood! The steps alone are perfect for a morning or afternoon jog. I used to sneak over this way early on Saturdays and get a great run in, until I got old and tired that is. LOL.

The mosaic steps are awesome. A real wonderful thing the locals in the neighborhood added to the steps leading up the Grand View Park. It gives a real sense of community and appreciation for art and creativity. Definitely a really cool neighborhood to spend some time, especially if you're lookin' for some time outside in the fresh air overlooking other parts of the city.

Peter T.
nabewise