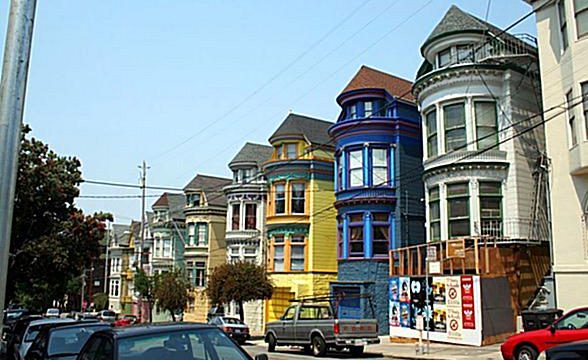 Haight-Ashbury
Infomation
Haight Ashbury, commonly called the Haight, is a colorful nabe synonymous with the counterculture movement of the 1960s. While the nabe is a far cry from its flower child past, remnants are still apparent along Haight Street, its main commercial drag. The nabe sees a steady stream of tourists year-round, but remains a favorite or locals as well. Its residential streets boast some of the most ornate Victorians that San Francisco has to offer, while nearby Golden Gate Park is an urban oasis of green.
Top Votes – Score out of 100
Shopping 90
Pet friendly 90
Public Transportation 81
Dining 79
Artists/Creatives 72
Lowest – Score out of 100
Income 40
Quiet 32
Empty nesters 32
Parking 31
Seniors 14
Top Reviews from Travel Rentals Neighborhoods
Upper Haight : Has gotten so much bettter in my experience

Just same across this site so had to add my 2 cents as a 12 year resident IN sum: great central location with access to massive green space, good shops /restaurants, and an ever improving set of homeowners and renters

My block had zero kids when I arrived ten years ago and now we have nine kids under six on just my side of the street! they actually set up a trick-or-treat night. a first of many! Young couples and families want to be here now, as do their fun-loving parents. Why?

The new sit-lie law has really helped clean out the troublemakers. The HAIAneighborhood association is very organized and tight.

The hippies have pretty much all left, (but the t shirt shops like to make money off nostalgia.)

Golden gate park for exercise, the panhandle playground, and the killer new museums

Can be on Hwy 101 or 280 in three minutes by shooting down Oak st. The 71L express bus and N judah are great for downtown commutes.

Haight Ashbury market has everything you can ask for in a full service grocery plus beer, wine. Has particularly great prices on produce, plus a blue bottle hipster coffee bar and hot food to go. get the pulled pork sammy

New Whole foods

Great Libary on page

Great bookstore at Booksmith

The best record store in the city at Amoeba records

Magnolia and the new chef and great brew

Siam Lotus Thai

Burger Urge

escape from Ny pizza

Boulange and Zazie a few blocks up Cole Street

Nopalita restaurant, peet's and Delssio's hot food bar on broderick.

Walk to all the restaurants on divisadero including Little star pizza, Nopa, that new fancy pizza joint, and that new mexican joint on divis, Oh and you can drink at the Page.

Hike to twin peaks for the highest vantage point in the city and a butt kicking workout

ten minute drive to the beach for surf.

What's awesome

the mix of peoaple and acces to the Park

What's not so awesome

No views and the occasional drunk tourist

BC C.
The Haight: A Must-See

Haigh-Ashbury is a place of bold, colorful, and eclectic character. As with most things of such character, the Haight is prone to a multitude of varying judgments, thus placing it a bit on the controversial side. Basically, some people love it and some people hate it. Others flounder around in between the two dichotomies. My personal standpoint? I love Haight Ashbury.

I think the most magnetic aspect that draws me to Haight Ashbury is the fact that it was the home-base of the Summer of Love, which just so happens to be my favorite piece of American history. True, the Summer of Love is just a thing of the past. However, some of its most profound elements, such as nonconformity, unfiltered and vibrant self-expression, music, art, and nonjudgmental atmosphere, still loiter around. Sure, a little pot gets sprinkled in there every once in a while, but, hey, I think we all just figure that comes with the territory.

Personally, I just like to go to Haight-Ashbury to hang out, with absolutely no plan in mind. I can always count on it to provide at least some form entertainment. Also, for the common retail lover (such as myself) it has fabulous shopping. The prices range from surprisingly low to unpleasantly high, but everything is unique and you are pretty much guaranteed to walk away with something great that no one else has. Visitors will also find a multitude of coffee shops and little restaurants, offering the perfect place to just lay low and relax. While bold and noisy with color, the Haight is really very quaint and classic, adorned with old, beautiful Victorian buildings. And for those who want to take a walk on the wild side, it is also sprinkled with a few fun bars and is equipped with a pretty decent nightlife. The observant eye will also notice a piece of art on each and every corner. Oh, and don't let me forget to mention the people. You pretty much get a taste of every personality type. There are, of course, the hipsters, beatniks, rich kids, druggies, outspoken homeless people, the "ghost's of 1960's past" lingerers, your typical "normal" people, and everything else in between.

Lastly, the Haight is centered in a localized and convenient area of the city. It offers a close distance to a few Muni stops, and is at a neighboring span from Golden Gate Park. Basically, if the average tourist or San Francisco wanderer wants to get a good taste of the idiosyncratic, unique, and garish pieces of life that San Francisco is so well known and loved for, Haight-Ashbury is the place to go.

Courtney N.
welcome Tweens

Growing up in the Bay Area, the Haight was a dream. Its where I wanted to be. We'd have to plan a day trip to go shopping on the Haight. But now, living in SF as an adult, I see the Haight for what it is: a place for teenagers to buy second-hand clothes and pot. The food is over priced, the used-clothes are overpriced, and the places that claim to buy used clothing are very selective. Crossroads (one of the best second-hand clothes store) only buys "trendy clothes from the past season"- um, doesn't that defeat the whole purpose of the Haight? This place isn't what it was.

Jane D.
Past Meets Present on Haight-Ashbury

Picture this: a 13 year old version of the photograph to the left, with ripped jeans and a Led Zeppelin T-shirt, obsessed with the lore of the 1960's: luckily, the Haight Ashbury was one of the places in the city she was allowed to go alone. Though several years have since passed, the Haight-Ashbury is still one of her favorite places in the entire city. Though people often complain of the large amount of tourists, she was never bothered by the camera-necked guidebook-nosed foreigners in shivering in their shorts on foggy days, for the pull of the nabe was far too great. The shopping is diverse and unique, including vintage shops galore with pieces ranging from affordable to antique, consignment stores, upscale boutiques and record shops. She still wishes she could find her Japanese Led Zeppelin t-shirt she found in the Haight-Ashbury T-Shirt Shop, though as she grew into an adult she was able to feed her collection of vintage clothing with abundance from Wasteland, La Rosa, Static Vintage, and Held Over.

Haight-Ashbury beckoned her back when she acquired a record player and started a vinyl collection; the massive Amoeba music is the most well known record shop in the Haight-Ashbury, where she could buy pretty much any record on vinyl or CD, but she never neglected to stop by Recycled Records as well. Restaurant options are diverse and affordable, and usually delicious. Usually. Though there are a fair amount of homeless and down-and-outs left over from the days of the past, especially at night, the Haight-Ashbury is a major tourist attraction,so they usually aren't dangerous. Never did the naïve 13 year old come into any real danger, and neither did the street-smart student she grew into.

What's awesome

My style has changed, my taste in music has changed, and my taste in food has changed, and I've never run out of options for any of them. There's always a diverse variety of shopping, food, and entertainment.

What's not so awesome

Haight-Ashbury can get just a little gritty, and there is a high population of homeless people and crazies, but keep your wits about you and you'll be just fine.

Chloe N.
Haight-Ashbury: Hippie, yet chic

Lucky for me, I have spent a lot of time in this area. I lived just a hop, skip and a jump away and, as such, had a time to really soak in the vibe of this historial area. Made popular by the 1960's hippie era that budded in this borough, Haight-Ashbury has since become a hotspot for tourists and residents alike.

This area is teeming with local flavor and culture. There is a range of different types of people who live, shop and interact here, but the atmosphere is always relaxed and fun-loving.

Fortunately, big businesses havent quite got a hold of this area yet. The most mainstream stores you will find are Ben and Jerry's and McDonalds. This helps the area to become more special, and gives it a authentic feel.

The streets within this area showcase a plethora of brightly colored townhouses and typical San Francisco abodes, with round bay windows and narrow architecture. They are pricey for sure and often the area is full of families and professionals who can afford the high costs.

This may be because the location is hard to beat. Haight-Ashbury is a little set back from the rest of the city and is moderately secluded. There is still a large amount of hustle and bustle, but has a smaller town type of ambiance. Golden Gate Park is a mere five minutes away and muni stops on every corner will take you wherever your heart desires.

As is the case anywhere in San Francisco, parking in this area is a pain. Although residents often have spaces or driveways reserved for themselves free of charge, visitors to your pad may find it hard to park.

If you have the extra cash, this neighborhood is a great, down to earth place to live that is close enough to everything the city has to offer without being super crowded.

What's awesome

The shopping! Tons of smaller, unique shops with one of a kind finds.

What's not so awesome

Major tourist attraction and often crowded.

Jaimie C.
Flashback to the Summer of LOVE

I absolutely LOVE Haight-Ashbury. From the food all the way down to the shopping, everything is colorful, trendy, unique and reasonably priced. I am from the Peninsula so I always like driving into the city since there is just so much more stuff to do. Stores sell anything and everything from tobacco pipes, vintage clothing and accessories, to fun and quirky novelty gifts.

The people here are really diverse. From hippies, hipsters, hip hop sneaker-heads, and bohemian. Haight St is a melting pot that attracts all kinds of people, which is truly characteristic of San Francisco.

However, some forget to remember that this street is the origin of the hippies of the 1960s. Don't be surprised if you deal with the substance abuse burnouts and others begging for attention and the young people who show up in San Francisco with no money and no place to stay. If that freaks you out and you can't harden yourself to this scene then probably you should avoid the Haight.

Other than that, there are awesome shopping options here, some cool clothing shops, some excellent restaurants and bars. You've got Golden Gate Park at the one end, and Buena Vista at the other, lots of beautiful Victorians in between. Whether you want to browse the records and music selections at Amoeba or have dinner and drinks with friends at Cha Cha Cha, there's always something to do on Haight.

What's awesome

food, shopping, boutiques, scenery, basically everything

monica g.
Be sure to wear some flowers in your hair

Haight-Ashbury is unlike any other place. Usually, when a place has a boom (like Haight-Ashbury did in the 1960s), the people change but the places stay the same. In Haight-Ashbury over the past 50 years, the places have changed (and by changed I mean gone more mainstream), but the people have stayed the same. You'll still find the same people scattered on the sidewalk, or smoking a joint in Golden Gate Park on what has been deemed "hippie hill". The song says, "you're going to meet some gentle people there", and the homeless and runaways you'll meet in Haight-Ashbury are just that.

Kati S
Haight-Ashbury Dining Gems

While Haight-Ashbury might not be known as one of the city's culinary hot spots, there are plenty of restaurants to grab a great bite in between record shopping or strolling through Golden Gate Park.

Escape From New York

Lifelong Bay Area residents will likely look at you funny if you challenge the quality of certain San Francisco pizzerias, but anyone familiar with East Coast pie may have trouble adjusting to the chains and independent spots locals swear by. So for those who grew up on New York-style pie, I'd be surprised if Escape From New York doesn't quell your cravings. I'm not going to even attempt to argue that it will satisfy you in the same way your favorite Long Island or Manhattan haunts do, but for being just under 3,000 miles away, it's a damn fine slice. With a tangy sauce and more-often-than-not perfect distribution of cheese, you'll be able to enjoy San Francisco's charms without missing one of the East Coast's staple foods. And not content to simply imitate, Escape From New York's signature slice, roasted garlic and sliced potato over pesto sauce, is a treat that will earn your respect.

Ploy II Thai Cuisine

Housed in a converted Victorian, Ploy II offers a welcoming vibe, complete with a great view of Haight Street if you're near the windows. I've sampled a substantial amount of Thai cuisine throughout the city, and when factoring in price and atmosphere, Ploy ranks as my favorite. The dishes eschew elaborate spices or unique spins in favor of a simplicity that makes for a consistent comfort food (but without the caloric excess usually associated with that phrase). There is a formulaic component to their menu with a sameness running throughout their various meat and vegetable dishes, but the underlying sauces and ingredients are quite tasty, so the occasional monotony is easily outweighed by the possibility of ordering a meat or vegetable dish alongside standout Pad Thai and fried rice dishes. Finally, one should not ignore their Thai tea. Whether iced or hot (and given San Francisco's weather fluctuation you'll be grateful for the options), its flavor is always welcome alongside a meal.

Asqew Grill

For anyone who has spent time in the South or Texas, you'll likely scoff when you see that Asqew has been awarded "Best BBQ" accolades. But if you can move past conceptualizing Asqew's offerings in terms of traditional barbecue, I trust that you'll find their various skewers quite satisfying. With chicken, beef, salmon, and tuna grilled in everything from balsamic bordelaise to soy beurre blanc, Asqew serves up a California fusion twist on grilling. While traditional ribs are on the menu, the unique skewers are the most popular items, served atop a bed of jasmine rice or garlic mashed potatoes along with respectable coleslaw. And given that this is the Bay Area, vegans and vegetarians have plenty of choices too. A variety of dishes with tofu and portobello mushrooms as the centerpiece are available as well as options for those who don't consume gluten.

Off The Grid Food Carts

Thursday between 4:30-8:30pm is a special time for food-obsessives in the Upper Haight. Up to ten of San Francisco's finest food trucks congregate just off the street along Haight and Stanyan. While nothing disappoints, highlights include Curry Up Now, Chairman Bao, and Seoul on Wheels. Curry Up Now's tikka masala burritos are a welcome twist on the Mission staple, and their deconstructed samosas will have you wishing for more post-modern culinary options. Anyone living in the Bay Area long enough will certainly appreciate the value of a great steamed or baked bun. Chairman Bao delivers with a variety of pork, cabbage, scallion and tofu-based options. Their fresh-fruit shaved ice drinks are a nice addition on those sunny days when San Francisco feels more like a Southern Californian city. Finally, Seoul on Wheels is a great choice for those craving a sandwich; rib eye, spicy pork and chicken are equally delicious. Not to be ignored are their unique Korean BBQ tacos, providing an Asian spin on a Mexican favorite.

Michael B.
The Hippy Mecca of Yesteryear

Haight Ashbury is still a must-see for any tourist visiting San Francisco but (as has been mentioned) its hay-day is long gone. It feels similar to Telegraph Avenue in Berkeley, CA: the head shops and street vendors are still there but the energy is waning. I dig the vintage stores because they do have more interesting finds than many other shops I've been to but they are over-priced. But you can't beat the proximity to Golden Gate Park (museum, picnic and shopping day, anyone?) and the public transportation ( the N Judah line on muni drops you right in the center of everything). If you can get over the cheapening effect that hipsters seem to have on the place, the Haight is a fun place to walk the hills, see some classic architecture and do some shopping.

Jennifer W.
Peace and Love Roots with a Light Sprinkling of Capitalism on Top

Though I know several people who live in the Haight, I can't seem to grasp onto their love for the neighborhood. I agree somewhat with Yale's review that it's a neighborhood trying, desperately, to grasp onto it's peace and love roots with a light sprinkling of capitalism on top. I get the same feeling that I get from visiting the Marina: that I just don't belong here and that's trying awfully hard to blindly represent a culture the rest of us just aren't buying anymore.

I feel the Mission represents the true nature of San Francisco much more than The Haight does nowadays. The Haight is too full of trendy piercing, smoke and "pay just as much as regular department stores" thrift and consignment shops. In all honesty, the homeless pandhandlers with dreads that sleep on the street are more authentic and engaging to me than the people who walk up and down this neighborhood on a daily basis with thrift store outfits they purchased for $100+ dollars.

Although, I ignore the residents that call the Victorians and old-style apartment complexes in this neighborhood their home. With their dedicated love for their eclectic neighborhood, they are what truly makes The Haight a treasure to the city.

Michaela Ann M.
Welcome to the Haight

When I hail a taxi and say, "Haight and Ashbury, please" I usually get a look. But I'm not a tourist, and I still have not taken a picture next to the famed street signs. Yet, there is something special about living on such a corner.

Beatnik culture still thrives, there is always someone playing either a harmonica or a guitar. An aspiring rap artist if you're lucky. There are no shortage of colorful characters that make the area an eclectic enclave of nomads, artists, young and old, and from all over.

Despite the liberal "drifter" feel that drives the tourism, one still sees families that have come from their weekend stroll in Buena Vista Park. They come for their Blue Bottle coffee, their Asian noodles from Citrus Club, some classic waffle cones from Ben & Jerry's, or an in-house brew from Magnolia's.

For the everyday groceries, there is the newly renovated Haight Street Market, and even though it is pricey, it is a nice place to stop after work, when the walk to Stanyan Whole Foods seems all too much. Haight-Ashbury has a little bit of everything, numerous bars dot the street that have a neighborhood feel. Club Deluxe hosts great live jazz during the weekends, and amazing fresh-squeezed greyhound cocktails. And when you want to stay in and listen to some good tunes, don't forget to check out Amoeba Records, which has one of the largest selections in the country, it really is a warehouse of a place, where the die-hard music fiends can often be found perusing the aisles for that perfect note.

Living here makes me realize how lucky I am to be in such a central area, everything seems to be at my fingertips, and plots of green running terrain are literally just around the corner. I have become used to the camera flashes, the chatter on the street (it is certainly not the quietest of places) but it's not supposed to be. It's the Haight. So come check it out, hail a taxi, say you want to see some windows with legs and Janis Joplin's old apartment. Bring a camera and flick a shot of the street signs, or don't, you may just end up living here…and Haight-Ashbury will become just another corner.

Neko C.
Hidden Gem

Haight Ashbury is the best place to live in San Francisco, hands down. This is what San Francisco is truly about – freedom, expression, creativity, acceptance. Live here if you're ready for something that is a little out of the ordinary – it might challenge you some, but you will reap the rewards of a richer lifestyle later. Don't believe the ratings that say parks are bad – they're WRONG! The Panhandle (great for afternoon picnics), Buena Vista Park (good hiking), and Golden Gate Park (Sundays on hippie hill there's a drum circle!) surround the Haight. The lush greenery makes it feel like you're in a rural town, but you have access to all the great amenities of a big city – public transit downtown, great restaurants, cozy neighborhood bars. You even get easy parking! Sure, you get more than your share of transients but they're harmless and have interesting life stories to share. If you want WASPy Bankers and Cougars, go live in the Marina – the Haight doesn't want your type anyways!

Becky N.
A Colorful Experience

When you hear Haight-Ashbury, what is the first thing that comes to mind? Are you thinking hippies? You nailed it! The Haight-Ashbury district is a great, laid back area where everyone can feel welcome. Haight Street has something to offer for everyone. There is everything from thrift shops, to music stores, to skate shops to pizza. Looking for something new and refreshing? Give this place a shot.

Rachel G.
SF, here I come!

I am moving to SF in a couple of months, and Haight-Ashbury is where I have my sights set. It's eclectic and vibrant. Compared to sterile, homogenous areas like SoCal (where I am from) Haight seems to offer a true, SF experience. Perhaps I will find more interesting niches once I've lived here for awhile, but Haight seems like a perfect introductory neighborhood to SF-living.

Kelly W.
Love to hate the Haight

Dear Haight Ashbury…the Summer of Love is over, let it go. I literally want to scream at these washed up hippies and dirty kids who roam the street panhandling. Otherwise, The Haight is a gem. If you can deal with the vagrant factor, the homes are beautiful and being so close to Golden Gate Park is a real asset. It has convenient access to a few Muni lines and the N Judah is just a short walk away. There are some great restaurants and Murio's Trophy Room, my favorite SF dive bar.

Gena F.
I wish I'd seen this place during its hay-day!

You could say that Haight-Ashbury is stuck in the 60's. Transient types populate a lot of the main drag. A lot of great French cafes, and you often can hear French-speaking locals due to its proximity to the San Francisco lyc e fran aise. There is also a small theatre that hosts film festivals. Definitely not cheap to live here, from rent to shopping boutiques; quite uncharacteristic of its free-loving past. You'll also hear this area referred to as as "Upper Haight." The famous Grateful Dead house is located on Ashbury; you might often see Asian tourists standing in front taking pictures. That being said, the nabe is more of a tourist attraction now. The portion known as "Haight Ashbury" ends anywhere between Masonic and Divisadero. Don't expect to live here and own a car; parking is impossible!

Jessie W.
nabewise