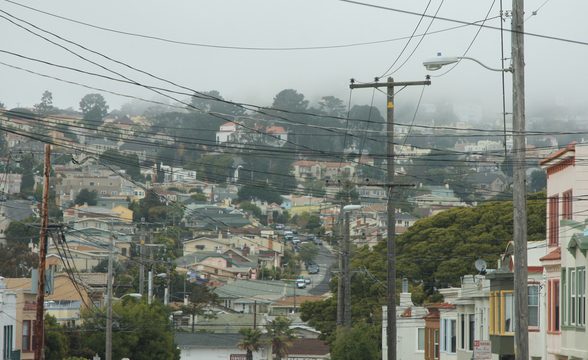 Ingleside
Infomation
Ingleside is a mostly residential nabe located in the southern reaches of San Francisco where fog settles throughout the year. Homes here are modest in size and varied in style and color. Ocean Avenue lies to the north and Interstate 280 wraps around Ingleside's southeastern border.
Top Votes – Score out of 100
Gentrifying 70
Quiet 62
Parking 61
Pet friendly 60
Public Transportation 57
Lowest – Score out of 100
Community 40
Families 33
Shopping 17
Singles 17
Income 11
Top Reviews from Travel Rentals Neighborhoods
Ingle-what!?

Do I want to raise my (very distant) future children in the neighborhood of Ingleside? Probably not. (Although there are several apartments-turned-daycare-centers around if you choose to do so.) Have I lived in this neighborhood for more than 3 years? Yes. And happily I might add.

Ingleside isn't the prettiest neighborhood in this city. But it does have a lot going for it. First and most importantly, it's cheaper to live in than almost every other neighborhood. Second, parking is easy and most apartments have garages for their occupants.

Of course, it's cheap for a reason. It can definitely be scary due to the people that hang out near liquor stores, etc. but it's not so scary that you feel threatened. Yes, if you are a girl, you will get hollered at. But, you don't necessarily feel like you will get hurt. Also, there aren't tons of great places to eat, and there are no grocery stores that are easily accessible.

What's awesome

There are a few good restaurants in the neighborhood. Some of my favorites are Yama Sushi on Holloway and Jules, Pho Ha Tien II on Ocean at Ashton, and Ocean Pizza on Ocean at Miramar.

What's not so awesome

There is no nightlife in this neighborhood that is worth trying. We've ventured into the two bars here, and have felt very uncomfortable socializing with the type of people in them.

Macie M.
It's Looking Up?

I wonder about gentrification in Ingleside….apparently there is a Whole Foods in the works, and you know what happens to nabes where Whole Foods moves in….it also seems like the houses are getting a bit nicer. Ingleside could be a good place to think about moving….but then again, nothing is for sure. As for right now, Ingleside is a residential nabe with no bells and whistles. It's gritty in some spots, clean in others, the houses are up to par, and the public transportation is good enough to get you around if you don't have a car. The nightlife isn't buzzing with excitement, but there are some good places to eat along Ocean Avenue, and students from San Francisco City College frequent the area, and with students, there often comes gentrification (just like Whole Foods). Gentrification could happen, it could definitely happen.

Chloe N.
About to get upscale?

Mayor just announced a ton of new development coming to Ocean Ave: Whole Foods, high-end Thai place, Chase bank and more. Check it out: http://sfmayor.org/index.aspx?page=663

What's awesome

The stuff above. Cheap to rent/buy for the moment.

What's not so awesome

It's taken 15 years to clean this area up.

r
I Hear It's Up and Coming

From what I understand, there is a Whole Foods going in a ton of new development. Single family homes are selling fast and investors are flipping fixers. Might be a good place to swoop in.

What's awesome

Cheap. New development. Whole Foods.

Annie M.
Nothing Special

It's almost a hard nabe to review just because there isn't much to say. When I think Ingleside I think vietnamese sandwiches and 24 Hour Fitness. Not that those aren't great attributes, they're just the only attributes. Other than that, there are nice houses, lots of little markets, and muni runs through.

Kati S
Ocean is Kinda Cool

Ocean Avenue has a lot of stuff going on. There's a really great vietnamese place that serves the best food. It stays busy, but it was some of the best Pho and Imperial Rolls I've had. Sorry, this isn't a review about food. Ha.

There's a lot to do on the main Ocean drag. There's a 24 Hour Fitness, restaurants, taquerias and a book shop. You can easily get to this area via BART at Balboa Station and a 10 minute or so walk or the K Muni line It can be pretty loud.

The housing section of the neighborhood looks kinda nice. Ocean Avenue splits the neighborhood in half, with pretty ok looking houses on the Northside and some more expensive looking homes on the South. Mostly families in this neighborhood, with City College and SF State students making their way through via foot or Muni on a daily basis. If I ever find that right girl and settle down (in SF) I'd give this neighborhood a shot with a nice 2-bedroom house and a garage.

Peter T.
Some good, some bad

Ingleside is one of those neighborhoods that changes character depending what block you're on. Some blocks are pretty appealing and some are downright run down and sketchy. The eastern part of the neighborhood gets inundated with traffic noise from the freeway, which can be annoying. Some good deals here, just be prepared for the pitfalls.

Gena F.
nabewise