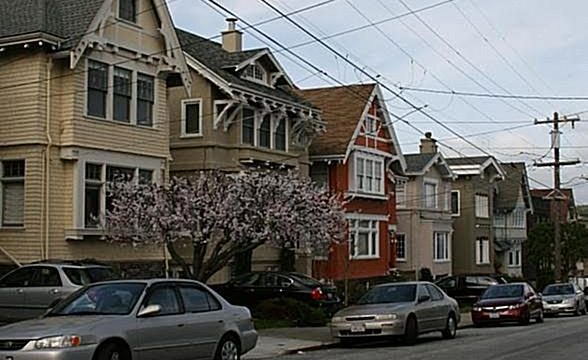 Inner Richmond
Infomation
Stretching westward toward the ocean, Inner Richmond is a nabe where a laid back vibe fosters comfortable city living. Small stucco homes typify the property here where fog cools off residents year-round. The business center stretches along Clement Street where crowds flock to the city's unofficialChinatown. Bookended by Golden Gate Park and thePresidio, Inner Richmond has no shortage of green space options. Muni Metro serves the area as well.
Top Votes – Score out of 100
Dining 95
Green space 92
Families 89
Safety 89
Ethnic 88
Lowest – Score out of 100
Quiet 63
Parking 58
Community 56
Shopping 39
Income 25
Top Reviews from Travel Rentals Neighborhoods
THE Richmond, not Richmond

Many non-locals get the Richmond district confused with Richmond, CA with is across the bay. The two are about as different as Paris, France and Paris, MO.

Despite being raised in the Inner Richmond, I still discover new restaurants and specialty stores every time I walk around the nabe.

A typical day in the Inner Richmond for me includes stopping by Green Apple Books to browse through an impressive collection of used books. Buying some pork buns from a Chinese bakery on Clement Street then walking to Golden Gate Park only a few blocks away.

I also love browsing around in the cheap Chinese variety stores. Where else can you find nail clippers with a picture of Jesus on it?

If you leave bustle of Clement Street and walk around the residential streets you will find a very different world, quiet and elegant. Streets lined with beautiful two or three story houses, and trees that complete the residential ambiance.

What's awesome

Clement Street, Chinese bakeries, Russian bakeries, Chinese variety stores, Genki Living, lots of Asian restaurants, Java Restaurant , Burma Star, good night life.

What's not so awesome

Parking on Clement Street is metered, and difficult to find. In general driving is a nightmare because people double park all along the street and there are always people crossing the street, even on red lights. Park somewhere far away and walk. I promise it will be more enjoyable that way.

Gabriel
Loving life in the Inner Richmond

Personally, I don't think the inner richmond gets as much appreciation and love as it deserves. Of course, tourists aren't going to particularly seek it out because in general, it's pretty residential. Unless they hit up clement or geary, in which case they'd be in for a delightful surprise. But hey, it's not their fault, they're in the city for a short time and don't truly know what's up. As for the locals, they need to get with it. The inner richmond provides some fabulously fun times! I just moved into my first apartment (meaning I'm not living with my parents or on campus) with two of my girlfriends. We are living it up and having the time of our lives! The inner richmond has super friendly yet not all up in your business people, and is pretty flat for SF! There are some fun, laid back bars and most importantly: amazinggg food! Places that have delectable meals ready within 10 minutes or less, thinking about the deliciousness I've had since I moved here is making my mouth water…. In addition, some awesome, unique boutiques with kind, helpful workers can easily be found in the inner richmond. Basically, I've fallen in love this neighborhood and you will too (if you visit that is)

Shannon
The inner richmond has a very relaxed vibe. It is surrounded on two sides by parks which provide plenty of opportunity to be active and enjoy nature. It is also very close to the Golden Gate Bridge making it one of the best places to live if you're a fan of escaping the city quickly for anything North.

This neighborhood is full of modest people who care about their community. There is a good balance of students, singles, seniors, and both young and old families. It is not dominated by a certain type of person which makes it feel like one of the most accepting neighborhoods in San Francisco.

The food in this neighborhood is fantastic with a string of restaurants on Clement Street. You'll find some of the best Thai, Burmese, Chinese, Vietnamese, and Japanese restaurants in the city here for the best price. It is also full of great American, BBQ, and breakfast joints if that's what you have a hankering for. Clement street is lined with stores, chinese markets, pubs and restaurants.

Geary and Clement streets both provide an active nightlife with something for everyone from dancing and live music to cozy dives. I prefer the comfortable Irish Pubs that provide friendly bartenders who remember your name and that host trivia nights on a weekly basis.

This area has 3 major bus lines which makes it easy to get anywhere in the city. The 38 and the 1 will take you downtown or towards the ocean and both have express lines for commuters. The 43 will carry you to the Haight or the Marina depending on what kind of night you're looking for. Some people can't stand not having BART but I am one to always prefer a good cultural experience on the 38.Chase N.
Where the East meets the West

People say that at any given time you ride the MUNI in San Francisco, you will hear at least 2-3 different languages being spoken. The same applies for the Inner Richmond neighborhood.

Home to a large Asian and Russian population, the Inner Richmond community is one that is diverse and unique in its shops, restaurants, bars, cafes, and parks.

I lived on the corner of 6th and Anza while attending the University of San Francisco last year, and it was one of the most enjoyable living experiences ever. At any given time, I could crave a hot bowl of pho, a nice beef piroshki, some fresh sushi or a quick slice of pizza along Geary.

Walking along Clement Street is a unique experience in and of itself. There are Chinese takeouts next to Vietnamese Restaurants next to Irish Bars next to Russian Bakery's and an amazing bookstore all located within a few blocks of each other.

Although there is a high Asian influence in the neighborhood, one may escape this at any time by walking a few blocks into Golden Gate Park or the Presidio. Perfect for a post dinner stroll, these beautiful pieces of nature are a reminder to all us locals why we love San Francisco and the Inner Richmond in particular, so much.

The Inner Richmond is a great place to raise a family and move to if you are looking for a neighborhood in San Francisco. It is affordable, diverse, safe and most important of all; diverse in more ways than you can count to ten in Chinese, Vietnamese, Russian, or English!

Andrew G.
Always Sunny in the Inner Richmond

The fog can get overwhelming sometimes, but then the weather gods surprise you with a beautiful sunny day that makes up for the past few weeks of fog. The food is fantastic here. I used to live in Nob Hill which I found to be congested and absolutely no greenery. So coming to the Inner Sunset made me appreciate the city more.

Steven H.
It's better than the Outer Richmond

I lived here while attending law school at the University of San Francisco.
nabewise