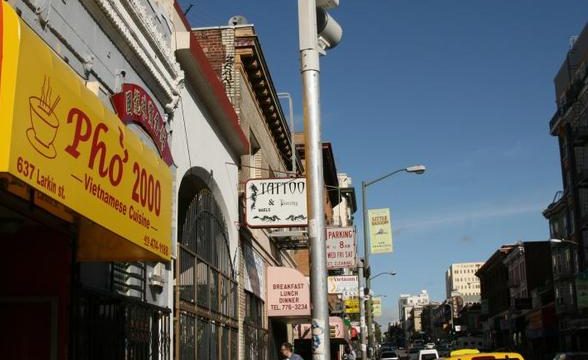 Little Saigon
Infomation
Marble pillared dragons welcome visitors to Little Saigon, a small distinctive nabe within the Tenderloin. In 2004, the city recognized the two block stretch of Larkin Street between Eddy and O'Farrell Streets as Little Saigon, officially noting the wealth of culture that exists in this little pocket nabe. Apartments and condos rise above the street level businesses here–mostly restaurants serving up tasty delicacies to happy customers and tourists.
Top Votes – Score out of 100
Ethnic 63
Public Transportation 63
Dining 58
Gritty 58
Public Schools 50
Lowest – Score out of 100
Seniors 20
Green space 17
Singles 17
Families 8
Income 2
Top Reviews from Travel Rentals Neighborhoods
Gritty Little Enclave

I really, really don't like the Tenderloin. It's just overall not a fun place, in my opinion. In fact, the only reason I would ever go to the Tenderloin on purpose is to get some Banh Mi or some Pho in Little Saigon; however, there is also authentic and delicious Vietnamese food to be had in the Sunset without all the grit of the Tenderloin.

What's awesome

the cheap and chippy Vietnamese food

What's not so awesome

It's in the Tenderloin. The Tenderloin is not awesome.

Chloe N.
Cheap Eats

Right in the heart of the Tenderloin. Little Saigon is primarily a Vietnamese populated community similar to Japan Town and China Town. Interesting how such a community can pop in in the middle of such squalor. Great for cheap late night eats.

Peter T.
A little Saigon, a little seedy

Smack dab in the middle of the Tenderloin. You can get some amazing Vietnamese food here but otherwise it's just as dirty and dodgy feeling as the rest of theTenderloin. Don't get me wrong, I think the Tenderloin has some real character and potential but it wouldn't be an ideal place to live. It's noisy and filled with unsavory characters.

Gena F.
nabewise