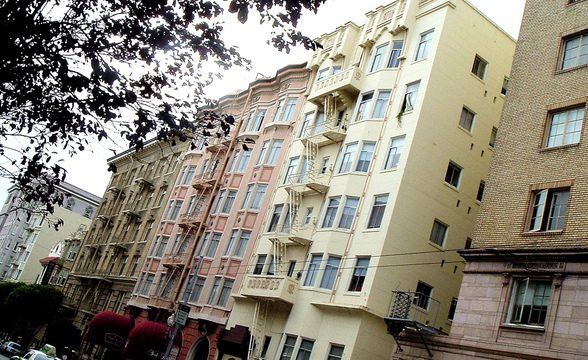 Lower Nob Hill
Infomation
Often called the TenderNob after its proximity to Nob Hill and the Tenderloin, Lower Nob Hill is a centrally located nabe in constant flux. Bookended by one of the city's grandest nabes and one of its grittiest, Lower Nob Hill is a unique area where change is coming fast. New residents, trendy nightclubs, and tasty eateries are taking this nabe by storm. Lower Nob Hill is definitely a nabe to watch.
Top Votes – Score out of 100
Nightlife 86
Dining 86
Safety 79
Public Transportation 79
Pet friendly 75
Lowest – Score out of 100
Quiet 46
Green space 43
Families 39
Parking 25
Income 24
Top Reviews from Travel Rentals Neighborhoods
Up and coming TenderNob
TenderNob does not disappoint in regards to nightlife, dining, strolling, and people-watching. You can't get much more centrally located than this. A $10 cab ride brings you to most other neighborhoods in the city; even better, a 10-20 minute walk brings you to the Financial District, Chinatown, Nob Hill, North Beach, SOMA, Japantown, Civic Center, Polk Gulch, and Union Square.The neighborhood has a real urban pulse with students, singles, young professionals, and elderly walking its streets. Picky eaters will relish an abundance of places like hip underground sushi den Ryoko (too long of a line? hit Sakana just a quick skip down the street), upscale French classic like Rue Lepic (want to really blow some dough? try Fleurs des Lys a couple of blocks down), tried-and-true late night noodles at Osha Thai (or Thai Stick or Ar Roi), and not-to-be-missed brunch or dinner at teeny Canteen.

A glass of wine goes down nicely at corner Cafe Royale or tucked into an alley The Hidden Vine. Beers, the big game, a pool table and/or a rockin' juke box can be found at chill Bacchus Kirk, newly renovated Owl Tree, and dives like The Summer House and Yong San Lounge. Cafe dwellers eat up the wifi and treats at awesome Sugar Cafe and low key Cafe Bean.

TenderNob strikes a nice balance between bustling and mellow, gritty yet smooth. The energy is palpable and there is always something open and something to do. Ground zero for dining and entertainment options in San Francisco.
The Tenderloin

A little background:

I've lived in between Taylor and Jones Street, on Sutter Street for the past six months and I love it. It's fairly cheap for rent (as cheap as downtown SF can get), and super central to pretty much anything you would want to do in the city because of its close proximity to hot-spots such as Union Square, the heart of downtown, Nob Hill, China Town, Japan Town and Polk St. I totally dig that you can literally get anywhere super fast either walking or by public transportation here.

This may be a little weird to say but I like the quirky charm that living in a slightly sketchy neighborhood brings. Along with the slight filth, and small abundance of San Francisco " crazies," this area is also mixed with students, elderly and lots of creative energy that the Tenderloin brings up to Nob Hill.

Upon traveling in the TenerNob please don't feel uncomfortable. Embrace the slight thrill of having a high probability of crazy bums popping out at you at any moment. Trust me, these people are harmless and free entertainment for all.

I think this neighborhood is filled with a lot of great humble people whom are not too proud to live in an up-coming area of the city. Lots of artists thanks to the Academy of Art and theater district entangling within. I've been living here for six months not once have I ever felt unsafe. OK, maybe slightly unsafe but never to a point where I would want to move. I have also successfully been parking my car in an lot that isn't gated, without a break in. (knock on wood)

Pros:

There is an abundance of good food close by, great bars, and also tourist attractions, so close that places like the Hotel Carlton are good options for tourists who don't want to pay up the behind for hotels near Union Square. My friends and family have all enjoyed staying near my area with few complaints on the sketch level.

One of the biggest If you want to go out, you just need to walk a few blocks.

Great nightlife options-

For a more mellow time:

Minx Bar, Ace's and the Owl Tree are fun places right on Sutter and close to Polk, if you want to deter yourself from the madness of Polk.

For a raging/more exciting good time:

ALL Polk St-Bottom line this is one of the few places in the city you can get consistent bars/lounges for over a mile each way. Plant yourself on either end of this street with a good group of people and be prepared to have a great time in a wide array of settings. Some of my favorite places are McTeague's Saloon, Sudachi (for cheap sake) and Amelie (this is a an excellent wine bar for the more chill types).

Also Union Square is very close- so a mid-night switch over to one of the more touristy bars or clubs is always an option if your group wants a change of scenery. 🙂

For food:

Theatre Too Cafe-
In my opinion, BEST MIDDLE EASTERN FOOD in the city. It's located on Sutter St very close to Union Square. Get the falafel wrap with all the fixings and you will not be let down. All of their salads are also delicious as well as the Gyro sandwich.

Pearl's burger-
Best burger in town and super cheap. Go there if you love burgers or even if you don't, this place can make you a believer. Try the milkshakes and frings (half fries/half onion rings) while you are there too. DELICIOUS BURGERS!

Panchos Taqueria and Salsa Bar-
The fresh chips and fish tacos are a party in your mouth. Forget the hype at Nick's Crispy tacos and hit up Panchos.

BOBS DOUGHNUTS!!!-
Best doughnuts in the city, hands down and right next door to Panchos! After a night of drinking this place is the bomb diggity.

Olea-
Best brunch in the area. Try the French toast on challah bread- OH MAN! SO GOOD! I have also had the cazuela with egg, chorizo and garbanzo beans. Also good but the French toast is really really hard not to over again and again.

The negatives:

I wish their were more grocery store options, it was easier to find parking and that it wasn't so dirty at times. Also, living here it can get loud, people in San Francisco do like to party ALL THE TIME and I am not so crazy. Also, I think this area would be hard for someone with an animal. There's just no room.

Krista N.
Cheaper but not so shabby

Lower Nob Hill is a cheaper place to live if you like the Marina and go there often. Polk Street is a little yuppier towards the Union Street portion of it. Also "Tendernob" as it blends with the Tenderloin, but I would say it is more of an upscale Tenderloin than it is a shabby Nob Hill.

Jessie W.
TenderNob, I guess.

As much as I want to resist calling this area the TenderNob, it seems inevitable as it becomes a hip place to be. Trendy bars and clubs are sprouting up here but the seediness is hanging on and I hope it continues to. Apartments rule in this area and many have awesome views smack dab in the middle of San Francisco. It's almost as if you could reach out and touch the rest of the city. A few blocks north and you're onNob Hill, the poshest of the posh while a few blocks south is the Tenderloin, where you should watch out for your wallet.

Gena
nabewise