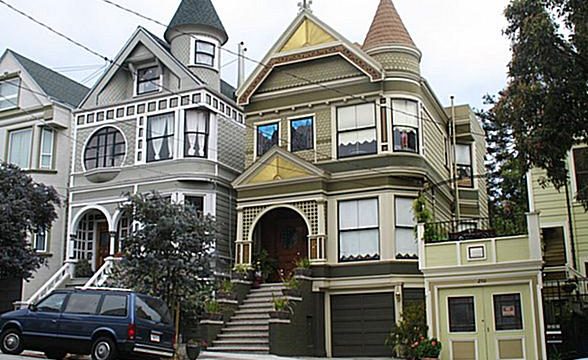 NOPA
Infomation
A narrow sliver of Golden Gate Park extending eastward, NOPA sits just north of the Panhandle(hence its name: NOrthPAnhandle!). Bounded by Turk Boulevard to the north and Fell Street to the south, NOPA is a newly popular part of the city. The area's restaurants have gained increasing attention, especially those restaurants embracing a farm-to-table aesthetic that are quickly making NOPA a destination for foodies. Likewise, new boutiques are popping up pretty regularly to serve this growing destination nabe.
NOPA Data : Neighborhoods & Travel – Score out of 100
TOP ATTRIBUTES
Dining 97
Public Transportation 90
Singles 87
Pet friendly 83
Gentrifying 83
LOWEST ATTRIBUTES
Quiet 56
Parking 42
Empty nesters 33
Income 28
Seniors 20
NOPA Reviews
David E.
Pan Handling the Day Away

I spent four years in this hood and loved every minute of it. Accessible from the 21(Hayes) and 5(Fulton) bus lines, it's a short 20 minute commute to downtown and pretty much any other nabe, making it both ideal and convenient in its location.

The nearby campus of USF gives way to college students and academic faculty, but a real, quaint neighborhood vibe is felt from a diverse working class of hipsters, suits, and everything in between. A bright mural stretches along Masonic Avenue while the much loved Panhandle Park provides ample green space for the community.

There's great food and shopping options on both Haight (Squat and Gobble, Askew Grill, Wasteland, Held Over) and Divisadero Street (Herbivore, NOPA, The Other Shop, Cafe Abir), but one of my favorite places to dine at is 'Papalote' on Fulton. A tad small inside, a burrito to go makes for the perfect shopping companion (and energizer) as you pass the Hippie of yesteryear begging for change. Make love, not war.

What's awesome

The Panhandle, Upper Haight, Divisadero St. and 'The Other Shop'.

What's not so awesome
Andrew G.
That Little Place by USF, Golden Gate Park and Haight Street

That is the sentence I use to sum up the location of the NOPA to visitors and even some locals.
NOPA basically stands for: North of the Panhandle.

There are three unique things that stand out about NOPA:

1) USF: The university literally stands out in this neighborhood, sitting atop the Lone Mountain Hill. The avenues are filled with students and faculty biking, walking, driving and skateboarding down the streets to their next class, job or a quick cup of joe. The neighborhood itself is filled with young twenty somethings, some USF students and some not, who are dog friendly and very outgoing. USF students do support local shops and businesses whether it is to get a burrito at papalote, a beer at Bistro Gambrinus or fix their bikes that one place on Hayes (I forgot the name!) USFstudents are out and about and for that, the neighborhood is very youthful.

2) The Panhandle: That little strip that divides the Haight/Ashbury neighborhood fromNOPA is where homeless people lay, basketball players play and mothers and children spend their day enjoying the sun and park. This little park has basketball courts, bike paths, a playground, a garden and lots and lots of trees. Come have a picnic with friends, play some catch, or even take part in some pick up basketball. However at night this place can be kind of sketch with the numerous homeless and drug addicts sleeping in the park so if you must pass through, be sure to have a friend with you.

3) Local Businesses: The residents are very fond of their neighborhood cafe, bar, grocery store, repair shop, etc. Along the busy streets of Masonic, Divisadero and Fulton, one may find a day's worth of shopping and eating to do. Stop in and strike up a conversation with that local barista, bartender and waiter and don't forget to tip them as well!

Great place for young and single twenty somethings to mingle during the day and at night!
Chloe N.
Western Addition: Improved

Western Addition is already pretty cool, but NOPA improves on all of it's shortcomings. While rent isn't as cheap, NOPA is much safer and more charming. I hear there are amazing restaurants around NOPA, and an a sweet little farmer's market. The biggest plus is probably the access to all of the entertainment of Western Addition, but with a safer and nicer living space.
Peter T.
Get Your Stomach Ready

NOPA has become THE go to spot for dining. If you're a foodie or just someone who loves to eat, get your pocket book ready because you'll be spending a lot of time here.
Jessie W.
NOPArtner with Western Addition

Those who live in between Western Addition and NOPA might categorize themselves in the latter. NOPA is a nice, cuter neighborhood, and your apartment might sell for more if it is in NOPA versus Western Addition. Otherwise, NOPA itself very safe and has many restaurants: Nopa is a local fav.
nabewise