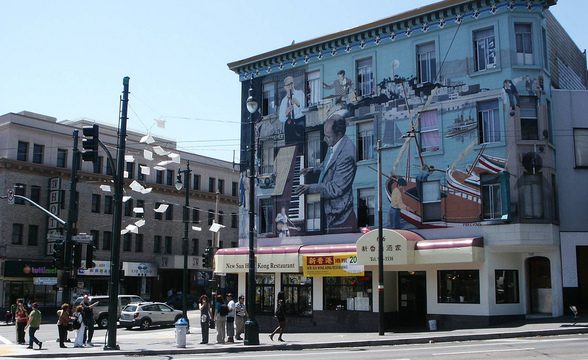 North Beach
Infomation
North Beach, once known as Little Italy, is a vibrant nabe long steeped in the culture and history of San Francisco. Famous as the birthplace of the Beat Generation, it continues to be an enclave for artists and musicians, hosting yearly street fairs and festivals. North Beach is home to Washington Square Park–an inviting swathe of green amidst the urban landscape. A lively nightclub scene and myriad dining options attract tourists and locals alike while its peripheral streets exemplify San Francisco living at its finest. No matter which direction you head out of North Beach, you'll be among the elegance of Nob Hill, the views of Telegraph Hill, or the waterfront fun ofFisherman's Wharf.
North Beach Data : Neighborhoods & Travel – Score out of 100
TOP ATTRIBUTES
Dining 98
Singles 88
Nightlife 86
Public Transportation 75
Pet friendly 60
LOWEST ATTRIBUTES
Community 33
Income 28
Seniors 24
Quiet 16
Parking 9
North Beach Reviews
emily w.
Lots of life in SF!

I moved to San Francisco from New York about two years ago. My first year here was spent in the Richmond District. What a mistake. For someone who is used to easy public transportation and the constant hum of urban life, North Beach provides all of that. I felt at home as soon as I moved into my apartment a year ago. The tourists are sometimes annoying, but you learn to avoid the main drags where they flock.
Olivia H.
The closest I ever got to Italy

Great ambiance in this 'hood. If the weather wasn't so cold, it'd be perfect with all the patio seating of the restaurants here. Nevertheless, it's a great place to hang out and people watch.

In the summers, there's free movie nights at the park. I watched Amelie last year with some friends, and it was so fun! Remember to wear layers and bring jackets and coats, because it does get cold at night. Bring some spreads to sit on, and food to munch while you enjoy the free movie.

For brunch, Mama's is really popular, but I never went there because the lines were just too long. I like Cafe Delucchi for their brunch.

St.Paul's Cathedral is gorgeous! Go inside and check it out. Have a moment of silence.

What's awesome

Food, ambiance, young crowd, St. Paul's Cathedral

What's not so awesome
Gena F.
Ciao Bella!

Minus the constant throngs of tourists and cheesy Italian restaurants, North Beach is classic San Fran. There's nothing like grabbing a coffee and pastry from Cafe Roma and parking on a bench in Washington Square Park for some ultimate people watching. Chinese women practicing Tai Chi in unison or some of the local eccentrics exchanging ideas, North Beach never fails to entertain. Mama's is a must for brunch and Mario's nails the panini.
Chloe N.
Lively

North Beach is one of the most lively places in the city. Lively 24/7. Though a little bit touristy at times due to it's proximity to Fisherman's Wharf and it's Little Italy reputation, North Beach is still a place thoroughly enjoyed by locals. It's one of the oldest nabes in the city (Grant Street is apparently San Francisco's oldest street) and so it's got great history to it. During the beat movement, writers such as Kerouac and Ginsberg make their homes in North Park. Cool, yeah? Oh, right, Italian food. Long story short, there's a ton of Italian restaurants, and while some of them are mediocre tourist traps, others are delicious and authentic. Try Fior d'Italia for some authentic deliciousness. At night, the 20-somethings crawl out to go clubbing and bar hopping, and while sometimes the nightlife kind of has a frat-boy feel, it's not hard to have a good time.
Joey B.
Lots of choices, lots of hills

In this Italian neighborhood, carbohydrates fuel and reward the droves of tourists visiting North Beach's countless attractions: the Filbert Steps leading up to Coit Tower, Lombard Street, the red light district on Broadway, City Lights Books, Saints Peter and Paul Church, etc. If you're an active person, walking around this neighborhood is very active sightseeing. If you have the "couch potato" attribute, expect to feel winded as you climb the hills (the 39 bus route is dedicated to going up and down the hills closest to Coit tower).

Your reward for all that walking? North Beach Pizza, Tony's Pizza, Golden Boy Pizza……

What's awesome

Ideale Ristorante, Park Tavern, Coi, the Filbert Steps, Rogue Ale's Pub, Yuet Lee, Cafe Divine

What's not so awesome
Jaimie C.
City living with a twist

Let me say up front that North Beach is my favorite area of San Francisco and with all the options, that is quite an honor. I was fortunate enough to work in this area temporarily a few years ago and simply fell in love with the entire area. The shops, the restaurants, the people – all aspects of this neighborhood make North Beach one of the best places to work, live and play in the city.

Boasting sidewalk cafes, boutique shops and art painted alley ways, North Beach, also known as Little Italy, is famous for being laid-back, chic and up-and-coming. For anyone living in this area, it is just a short muni ride to anywhere and is close to a lot of bigger areas, including the wharf, Union Square and Chinatown.

Parking is a little difficult and it is a bit pricier than other areas. Unlike some other areas, North Beach has a more industrial feel, with a range of warehouses turned apartment buildings slash businesses and unusual and unique amenities lining the streets.

Similar to areas like the Mission or Outer Richmond, North Beach is a quieter area with less hustle and bustle and more of an artsy feel.

Living here is definitely not an option for the starving artist, but would be a great place for a businessperson with a family or a retiree.

What's awesome

Restaurants! Best range of delicious food.

What's not so awesome

Lots of professional companies overtaking the more local cultural feel.
Jennifer W.
North Beach- Eat, read and be (scandalously) merry

North Beach lies at the apex of San Francisco's Financial District and Chinatown. If you take a step in either direction you might just cross into a surrounding neighborhood. While North Beach is named for its reputation as an Italian neighborhood (with the eats to prove it!)perhaps the most distinct part is its somewhat "seedy" nightlife. But don't get me wrong, that's part of it's charm. Walk the Broadway/Kearny/Columbus triangle and you'll find at least a dozen neon-lit "gentlemen's clubs", including the Lusty Lady Theatre; a unionized peep-show co-op (how very San Francisco!). If this is not your cup of tea come visit on a rainy Saturday and check out City Lights Bookstore, a beat-generation relic. The offbeat building and stacks of used books has its very own kind of hipster charm.

Parking is a mess on the weekend and even many weeknights so I would suggest taking BART to the Montgomery Street or Powell station and trekking the 15 minutes to get there. North Beach is much more enjoyable when you're not worried about the parking meter expiring.
Michaela Ann M.
North Beach: Temptation For the Taste Buds

In my alternate reality I have enough expendable income to live in and eat my way through every single restaurant in North Beach.
Jessie W.
Tourists and locals: a civil union.
North Beach is always busy. If you commute to the FiDi, the main lines run through North Beach. Otherwise, it is not super easy to get to. You don't typically see Missionites/Hipsters hanging out in this area; it's sort of touristy, but has some great bar life for locals. Stay away from the night clubs and the Italian restaurants with hosts badgering you to come in. For more local treats, Northstar is great for happy hour ($3 drafts until 8pm). Washington Square park isn't much, but for locals it's a nice green escape.
nabewise