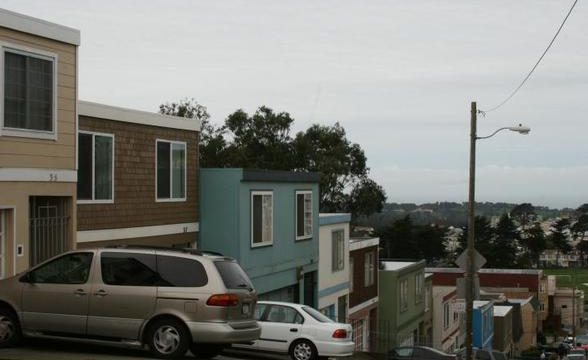 Oceanview
Infomation
Perched on the Southern edge of San Francisco, Oceanview's name is actually misnomer–the nabe's views are of neighboring Daly City, not the ocean, gotcha! Oceanview Playground and Minnie and Lovie Ward Recreation Center are highlights of the nabe, and just next door lies hip Ingleside Heights. The M-Oceanview offers convenient access to and from downtown.
Oceanview Data : Neighborhoods & Travel – Score out of 100
LOWEST ATTRIBUTES
Dining 25
Green space 25
Singles 13
Income 8
Seniors 8
Oceanview Reviews
Chloe N.
Oh Snap!

Did someone trick me by naming this nabe Oceanview? Not only are there no views of the ocean in this struggling lower-middle class nabe, but there are no views of anything nice at all, unless you like freeways. Or abandoned houses with boarded up windows, which are abundant on the bad side of town. Oceanview is supposedly getting better, but still, crime rates are high, public transportation is bad, and this nabe is dilapidated in general.
Peter T.
Confusing

This neighborhood is confusing to me, like why we call the place we park our car drive ways and why we call the place we drive our car parkways.

Who the hell is in charge of naming, because they failed miserably here. Oceanview should be called DilapidatedHomesinTheGhettoview.
Gena F.
Fix it up

Oceanview sounds so appealing. You may picture a seaside community but that's not what this nabe's about at all. It's a collection of pretty tattered houses at the border of SF and Daly City. Many of them have freeway views, not ideal but affordable and potential fixer uppers.
nabewise