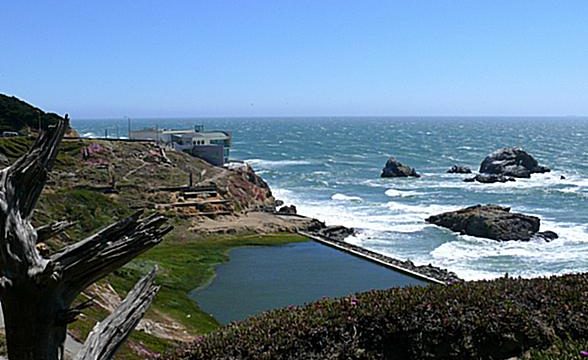 Outer Richmond
Infomation
The weather changes quickly in Outer Richmond, where fog rolls in and out and sun shines sporadically. With Ocean Beach within walking distance, the nabe has an undeniably laid back vibe. Outer Richmond also has no shortage of green space–it sits in between Lincoln and Golden Gate Parks. A little exploring will reveal the trails of Land???s End, the Palace of the Legion of Honor, and the remnants of Sutro Baths (a popular swimming pool complex from the late 19th century). Outer Richmond teems with delicious restaurants that always keep patrons coming back for more. Just up the coast is Sea Cliff, one of the statelier San Francisco nabes.
Data : Neighborhoods & Travel – Score out of 100
LOWEST ATTRIBUTES
Public Transportation 50
Singles 33
Shopping 25
Nightlife 25
Income 22
Reviews
Mr H.
Outer Richmond from an outer perspective

I recently went to San Francisco to visit a friend who lives in Outer Richmond. At first glance, the neighborhood doesn't look like it has much to offer. There seemed to be nothing but residences lining each avenue until the ocean. Also, the area was covered in a thick fog when I made my visit (August), while other parts of San Francisco are sunny. Despite this, a little exploring made me forget all about my lackluster first impression.

The Outer Richmond is neatly located at the west end of San Francisco on the ocean, while sandwiched between Lincoln Park to the north, and Golden Gate park to the south. These provide endless trails and paths for walking or running while escaping the city environment. Check out the Lands End Trail which goes along the ocean to the Golden Gate Bridge, with multiple points of interest to stop at.

The local restaurants are easily Richmond's strongest attribute, with multiple options for every meal. Take a stroll on Balboa st. or Geary Blvd. and you are bound to find something for you. Countless times I went into a restaurant on a whim and was never disappointed. The variety of food from Asian, Mexican, Russian, and everything in between wont leave you at a loss of options (like Al-Masri Egyptian Restaurant, complete with belly dancers!).

This diverse neighborhood has plenty to offer with its restaurants and businesses, and non city recreation in Golden Gate Park and Lincoln Park, not to mention the Pacific Ocean. The neighborhood may feel a bit secluded from the downtown San Francisco however, especially for those relying on public transportation. The cheap living and close proximity to a variety of locations (save downtown San Francisco) make Outer Richmond a fantastic place to live.
Chloe N.
Forget About the Fog!

Okay, I get it, San Francisco can be foggy, but what do you expect? Other than the fact that it can get foggy, Outer Richmond is awesome. It's almost like a beach town right in San Francisco. Ocean Beach is right there in front of you, providing a sandy shore for kite-flying and beach fun during the day and bonfires at night. The Palace of the Legion of Honor is a stunning architectural beauty and major attraction for art lovers. Nearby said palace are cozy and nice places to eat, and you can also get your fix on Clement Street. The Cliff House is a cool place to check out the old baths and old photographs on display in the bar, where you can have a drink. So just forget about the fog for a minute and get out there and enjoy Outer Richmond!

What's awesome

The overall vibe, Ocean Beach, Palace of the Legion of Honor, Clement Street, The Cliff House….

What's not so awesome
Peter T.
Love Living Here

Land's End
Golden Gate Park
Sutro Baths
Lincoln Park
Trad'r Sams
Outerlands
Legion of Honor
The Cliff House
Balboa Theater
Simple Pleasure's Cafe
Tommy's Mexican Restaurant
Ocean Beach

The long-list of places to enjoy in the Outer Richmond. I love living in this neighborhood and can't see myself moving any time soon.
Michaela Ann M.
Fog as Far As The Eye Can See

I hate the fog. Strange choice of city for someone who hates the fog, I know, but IHATE the fog. I had to use caps there to truly communicate how much I hate the fog. So, therefore you can understand why I tend to dislike visiting the Outer Richmond. It can be dark, damp, dank and downright depressing.

However, just one look out a window, with the view of Ocean Beach, and my hatred can be lifted. The homes just on the water, while as expensive as I'm sure they are, call out to me. Id'd suffer through a dark, damp, dank depression every day to wake up to an ocean front view through bay windows.

There isn't much this way in terms of cuisine, but a new and delicious restaurant called Outerlands is making raves in the area. IF you're in the mood for a lot of fog and a lot of flavor, you may want to check out the Outer Richmond.
Jessie W.
Foggy views of the Pacific

Outer Richmond is more residential/neighborhoody than Inner Richmond and is right on the water. The fog rolls in during mid-afternoon on summer days. China Beach offers a safe place to swim and sun bathe (when there is sun!). You'll experience romantic views of the Pacific at the Sea Cliff Restaurant, one of the oldest restaurants in San Francisco, at the northern part of Ocean Beach, and at the end of Point Lobos Avenue. You can see the ruins of the Sutro Baths from this point, a public bathhouse built at the turn of the century.
nabewise