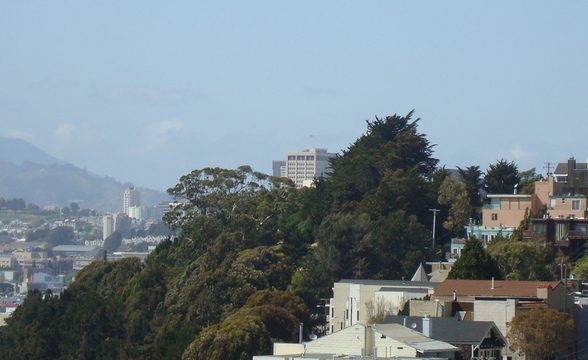 Potrero Hill
Infomation
Potrero Hill, spread across the eastern hills and valleys of San Francisco, is a peaceful corner of the city with a vibe that is distinctly its own. The nabe is dotted with bungalow styled homes that enjoy sweeping views of the cityscape. Sun shines and greenery abounds here while remnants of its industrial past are still present, lending a gritty appeal to the area. Interstate 101 and 280 run through Potrero Hill easily connecting it with the North and South Bay and the trendy Mission District nudges up against its west end.
Top Votes – Score out of 100
Community 94
Families 93
Quiet 93
Parking 87
Charming 78
Lowest – Score out of 100
Nightlife 62
Green space 58
Income 52
Shopping 50
Singles 46
Top Reviews from Travel Rentals Neighborhoods
On the hill that sees it all

Great weather (we laugh at the fog), nice people and some fun little cafes. Away from the mayhem of SOMA and the Mission but close enough to head there as required. Sure there is an 'edgy' project in one corner but for the better part that's not an issue for the nabe

What's awesome

Weather, proximity, views and SFs best tennis court!

What's not so awesome

Can't leave stuff in your car over night… well, not advised anyway

Vincent T.
Isolated… but in a Good Way

Lets face it, SF is a wonderful city, but it certainly has its downsides. There are quite a number of eccentric people, which some people get a kick out of, but I would prefer to stay away from when possible. It's also extremely crowded coming only behind Manhattan in population density. Also, don't get me started with parking in SF. Yes it's not ecofriendly and I should taking the bus since that's part of the city life blah blah blah, but let's face it, sometimes you just don't want to wait for the bus, or are making a trip to somewhere outside of the public transportation system like Marin. Having a car in most places in SF is one of the biggest hassles imaginable.Yet, all of these problems that I have with some parts of SF are completely eradicated when living in Potrero Hill. First, the parking situation: no permits, and the spaces are plentiful! You are not far off from all the action the city has to offer, but when you want to just go home and find some peace and relaxation this is where you want to be. It's a suburban microcosm in one of the most urbanized cities in the US. If you are not a fan of the suburban lifestyle then this is not the place for you, but regardless you are only blocks away from the Mission and a quick bus ride away from downtown and many other parts of the city if you really want to escape "suburbia". As for the people, they are some of the kindest, level headed people I've seen in the city. I don't know if it's the steepness of the hill which deters the weirdos from coming up here, but I am yet to see one person who really gave me a weird vibe in the few weeks I've been living here. Also how could I forget about the views! I know every place in SF claims to have a good view since the hills provide many great vista points, but behind Twin Peaksthis place has the best views of the city hands down. In summary, the beautiful views, great people, and comfortable environment makes this one of the best places to live in SF, but not necessarily the most exciting to visit.

ryan p.
Isolation makes for a strong community, great views

Potrero Hill is cut off on 3 sides by highways, making the neighborhood feel somewhat isolated from the rest of San Francisco. However, that has translated into a much stronger community than you'll typically find in San Francisco. Neighbors know each other, and locals feel at home, dining and shopping at restaurants/stores that learn their name and their preferences.

Access to the rest of the city is still pretty good, as is the parking. And there are plenty of reasons not to even leave Potrero Hill, with parks, great dining, a Whole Foods and a hardware store. On the downside, nightlife options are limited, and crime (mostly car break-ins) is still an issue. But an all-around great hood.

Evan G.
Great Music Options

One can't mention Potrero Hill without mentioning the awesome music venunes located in the neighborhood. They're hard to get to, with Potrero Hill being much of a trek from the more centrally located neghborhoods in the city, but it's worth the walk (Don't really walk. It's hella far), bus ride, cab ride or drive. Bottom of the Hill regularly schedules notable bands and Thee Parkside (that's not a typo) is a popular place for local bands to perform. Both within fairly close walking distance of each other and both really great places to go if you want to dance, drink and have a damned good time.

Michaela Ann M.
Potrero Hill

Potrero Hill is a "microcosm" of San Francisco and sunny oasis in the Fog City. There is diversity in housing, restaurants, businesses and residents. Its housing options range from 100+ year old Victorians "Painted Ladies" to mid-century bungalows to modern sleek urban condos to loft live/work warehouses. There is a great sense neighborhood pride and community support of local merchants, business and eating establishments. Retail businesses includes small local coffee shops & cafes (Farley, , bakery (Baked), to world class gourmet food and restaurants. It is the home of Anchor Brewery and a few winery businesses. And despite being part of San Francisco "Fog City" Potrero Hill is a usually full of sunshine with excellent views of downtown to the North, San Francisco Bay to the East, and Twin Peaks to the West.

There are four major parks including Jackson Playground, McKinley Square, Potrero Hill Recreation Center http://parents.potrerohillsf.com/parks_playgrounds.html . Potrero Hill is a great place to raise children in a safe urban neighborhood where these parks are walking distances (hills) from your home. Newly renovated McKinley Square park is great for kids and dogs. The annual Easter "Big Wheel" race takes place down Vermont Street which even more "crooked" than the famous Lombard Street.

There are numerous community gardens including those located at 20th & San Bruno Avenue called The Community Garden and has been operated by the neighborhood people since 1970 with an amazing blooms of flowers, fruits and veggies and annual Halloween "Jack-o-Lantern" contest. Culinary diversity in cafes and restaurant abound from the Culinary Institute, Anchor Brewery, Apertos (Italian), Pera (Turkish), RockFish, Live Sushi (Japanese), Horatius (Portuguese), Goat Hill Pizza, Chez Papa (French), Plow, Papito (Mexican) and many other eateries. Watch fireworks after 2010 World Series Champ Giants baseball games at AT&T Ball Park. All you need to do is watch re-runs of "The Street of San Francisco" or "Nash Bridges" and see "Potrero Hill" mentioned often. Current television series "Trauma" is being filmed in Potrero Hill.

Here is a good overview as well http://www.sfgate.com/neighborhoods/sf/potrerohill/

Mike R.
Far and away the best

Potrero is a must see nabe. It's far enough away from the hustle of the city so that residents enjoy a little peace and quiet but it's close enough to access the action. And Potrero has enough action of its own. There are a few amazing restaurants out here and a happening nightlife and music scene. The homes are really charming and most seem well loved. It's hilly and sunny and gets two thumbs up.

Gena F.
The Hill feels homey

You'll see a lot of small gardens and cute homes in Potrero Hill. Locals call this community "The Hill." I give the nabe 4 stars for being cute, clean with decent shopping. It's easy to communte down south to the Peninsula from here, particularly if you're a student at Stanford or if you work in Silicon Valley.

Jessie W.
nabewise