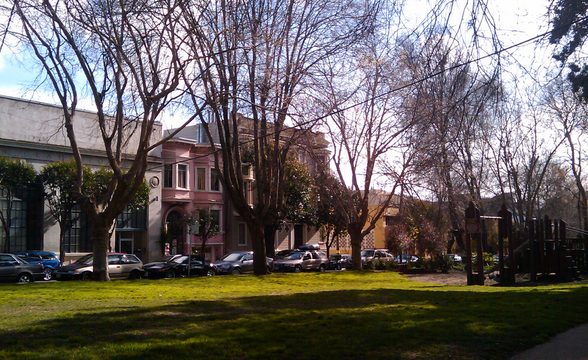 South Park
Infomation
Tucked into South Beach, South Park is a tiny nabe offering an intimate slice of San Francisco life. Surrounded by major thoroughfares, South Park remains relatively quiet and quaint amidst its busy surroundings. Encircling the oval park at its center, the periphery is dotted with businesses from small cafes and salons to architecture firms. At the peak of the dotcom frenzy, South Park became the focal point of the city's tech boom with fledgling internet startups setting up shop here. Recently it has seen a successful reemergence of web related businesses.
Top Votes – Score out of 100
Charming 73
Trendy 71
Quiet 67
Safety 67
Income 66
Lowest – Score out of 100
Empty nesters 40
Families 39
Seniors 35
Parking 33
Shopping 25
Top Reviews from Travel Rentals Neighborhoods
Tiny nabe, big heart

South Park is one of my favorite micro nabes. It's tiny but packs in a lot a character and neighborhood flair. On the weekdays, the park is full of people who work in the tech businesses while the weekends are pretty quiet and peaceful here. There are some great cafes and a few boutiques. South Beach and Downtown are walkable as is the ballpark. Overall, a great area but it's so small that it seems impossible to get your hands on property here.

Gena F.
Little Nabes have Big Ears

Even though South Park is teeny tiny, it packs a punch! It's charming, unique, and filled with fun. Location is supreme, right near SoMa and the Embarcadero, so there are endless options beyond the cute boutiques and salons that South Park has to offer. If you have the opportunity to snatch up an apartment here, and you can afford it, do it! South Park is so small that property is rarely even available.

N
South Beach's hidden secret

South Park is hardly bigger than the park it's named after, but this little nabe has a lot to offer! Here you'll find a nice selection of eateries, although you might have to look closely in order to find them (no big neon signs here – places here are kind of hidden!). An interesting mix of boutique businesses, cute apartments, and startup offices are centered around South Park, making it a bustling but not overly-crowded nabe.

As for the park itself, South Park is quaint and cute…a perfect place to take a quick stroll or sit down with a book. While lucky residents of South Park have their own little bubble of peace and quiet, SoMa and the Embarcadero lie right down the street, so feel free to go out an explore!

What's awesome

Relatively peaceful and quiet, cute park!

What's not so awesome

It's a little bet of a walk to get to the nearest grocery store (your best bet is Whole Foods in SoMa or Safeway in Mission Bay)

Anna H.
nabewise