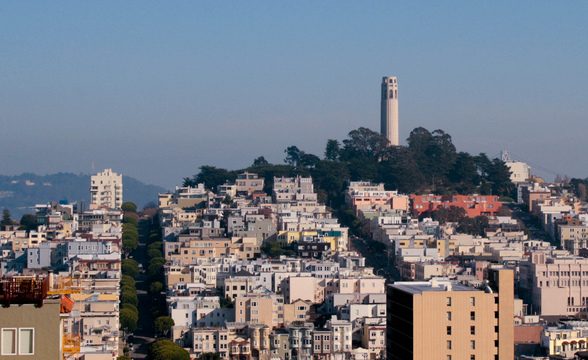 Telegraph Hill
Infomation
The ever-iconic Coit Tower soars above Telegraph Hill, a hilly nabe that's pure San Francisco. Popular with tourists who hike the Greenwich Street steps to take in its impressive views, Telegraph Hill is a densely populated nabe, seamlessly blending with the equally popular North Beach, and a well-loved symbol of the city. For those who explore further, meandering staircases reveal an intimate look at the bungalow style homes that descend its lush hillsides. Catching a glimpse of the wild flock of parrots that live here is an added bonus for a visit to this picturesque hillside community.
Top Votes – Score out of 100
Tourists 96
Exclusive/Prestigious 94
Dining 83
Public Transportation 83
Empty nesters 78
Lowest – Score out of 100
Nightlife 50
Singles 50
Income 36
Quiet 25
Parking 17
Top Reviews from Travel Rentals Neighborhoods
Double-Sided

I've received one golden ticket in my life. Coincidentally, it came just as I was moving to San Francisco in the form of an inexpensive two-bedroom on Telegraph Hill. Picturesque, lively and diverse, this neighborhood is classic San Francisco. A ban on chain restaurants and retail stores gives this nabe its charm, and keeps it from turning into a Pac Heights or Cow Hollow. This makes for great local eats, but barely-there retail. While I'm on a negative, parking requires buckets of patience, but public transportation is down the street. There is a fair amount of tourists, but they keep to the west side. The natives are tight-knit and friendly to familiar faces. This nabe's best-kept secret is that it has just as sunny weather as the Mission (Fidi for that matter—it's all in the same good-weather corridor). My advice is to seize any chance you get to live or visit immediately, because someone will take your place in a heartbeat.

The west side of the hill is as loud as the east side is quiet. The west side is an extension of North Beach, the Italian district, whose presence is reflected in the menu and decor of almost every restaurant, cafe and bar. You can still find traces of the Beat movement with entry-level galleries and cheap living quarters in the heart of the west side. The east side of the hill is quiet and pocked with hidden neighborhood gardens, not to mention awe-inspiring Coit Tower and the lush Greenwich Steps.

From the conservative blue-collar immigrant to the organic-obsessed yippie to the caffeinated artist, you can find every SF stereotype on this hill. Also, you may be surprised to know that this is a hot spot for seniors: The early birds gather for Tai Chi in Washington Park, and the night owls hit the bars on Grant just like their younger counterparts.

Telegraph Hill is one of the most active neighborhoods at night. The nabe itself contains mostly restaurants and bars, including the oldest bar in San Francisco, as well as dance and gentleman's clubs on its border, Broadway. The overall feel of the nightlife is a welcoming mix of yuppie and seedy, tourist and native, young and old.

I know you think I'm crazy for ever leaving, but living on the west side of Telegraph Hill where the call of the night life is a mix of chatter and clanking glass audible from inside your bedroom window isn't the wisest idea for a serious student. Now that I'm graduated, I'd love to move back to the tucked-away east side of the hill…one daySigh [Author drifts into daydream].

Angelica M.
Urban Paradise

Absolutely iconic and bustling with a community vibe. I was only here for a few days, but this hilltop in San Fran is an urban paradise and I never wanted to leave. Dozens of Italian cafes, little eateries and lots of grassy patches line the cobblestone streets, making you feel as though you were on the main street in a European town. On a sunny day you can sit outside, drink a cappuccino and watch the trolley make its way to the wharf. I suppose you have to be making quite a bundle to actually live on Telegraph Hill, but everywhere in SF is so quick and easy to get to by walking or hopping on a bus that I would live just about anywhere in this city. Make the hike up to Coit Tower for an unforgettable view.

Nina B.
A little slice of heaven

Ah Telegraph Hill, how I would love to live in one of your adorbale bungalows! This is another one of SF's classic, iconic neighborhoods. The hill is crowned by Coit Tower, a momument fashioned after the nozzle of a fire hose in commemoration of the firemen who battled the fires after the 1906 earthquake. Telegraph Hill is a major tourist destination, which can create congestion at the top but most tourists miss the staircases that descend its bayside slope. Cruise up and down these and the real character of Telegraph Hill is revealed. Shingled cottages with lush landscaping and killer views. Hard to beat!

Gena F.
Strong sense of community on Telegraph Hill

Don't bother paying for the elevator ride up Coit Tower; you can get really great views of the Bay and the rest of the City if you walk up and around Telegraph Hill. Another tourist attraction, but a must-see, is Beach Blanket Babylon. Think: Broadway musical and Cabaret in one that keeps up with political and cultural spoofs; very entertaining, and pretty much always sells out. The costumes are eye candy, with some of the largest, decadent hats you'll ever see on stage!

Jessie W.
nabewise