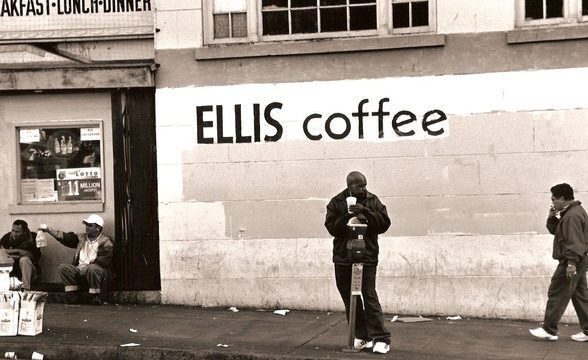 Tenderloin
Infomation
Many of the Tenderloin's old hotels and apartment buildings, dating back to the years just after the 1906 earthquake, symbolize the faded beauty of a nabe that seems arrested in decay. In recent years, as neighboring Lower Nob Hill has become more trendy, gentrification has tip toed around and locals are attempting to give it a new shot at life. Visitors can discover an exciting place flush with diverse ethnic food offerings and an emerging nightlife scene.
Top Votes – Score out of 100
Public Transportation 87
Nightlife 82
Dining 82
Ethnic 67
Gritty 48
Lowest – Score out of 100
Green space 18
Families 15
Quiet 14
Income 7
Clean 6
Top Reviews from Travel Rentals Neighborhoods
The Pearls of Decadence

The aptly named Tenderloin is a raw cut of low-brow frivolity found right at the heart of America's cutest major city. It has a reputation for being a crime-ridden filth den, but it has an endearing charm for those in the right mindset.

It may be a haven for drug-mongers, prostitutes, and overall degenerate scumbaggery, but has a grit and heartiness that's becoming harder to find in America's swiftly gentrifying cities. It has a bold and uncompromising honesty that refuses to let you forget about the problems of our lower classes. On any given day you may encounter a pock marked meth-head trying to sell you a stolen guitar or an empty ipad box, a street hustler trying to shine your canvas sneakers, or a manic crack head in your face accusing you of poisoning his pizza. Many think of this as a dangerous neighborhood, but the truth is most of these people are too inept to actually do you any harm, at least in my experience. Its more like a circus freak-show. It looks very intimidating, but its just a group of rare and deformed creatures preforming wild stunts.

On top of cheap rent, there's cheap and authentic ethnic food on every corner. Whether it's lamb vindaloo at Little Delhi, chicken tamales at El Maya Yuccatan, tacos al pastor at Taqueria Cancun, or a piping hot bowl of pho at Tu Lan there's simple but hearty and generously seasoned food for under $10 throughout this rough-cut gem.

The entertainment is quite low-brow. Aside from an opening at one of the art spaces on the market st stretch of the loin, or a rock show at The Warfield…this neighborhoods preferred night time escape is sex. Be it a strip club, brothel disguised as a strip club, brothel disguised as an Asian massage parlor, a free-for-all sex club or prostitutes of all shapes, sizes, and gender orientations this nabe appeals to the carnal instincts.

The TL is not for the faint of heart. It capitalizes on vices and hides nothing. But to those with a darker sense of humor it provides a charming, visceral experience that is uniquely San Francisco.

Michael C.
Tenderloin, try it, you'll like it

If it weren't for the constant stringent smell of human piss, the Tenderloin would be a really nice place to live! The architecture of some of its old buildings is quite grand and ornate; unfortunately, while walking, one's head is constantly down on the look-out for human excrement, piss puddles, and sleeping junkies. On the bright side, the Tenderloin does have a great variety of ethnic cuisines, especially Indian, one of the best breakfast spots in SF, Dottie's True Blue Cafe, and some classic bars and clubs. It feels decently safe and the rents are more affordable, but as a co-worker put it "I wouldn't want my girlfriend walking around alone at night." The junkies mostly keep to themselves; however, it's always disheartening to turn the corner and see someone smoking a crack pipe or sticking a used needle into an alt weekly newspaper bin. Living here? Think twice. But the Tenderloin will definitely be on your dining and nightlife agenda.

Mary P.
Hang on TL!

The Tenderloin basically defines seedy but as one of the last neighborhoods that refuses to gentrify, I give it major kudos. But I think it's only a matter of time before the Tenderloin begins to change, especially as neighboring Lower Nob Hill becomes an enclave of hipness. For now the Tenderloin has a lot to offer and although there may be plenty of loiterers around, they don't bother you if you don't bother them.

Gena F.
Not Worth It

I would rather be in the Tenderloin than a lot of places. Like inside of an active volcano, or under a garbage truck, or in a pool of toxic waste, or face down in a ditch.

I think you get the picture.

What's awesome

"Awesome" is not really the word I would use.

What's not so awesome

There are people out there who try to give the Tenderloin a chance. I am, unfortunately, not one of those people. It's gritty, it's dirty, crime-ridden, unsafe, and densely packed with homeless people, drug addicts, prostitutes, hustlers and the insane, and they WILL get up in your face. I'm not a softie and I find walking through the Tenderloin at night downright frightening. There is cheap and apparently good food, and definitely low rent, but I don't think it's worth putting up with the squalor.

Chloe N.
Just north of Market Street lies the Tenderloin, an area which has become known for its high crime rate and sketchy atmosphere. Since the neighborhood is located mere blocks from the Civic Center and Union Square, tourists often accidentally venture into the Tenderloin, and their nervous reactions can be amusing to witness.
Out of all the neighborhoods in San Francisco, this is the one where you are most likely to actually be hassled by a man demanding change, instead of just being asked politely. This is the one where people will walk by you and mutter the names of the drugs they are selling. This is the place where you can find used syringes buried in the trash that litters the streets. Stay long enough and you will probably witness a drug-fueled fight or see someone peeing in the street.
But for all its filth and squalor, there is a certain charm to the Tenderloin. The people here are genuine, materialism is nonexistent, and the streets are filled with beautiful murals. Say what you want about the Tenderloin, but no one can say that this neighborhood is boring.
In the midst of an increasingly expensive city, the Tenderloin is a mecca for cheap, no-frills food. From traditional American to Indian to Vietnamese, all kinds of foods can be found here for pre-recession prices. The Tenderloin is also a great place to score cheap, strong drinks, but beware – you don't want to let your guard down too much in this neighborhood.
If you can get over the dirty streets and frequent demands for change, the Tenderloin is a fascinating neighborhood to explore. Just make sure not to upset the locals.Laura L.
Not Just for Visiting

My girlfriend and I like to visit the Tenderloin. If we were to move here, it would be probably be along O'Farrell St. or Geary St. as this area seems slightly less dodgy and neighbors the up-and-coming Lower Nob Hill neighborhood. The official border between these two enclaves is Geary St. but that strict barrier seems to be becoming more fluid as of late. I have seen a number of studio apartments for rent on these two streets for less than a thousand dollars a month which is an incredible price for San Francisco. I imagine these apartments being rented to international Academy of Art students unaware of the Tenderloin's notorious reputation but that may not be true at all.

It's easy to disparage the Tenderloin for being dirty, violent, and plagued by prevalent drug use but it also deserves to be recognized for its own unique mélange and not just its perceived anomie. There are plenty of hard-working people living here along with an inexhaustible variety of delightful restaurants and bars.

The Pakistani and Indian food in the Tenderloin is some of the most affordable in the city and almost ubiquitous; there are at least fifteen restaurants if not more in this area. Around Larkin St. the community known colloquially as Little Saigon possesses an abundance of Vietnamese restaurants each focusing on a particular specialty of this emerging haute cuisine. Redolent Thai curries and unique dishes of authentic flavor can be had throughout and rarely disappoint being subject to the highly scrutinizing opinions of SF foodies. Previous reviewers have already made mention of breakfast and brunch hotspots with major followings and lines out the door on weekends.

As far as bars go, a young woman named Heather Cummings recently made the local news for her quest to visit every bar in the Tenderloin. She has documented her adventures at sfbarexperiment.com which she plans on transforming into a written guide in the near future via online social pledge platform Kickstarter.

The Tenderloin has a bright future and its historic past has been recently recognized by the National Park Service who granted the neighborhood a spot on the ledger of the National Register of Historic Places. The folks over at thetender.us wholeheartedly agree and felt inclined to start a blog to capitalize on a growing sense of community and to edify repudiators. You can get the latest Tenderloin news via The Loins Mouth online edition. Be sure to also check out Tenderloin Reading Series, Loin Life, and a whole host of other interlinked local blogs to get a consummate picture of this inclusive and vibrant community.

Zane M.
Crack is Whack

As they say, one person's trash is another person's treasure. I couldn't ever see living in the Tenderloin, but I know of a few people who do. It certainly has a questionable charm that lies just beneath the grittiness. It has a couple of really awesome dive bars and late night restaurants. Just don't head there alone at night.

I once was presented with the opportunity to date a man who called the Tenderloin his home. I decided to pass. I just couldn't see romantic nights together surrounded by the crack use, human defecation and sirens.

Michaela Ann M.
nabewise