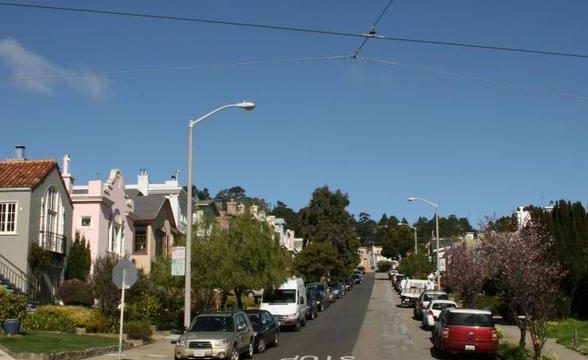 West Portal
Infomation
West Portal, a charming nabe in the southwestern corner of San Francisco, feels more small town than big city–much like surrounding Forest Hill and Inner Parkside. Single-family homes dominate the streets and residents keep well-read at a local branch of the SF public library. This tidy nabe radiates around its commercial corridor West Portal Avenue, where mom and pop-shops and local restaurants hold their own against larger chain operations.
Top Votes – Score out of 100
Families 94
Public Transportation 92
Safety 88
Clean 81
Dining 81
Lowest – Score out of 100
Nightlife 44
Shopping 44
Green space 42
Income 41
Singles 31
Top Reviews from Travel Rentals Neighborhoods
Awesome little village

I've lived in WP almost a year now and I truly love it. I work downtown, am married with a young child for context. I just have to walk a couple blocks to catch Muni – which is pretty much a straight shot underground subway ride to downtown – super quick and convenient and 100x better than riding a bus or driving.

The neighborhood itself is great. It is a nice blend of suburban and city living. Suburban in that there are mainly single family homes, most even have little mini-yards, lots of trees and flowers and kids running around. There is a lot of community spirit – Halloween and Memorial Day there are neighborhood events that bring in folks from all around.

The city feel comes from just having to walk a couple blocks to have access to almost everything you could ask for: some great places to eat ranging from Mexican, Japanese, Mediterranean, Chinese, Peruvian, Italian, etc. The restaraunts seem to be getting better with recent opening of Market & Rye, and soon to open Goat Hill Pizza.

But that's not all, there is a great library conveniently located right next to the muni station. It's great to always be bringing home books for my kid and the library has all sorts of community activities. We also have a book store, movie theater, comic book shop, kung fu studio, fresh produce store, Stern Grove, and more….

We have been warned about fog, but so far, it has been amazingly nice. I commute every day and have not seen any significant difference between downtown and West Portal. (Update: we had a couple days in early July that were foggy and we went over the hill to the city and it was sunny).

It's also just a few minutes away from the SF Zoo (west) and GG Park (north) and if you need to park and shop for the suburban mall experience, Stonestown Galleria is just south.

Anyway, we kind of stumbled on to it as we were looking elsewhere and feel very fortunate to have landed here.

What's awesome

Library, comic shop, food, people, Stern Grove, movie theater, zoo, Lake Merced, Stonestown, easy access to freeway, ocean and GG park

What's not so awesome

Need a good bakery, 19th ave is slow-going on the weekends

Leo M.
West Portal is a fantastic place to move with your family. This nabe is tight-knight, kid friendly, easy to get around with public transportation….it's just great. There's everything from a library, to bookstores, to every type of food readily available. The public schools are very good, with West Portal Elementary and Commodore Sloat. Movie theaters, fun shops, toy stores….oh, and did I mention how easy it is to park? That just may be the best part.Chloe N.
Transportation Hub

West Portal is a hub for transportation. With West Portal Station at one end, it is incredibly easy to get to nearly anywhere in the city. You can hop on any inbound train to get downtown, or hop on the K/T for a straight shot to the ballpark. Forest HillStation is one inbound stop away, and serves as a hub for many above ground busses. With transportation to and from West Portal so easy, it serves as a great place to stop off for a cup of coffee, or for a delicious meal. With a great public library and playground right next to the MUNI station, West Portal is a great place to raise kids, though it doesn't feel too overrun by them. With several bars and pubs, the neighborhood is great for people of all ages.

What's awesome

Library, Playground, Bus Station, Food

Kati S
Not Half Bad

I like West Portal. It's a very family-friendly neighborhood, with a lot of single-family homes. It has a pretty busy main street complete with Post Office, bars, restaurants and day spas. Muni glides right through, so the neighborhood is a breeze for downtown commuters. Though single, I would consider living in this neighborhood, as it seems to have a perfect balance of tranquility, affordability, entertainment, and proximity to everything else in the city.

Michaela Ann M.
Suburb San Fran

West Portal has a newly-developed vibe, mainly occupied by middle-class families and fog. I recommend this neighborhood for families who are torn between living in the City and moving to the suburbs. You get all of the convenient urban amenities with a small-town feel. It is definitely more conservative than the rest of San Francisco. You'll find a lot of single-family homes more than apartment buildings.

Jessie W.
nabewise