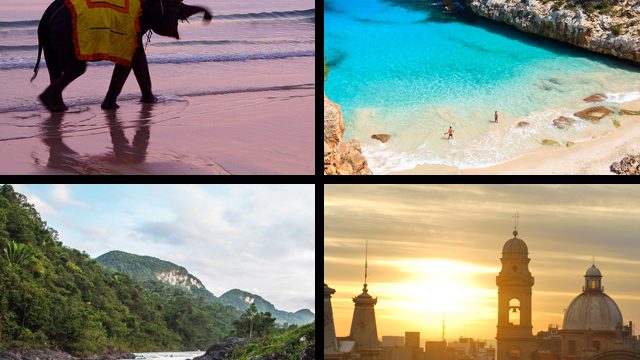 10 Secret Spots To Make Your Destination Wedding A Real Trip
10 Secret Spots To Make Your Destination Wedding A Real Trip
10 Secret Spots To Make Your Destination Wedding A Real Trip
The trouble with modern destination weddings is that most places are so frequently traveled, you may as well hold the affair in your own backyard. If you're going to ask your nearest and dearest to take a trip, shouldn't it be to a truly spectacular location? We're on a crusade to ditch the ho hum spots of weddings past for off-the-radar locales that will surely impress your guests.
Here are 10 of the most overused wedding destinations replaced with modern and little-known alternatives. Book them fast before they officially become the new hotspots.
Tropical
There's something incredibly romantic about saying your vows in a discreet location that only the two of you (and about 300 of your closest friends and family) share. Your destination should actually be a little off the map to truly achieve that remote feel.
Fiji is best known for its faraway nature, but it's held so many weddings it has basically become the catering hall around the corner. Instead, make like explorers and take a private boat to the sparsely populated island of Anegada. You won't believe how distant the stress of city living will feel.
A trip to Hawaii is as old as destination weddings themselves. Even the 60s-set drama Mad Men referred to the spot as a bridal cliché. We recommend replacing the tired trope with a jaunt to Bintan Island in Indonesia. The brand new beachside resort of Sanchaya Estate will accomadate any of your island dreams.
Listen up laid-back couple, we've got you covered too. Jamaica has long been the go-to choice for the alternative pair, but there are other options. Adventurous newlyweds will love exploring the wild rainforests of Osa Peninsula in Costa Rica and partaking in yoga classes back at the Blue Osa spa.
South American
Some like it hot and when we refer to "some," we mean those who imagine their wedding with a side of salsa.
Sure, Mexico is close and convenient, but nobody wants to be surrounded by Spring Breakers and American tourists with a capital T. Traveling just a little farther south will bring you to the idyllic San Ignacio, Brazil, where your guests can journey through ancient Mayan ruins and check out scenic national parks.
Rio de Janiero is currently crowded with World Cup shenanigans. We say, ditch the headache and take your party to the historic city of Montevideo, Uruguay. You can still get Latin flavor with the added bonus of beachside boutiques that have housed the likes of Naomi Campbell and Natalia Vodianova.
Domestic
Getting hitched, tying the knot, saying "I do," whatever you like to call it, there is a beautiful location right here in the US of A that can accommodate your ideal nupitals.
Las Vegas comes immediately to mind for those who imagine their wedding day/night as the type of party your guests will barely remember. But even TV sitcoms are bored with Elvis impersonators and quickie chapels. Plan your big day in New Orleans instead, where you can still have a simple elopement without the tacky backdrop. Also, two words: Bourbon Street.
Artsy partners deserve a special wedding spot, too. Park City, Utah is as beautiful as they come, but the town can't boast a fake Prada store in the middle of the Texas desert just for the sake of art. Marfa: 1, Park City: 0. (Hint: El Cosmico is the hippest place in town. Rent a few RVs on the camping ground and get into the spirit.)
European
Old world castles, ocean views and a history older than some entire countries. It's no wonder that many brides and grooms daydream about a romantic European excursion. Heads up, there are many more options than the Eurorail's most popular stops.
It's been three years so we can all now openly admit that we rose at the crack of dawn to watch the Duke and Duchess of Cambridge get married in a truly fairy tale wedding. It was glorious, but you are honestly a mere commoner in London. Change the location and take your friends and family to the quiet village ofDurham, where your royal dreams can come to life.
The shores of Croatia have become a verified travel hotspot, but why not put on your fashion-forward pants and plan your wedding at a place most people have never been and probably will never go otherwise. The tiny Polynesian island of Tuvalu is a bit more of a hike from the Greece-adjacent country, but it's just as gorgeous and culturally rich.
There are certain places that ooze glamour just by uttering their name. Morocco is one and the French Riviera is certainly another. That's probably why it's become so popular for a certain type of jetset duo. For those in the travel know, it's time to reclaim Mallorca, Spain. Kate Moss was so inspired by the Balaeric Islands as a vacation destination, that she used influences in her most recent Topshop line. Need we say more?
We've made our case. Impress your guests with an affair to remember and the trip of a lifetime. Time to really step up your honeymoon game.
nabewise