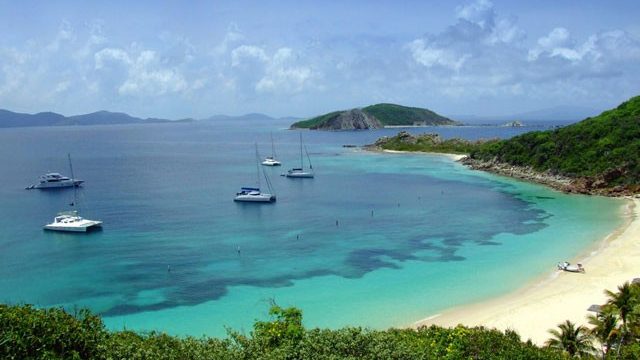 The Best Caribbean Vacation
The Best Caribbean Vacations
The season may belong to St. Nick, but surely he'd understand if you'd rather spend the holidays with St. Barths. Or St. John. Or perhaps even St. Martin. After all, sleigh riding and snowshoeing are really no match for island hopping.
So whether you want to return to an old favorite (like Jamaica) or discover a hidden treasure (like Guana Island), here's a list of Caribbean getaways you'll want to check twice.
Read on below and flip through the slideshow to see the best Caribbean vacations worthy of your oh-so-precious vacation days.
By Karla Alindahao (@karlaalindahao)
GUANA ISLAND, BRITISH VIRGIN ISLANDS
Guana Island
It's not easy to find someone who's been to Guana or even heard of it—unless that someone is a celebrity or an incredibly in-the-know traveler. So it's safe to say that the island, a family-owned resort, is one of the Caribbean's best-kept secrets. With seven beaches, miles of tropical forest, and mountains, Guana was designed to be quite the escape and is a far cry from the overdeveloped properties in other islands: There are acres of privacy per guest and the resort doesn't allow for more than 35 visitors (in only 21 rooms) at any given time. Another plus is that all cottages and villas boasts ocean views and the Guana Restaurant is helmed by executive chef Xavier Arnau (who cut his teeth at El Bulli and Nobu London). And if you're really looking for zero encounters of the human kind, you can book "Castaway Picnics" on one of the private beaches. Rates start at $725 per night and is inclusive of wine-paired meals, Wi-Fi, wash-and-fold laundry service, unlimited use of facilities (such as tennis courts, sailboats, kayaks, snorkeling gear, fishing equipment, and more), plus beach barbecue and movie nights.
MONTEGO BAY, JAMAICA
Round Hill Hotel and Villas
What can we say? We simply just love Round Hill Hotel and Villas. Situated on a lush 110-acre peninsula just west of Montego Bay, the resort continues to attract the jetsetters who enjoy glamourand understated luxury along with pristine beaches and the inimitable Caribbean waters. Accommodations include 36 Ralph Lauren-designed oceanfront guest rooms, 90 villa rooms and suites or a selection of 27 private two- to six-bedroom signature villas, most with private pools. Highlights include open-air terrace dining and The Grill at Round Hill, award-winning family programs, an infinity pool, tennis courts, and a spa located in a restored 18th century plantation house. Rates start at $394 per night and the property has a number of special offers—such as the "Winter Escape" package, "Special Advance Purchase Rates" offer, and the "Round Hill 60th Anniversary Special."
VIEQUES, PUERTO RICO
The W Hotel
We're big fans of Puerto Rico, here at Lifestyle Mirror. But… We're even bigger fans of one of its islands: Vieques. A remote escape roughly 30 minutes away from San Juan (via Cape Air), it's got the best of both worlds and is certainly one of the best Caribbean vacations you can take. It's rural enough (only two gas stations!) to not have a big box chain or massive supermarkets—but it's got a W Hotel for those who still need a fix of luxury. Designed by the famed Milan-based Patricia Urquiola, the hotel boasts 157 rooms and suites—all with private patios and balconies. There's also a 24-hour gym, a "living room" replete with books, a pool table, and snacks. But of course, we highly recommend venturing out: The island is home to the world's brightest bioluminescent bay, there are a number of food trucks worth trying (not to mention fruit stands that will hack open a coconut or two for you), great restaurants—such as El Quenepo—in the town of Esperanza, and Pata Prieta beach is a must-see. Oh, and one last tip: Make sure to reserve an SUV because a sedan just won't do given the terrain.
ST. JOHN, U.S. VIRGIN ISLANDS
Caneel Bay
Surrounded by seven pristine beaches, Caneel Bay is an island escape set on its own private peninsula amid 170 acres in Virgin Islands National Park, bounded by the Atlantic Ocean and Caribbean Sea. The resort is delightfully tech-free: there are no phones or televisions in the guest rooms, so you can completely disconnect from the outside world and spend your days snorkeling or doing nothing at all. Adventure seekers can work with VI Ecotours and arrange for kayaking and hiking expeditions or charter boats for deep-sea fishing or explore sea life by scuba diving with a PADI pro. To soothe sore muscles from a day of activity or to simply knead out those neck knots, indulge in a massage in one of Caneel Bay's massage cabanas. This November, the resort is welcoming new dining outlets such as ZoZo's Ristorante and Cannella, an Italian-inspired coffee shop.
TURKS AND CAICOS
Regent Palms Turks & Caicos 
The Regent Palms is a 72-suite luxury beachfront resort where the rooms and suites are just steps away from the powder fine sands and azure waters of the world-famous Grace Bay beach in Providenciales. The hotel's world-class amenities include a 25,000-square-foot spa, two signature restaurants including Parallel23, the award-winning fine dining restaurant, and a gorgeous infinity pool. Guests have complimentary access to non-motorized water sports, tennis, croquet and a fitness center.
OCHOS RIOS, JAMAICA
Jamaica Inn
Located in beautiful Ochos Rios, Jamaica Inn boasts an eight-acre property situated on a private cove with an offshore reef two miles east of the town center. With a 700-foot white sand beach considered to be one of the best in the Caribbean, this exclusive resort is the perfect getaway for the traveler seeking unassuming style and great service. Family-owned since 1958 and boasting a roster of famed guests (Marilyn Monroe, Ian Fleming, and Katharine Hepburn were fans) Jamaica Inn offers timeless elegance and relaxed luxury on one of the island's best white-sand beaches.
ST. MARTIN
La Samanna
Orient-Express Hotels' La Samanna, with its 83 ocean view rooms and suites on 55 acres of breathtaking beachfront, is a world-class luxury resort in St. Martin—one that evokes a French spirit with a Caribbean soul. Cloaked in lush foliage and colorful splashes of flowers, the resort is residential in nature, appealing to a discriminating international clientele seeking seclusion, relaxation, fine dining, and highly-personalized service. The resort is legendary for its extensive wine cellar and cuisine with provisions flown in from France daily. Equally renowned is the La Samanna Spa with its indoor-outdoor tropical garden treatment rooms and Pilates studio.
BAHAMAS
The Cove at Atlantis, Paradise Island
If you want to party the way you do in Vegas without having to deal with, well, Vegas, this is the place for you. The Cove at Atlantis is probably best known for Cain at The Cove. One of the hottest pool scenes in the Caribbean, it's an adults-only affair complete with beachside infinity pools, DJ sets, outdoor gambling, and floating daybeds. From fine dining restaurants (such as Nobu and Jean-Georges' Café Martinique) to more casual beachfront snack bars, Atlantis has more than 25 dining options. The newest: Chef Todd English's first Caribbean outpost, Olives. The property also boasts the largest casino in the Bahamas—with a Jeffrey Beers-designed bar, The Moon Club. And if you insist on even more partying, there's Aura, a 9,000-square-foot nightclub
ST. BARTHS
Eden Rock – St. Barths
Right on St. Jean Bay, Eden Rock St. Barths offers 34 unique accommodations and world-class service in one of St. Barths' most enviable settings. In its early days, the hotel was the getaway of choice for Old Hollywood stars such as Greta Garbo and Howard Hughes. Now, owners David and Jane Matthews incorporated even more elements of art, music, and food that define the Eden Rock lifestyle. One thing to note if you've got the money to burn: The resort is home to one of the most expensive villas in the Caribbean, the aptly-named Villa Rockstar, a 16,000-square-foot villa that houses the only private recording studio on the island that includes four king bed suites—one of them with bathroom tiled in white gold, a fully-equipped gym, the Glen Affric whisky bar offering over 40 different whiskies, a swimming pool, spa pool, 24-hour butler and personal staff service, a choice of cars in the Rockstar garage, plus bicycles and other sports gear.
CAYMAN ISLANDS
Westin Grand Cayman Seven Mile Beach Resort & Spa
Try not to think about Mitt Romney when you think about the Cayman Islands. Especially not Westin's resort. The property just unveiled a multi-million dollar renovation with enhancements across the property, including upgrades and additions in the guest rooms, suites, fitness center, cabanas, and the island's largest freshwater pool. And in the Hibiscus Spa all skincare products are made from organic essential oils and plant extracts, which allow for personalized experiences. Take a stand-up paddleboard (SUP) yoga class or dive and snorkel underwater in one of the most popular spots for scuba diving in the Western hemisphere. Grand Cayman offers pristine reefs, sandbars, colorful sea life and dramatic "wall-dives" for both snorkeling enthusiasts and divers alike. Kiss a stingray at Stingray City or take a catamaran trip with Red Sail Sports. In terms of dining options, Chef Michael Farrell recently joined the resort and has been refreshing the menu at the AAA four diamond-ratedCasa Havana with dishes inspired by southern coastal cuisine. 
PETER ISLAND, BRITISH VIRGIN ISLANDS
Peter Island Resort and Spa
We're putting the BVI's Peter Island right up there with Vieques and Guana as one of the best Caribbean vacations of all time. A remote and family-owned 1,800-acre resort (of which only 300 have been developed), everything about it is committed to the "preservation of paradise." There are only 52 rooms and five beaches, which allow for a truly secluded getaway. And television addicts be warned: There are no TV sets in the rooms. That said the island is not without its little luxuries. There is a 10,000-square-foot spa that offers Ayurvedic treatments, there are fine dining options in addition to private beach setups, and if you're really going for something special (such as a wedding) you can contact them for the "Island Buyout" to have it all to yourself.
nabewise