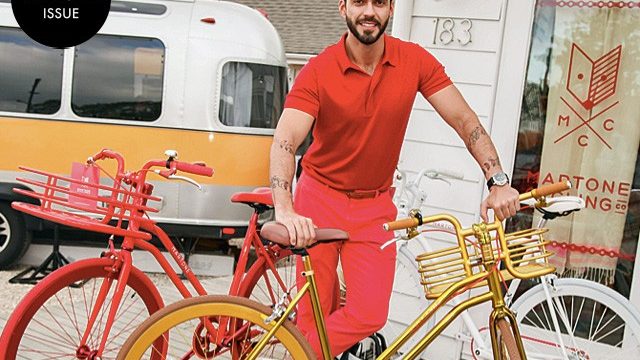 Lorenzo Martone's NYC Bicycle Essentials
Every now and then, a company comes along with a product you didn't even know you needed. That is, until you saw how utterly stylish that item was. Such was the case when Lorenzo Martone launched Martone Cycling Co., his line of incredibly chic bicycles and bike accessories. We can't stop envisioning ourselves riding on an uber cool downtown street, perhaps by theGramercy Park Hotel where Martone designed a custom fleet of cycles. As part of our May Travel Issue, we caught up with Martone to find out his favorite bike routes in the city and what he always carries in his basket while cruising around NYC.
Lifestyle Mirror: What's your favorite bike route in the city?
Lorenzo Martone: My favorite bike route is a combo of small streets in the West Village (Waverly, Bank, Perry, and Bleecker streets) with the West Side Highway. I go from Battery Park all the way uptown, enjoying the view and people watching. It's one of my favorite ways to spend time in New York. Better than TV, I guarantee you!
LSM: What do you like about riding a bike in New York?
LM: Riding a bike is the one moment I reconnect with myself. I don't (and can't) look at my phone, and I have to exclusively pay attention to my surroundings. It was after riding my bike around that I started appreciating New York's architecture so much more.
LSM: When you're out riding you're never without…
LM: I should say a helmet to this one, but I would be lying. It's crazy that it's not illegal to ride a bike without one (we even make really nice helmets at Martone Cycling Co.), but sometimes the feeling of the wind and being free is irreplaceable. So, the honest answer to this question is sunglasses.
LSM: What do you like to wear when you ride?
LM: I actually enjoy wearing dress shoes while riding my bike. I enjoy riding the bike all dressed up in a jacket and shirt. I feel very smart when I do that. I don't like the whole black lycra bike gear thing if I'm biking within the city parameters. I believe we should wear whatever we feel good in while riding around. The bike ride really exposes you to the outside world, so when I'm dressed up on a bike I usually I interact a lot with other people. Or, perhaps they are interacting with me. Wink wink.
LSM: If you had to choose: West Side Highway or East River path? 
LM: West Side Highway for sure. I love what the city of New York did to this side of the island. It's a disconnect from the big city.
LSM: Best picnic spot in the city to stop with your bike?
LM: The best picnic spot is Central Park for sure. I go a few times every summer with my bike and sandwiches and salads from Citarella and a good bottle of wine. But don't worry, I take a good nap before riding my bike back downtown!
nabewise