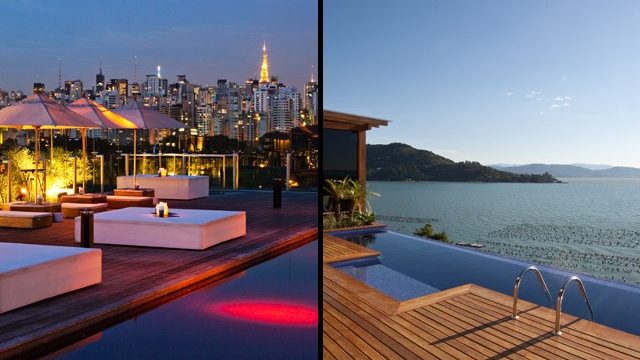 The Best Hotels In São Paulo
The Hotel Unique's rooftop pool deck pulls double duty as a lounge space for the Skye Bar, where young Paulistanos unwinding in the open-air sip ruby red house cocktails and chill to DJ sounds. All of which is to say that the vibe you discover at the iconic property in São Paulo's rarified Jardins district is nicely understated. Yet, the view takes in a glimmering, Wall Street-worthy skyline whose soaring towers are blanketed by helipads—a reminder that you are, in fact, hobnobbing with select denizens of Latin America's most potent economic engine.
Does eminent architect Ruy Ohtake's decade-old, copper-clad creation evoke an ark, a half moon, or maybe a sliver of watermelon? Whichever the case, the hotel's 21-foot-tall carbon fiber doors open into a cathedralesque lobby with glass walls that flood it with natural light. While a whimsical polychromatic statue of St. George slaying the dragon fills a chapel-like niche, the 365 liquor bottles that sparkle from floor to ceiling belie the true nature of The Wall bar's "altar."
Designer João Armentano's deliciously dark hallways lead to 85 sparkling white rooms whose massive portholes open nicely. Sloping downward and melding right into the floor, the ten suites' wood-paneled walls are a skateboarding guest's dream. For even more fun in the hotel's lower level, a pool slide zips you down to a watery basement lair.
Still need the thrill of a helicopter arrival despite all the in-house kicks at the Unique?
That's where Ponta dos Ganchos comes in—with its own helipad, should you wish to make a grand entrée at the Relais & Chateaux resort outside the southern city of Florianópolis. With no minors allowed, a brief chopper buzz is the only sound you'll ever hear at PDG—the seaside antidote to your urban sojourn in São Paulo.
What were once whaling stations founded by Azorean immigrants, the fishing villages below peninsular Ganchos still supply Cardápio restaurant where Chef Luis Salvajoli changes his menu daily (though you'll wish his shrimp curry with jasmine rice and cashew nuts were menu staple). Linked by a bridge, a private torch-lit isle hosts a cabana outfitted with plush divans is reserved for one couple a night. You'll be excused the next morning for missing the ten-course tasting breakfast—no worries, though, it's available at any hour.
The property's emerald villa, swathed in dark woods and measuring a robust 2,500 square feet, has an enormous double shower with a glass wall facing an enclosed mini garden in addition to a dry sauna and a whirlpool big enough to fit your poker buddies. With bossa nova playing on the sound system, the deck's cliffside vanishing pool is the spot to watch the sun vanish over the mountains and sea.
PDG's twenty-five bangalós (bungalows to you) are spread all over its vast grounds, with golf cart "taxis" plying its paths. But it's much more alluring to wander over to the spa cabanas—in your Havaianas, no less—that hang over a boulder-strewn sea cove. Or… admire the organic garden and myriad orchids and colorful epiphytes growing in the tropical trees.
Should you be so inclined, young staff members can lead you beyond the resort—on a gentle hike through the woods to Praia de Fora, a pristine local beach. Or you could jump aboard a traditional fishing boat for a Champagne and oyster cruise past small coves. Just don't expect a helicopter to whiz you back.
Getting to São Paulo is getting ever easier: Recently merged with LAN airlines, Brazilian TAM began operating direct Boeing 767 flights from New York, Miami, and London. And Florianópolis is just an hour-long connecting flight from São Paulo. (Only if you choose not to chopper it.)
By John Oseid
nabewise